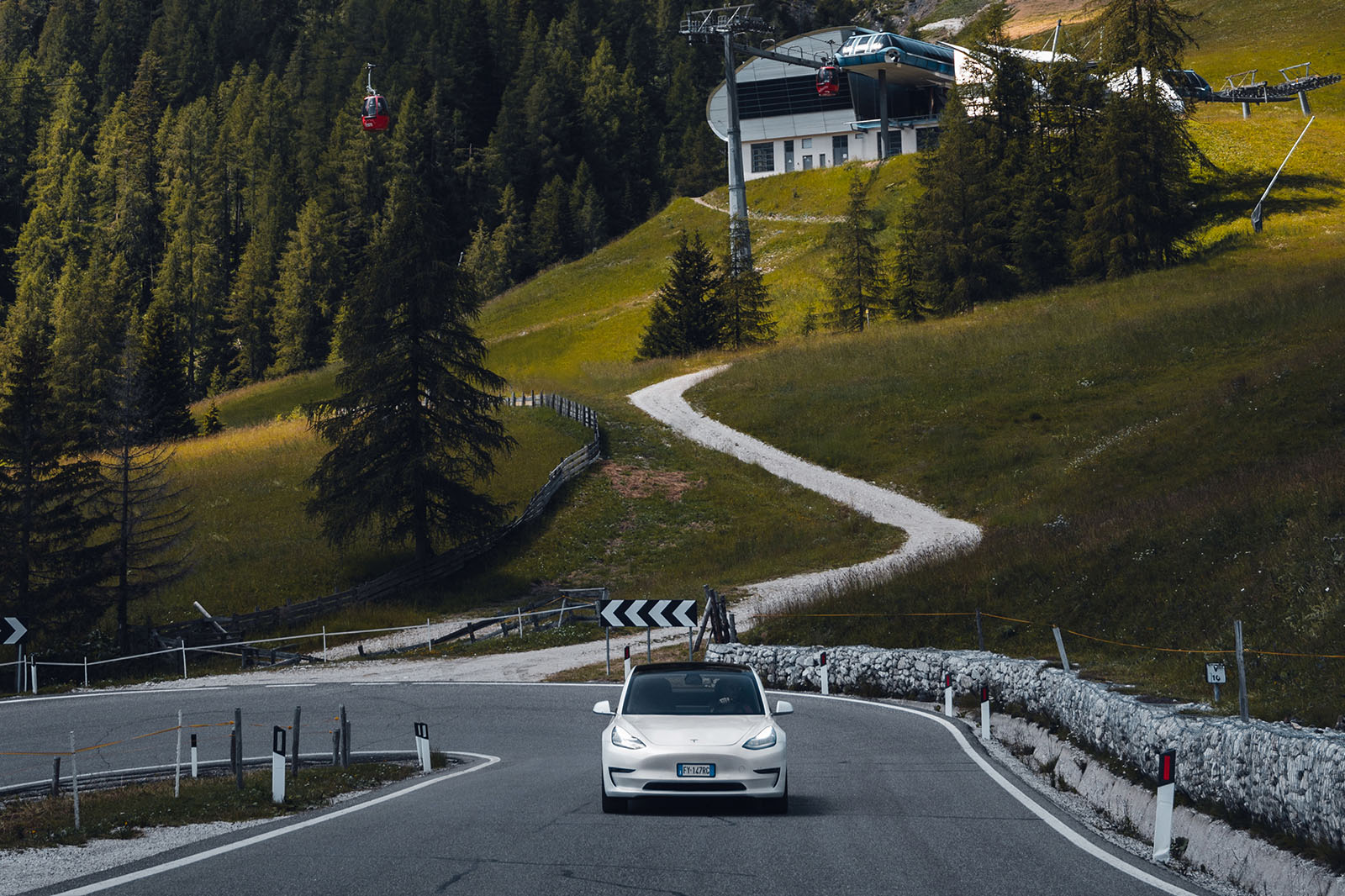 A Scenic Road Trip Through The Dolomites In A Tesla Model 3
For me, as a technology buff, a strong advocate for sustainable modes of transportation, and with an immense passion for discovering secluded destinations, the electric car is the holy grail of transportation. The EV ticks most of my boxes as it provides me with flexibility and comfort of a traditional car, all while keeping my environmental impact to a bare minimum.
During my recent journey to Italy, I had the opportunity to try out Tesla's Model 3 Long Range. This allowed me to explore the unspoilt forests, deep gorges, and verdant valleys of the bucket list favourite Dolomites – all without having to worry about my carbon emissions.
I feel like all my outdoor travels get remarkably better with an EV by my side. I can roam at ease and peace, without having to feel restricted by inflexible timetables. It also makes every aspect of my travel more adventurous, as it afforded me the opportunity to make spontaneous pit-stops wherever I please, enabling me to explore the places less explored and otherwise unreachable by other means of transportation.
Touchless Pick Up
My journey in Italy started in Milan where I picked up my Model 3 Long Range at Tesla's service centre just outside of Milan Linate Airport. Typically, Tesla Model 3 owners do not use conventional car keys or fobs. Instead, a keycard and smartphone app is used which gives the driver access to the car. This phone-based unlocking system allowed me to unlock and lock the car with the help of Tesla's smartphone application. In addition to this, I had a key card which functioned as a fob and enabled me to unlock and lock the vehicle by simply tapping the key card against the door pillar. The pickup of the car went incredibly smooth.
Since I arrived in Milan on a weekend, the Tesla service center was closed and I made a touchless pickup of the vehicle. The staff had left the key card in the car, which I was able to unlock via my smartphone. This made it possible for me to pick up the car even though I arrived during times when the service centre was closed. It also meant that the car could be picked up without any physical interactions, which in Corona times is an immense advantage as it is important to reduce the number of physical face-to-face interactions.
Charging and Range
Preparing for my Dolomiti adventure, I created an itinerary packed with South Tyrolean gems such as Val Gardena, Seceda, Tre Cime, Lago di Braies, and Toblacher See, to name a few. These are places that are known world-wide for their dazzling scenery, but like many scenic places, they are often remote and hard to reach. With that being said, it is almost a must to have a vehicle if you are looking to visit these destinations.
I have to admit that I initially was unsure of how well charging would work while embarking on a journey to a more secluded destination such as the Dolomites. I wondered if the infrastructure for charging was amply developed, and if the range of the Model 3 Long Range would be sufficient enough so that I could easily get between the places I had longed to visit.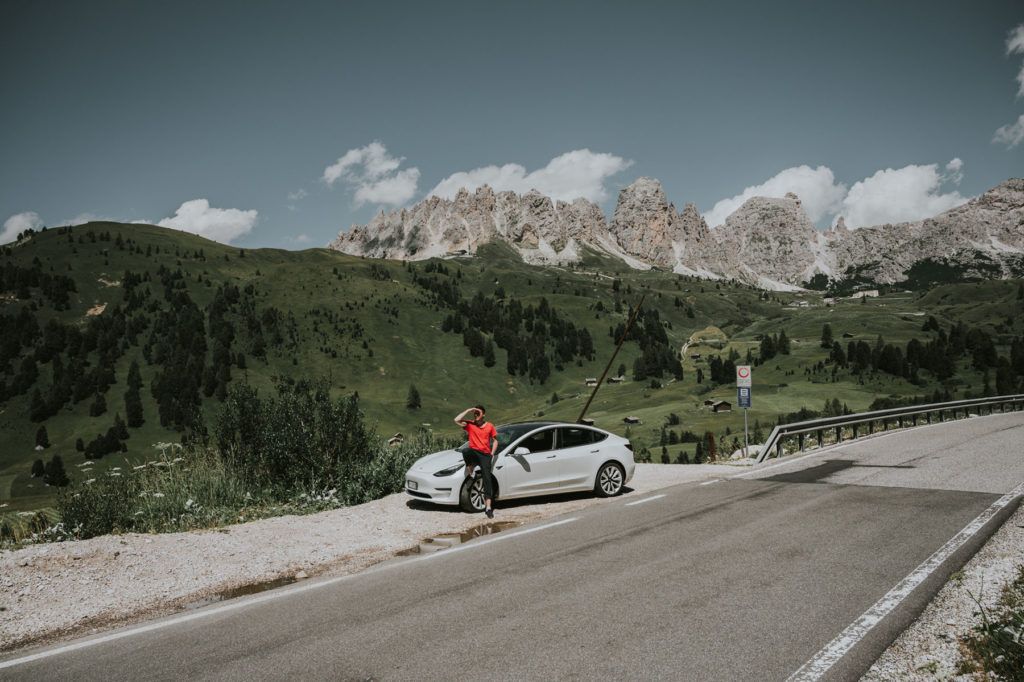 When planning my route, I used Tesla's service "Go Anywhere". Go Anywhere is available both on the Internet through Tesla's website, and embedded in their mobile application. In my opinion, Go Anywhere is an incredibly flexible tool which allows me to enter my departure and arrival point, after which it generates an estimate of the vehicle's energy consumption. Furthermore, Go Anywhere shows where along the planned route there is access to Tesla's network of superchargers, or other compatible charging alternatives, such as public networks and destination charging. This information in turn helped me evaluate where and when I need to make a brief stop for charging.
The uncertainties I felt before my departure would slowly but surely dissipate. Tesla's infrastructure with superchargers turned out to be extensive and well-functioning. There were charging stations dotted all over Northern Italy, some of which were Tesla's own Superchargers. The range of the Model 3 Long Range exceeded my expectations. The range is simply put, the distance the vehicle is able to travel on a single charge. The technical specification specifies a range of 560 km, and translated into real use, this was more than enough for me to drive between the idyllic Italian villages, forested valleys, and magnificent mountains, in spite of their remote location.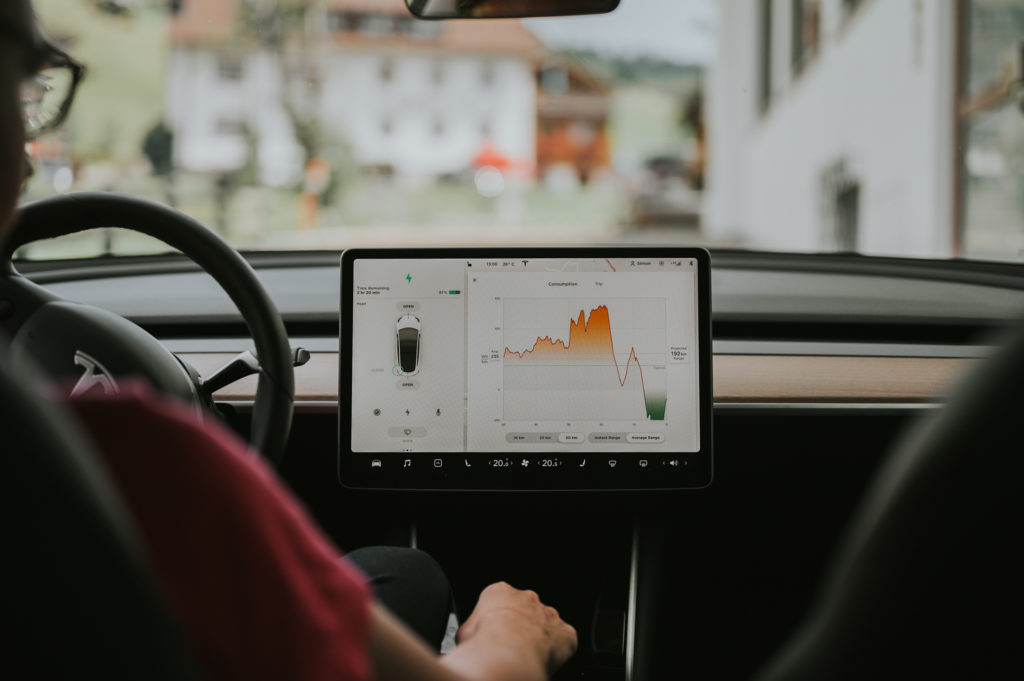 Another feature I came to use consistently is the Energy App. The car analysed my previous driving patterns, and was able to generate an estimate of the energy usage required to drive from point A to point B, as well as how much charge of the battery will be left once I had reached my destination. The projected range estimates were all based on my personal driving patterns, which in a way provided me with a "personal range". It is clever features like these that make the journey so incredibly easy – driving a Tesla is truly a headache-free experience. All in all, the previous Achilles' heel in terms of range seems to be a thing of the past, and the process of charging a Tesla turned out to be no more difficult than putting a regular mobile phone on charge.
Model 3, what's it like to drive?
Driving from Milan to Venice on the Italian motorway was incredibly easy, much thanks to the large 15-inch touch screen which was mounted in front of the dashboard. The graphics of the screen are sharp and clear and the panel hosts all the features you would expect from a Tesla vehicle. The advantage of a large screen is that you can display a wealth of information at the same time without it becoming difficult to interpret. For example, not only did I get a clear overview of the map which I could easily pinch-to-zoom for better navigation, but I could also clearly see which lane I was advised to drive in, the speed limit, vehicle range, warnings, and my current energy usage. In a way, the touch screen was used to control features that in conventional vehicles typically are controlled with physical buttons. One of my favourite features in regards to the screen were the visualizations that display the lanes as well as objects such as stoplights, road markings and the surroundings. All in all, this makes up for a futuristic and intuitive driving experience.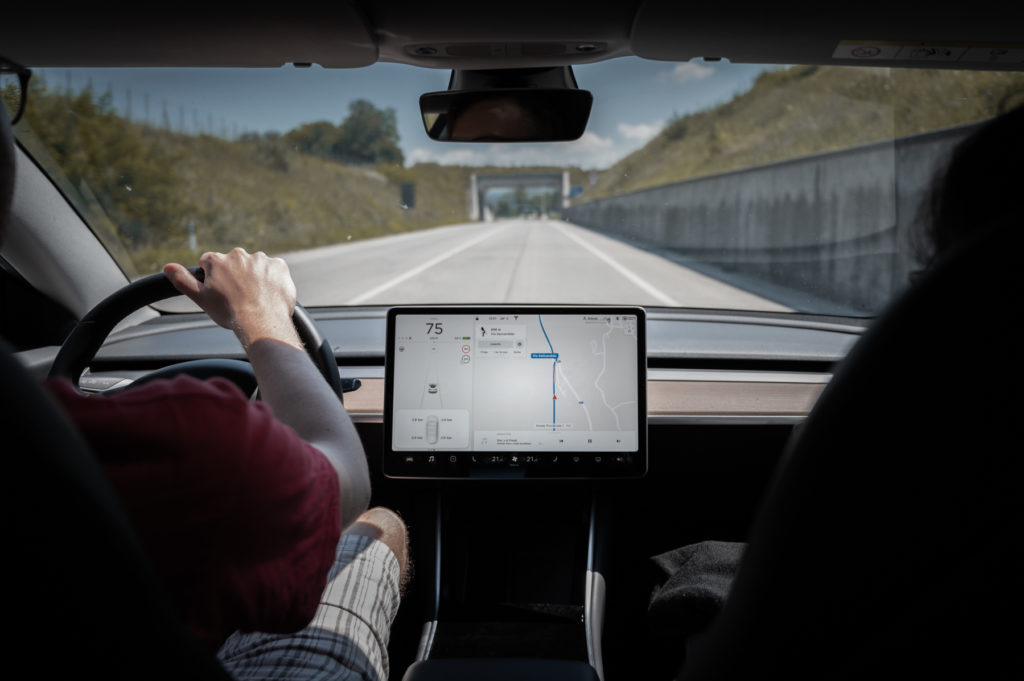 On the way to the Dolomites, I stopped at one of Tesla's supercharging stations, which was located at a dreamlike place next to a picturesque mountain chalet and restaurant, overlooking the dramatic mountains. This gave me a perfect opportunity to recharge both my and the car's batteries. While I was waiting for my food, I was mesmerised by the view of the craggy limestone peaks emerging from the lush meadows, all while observing the battery percentage of my Model 3 on my smartphone through Tesla's mobile application. The integration between mobile application and vehicle is something I personally appreciate. Being able to see the charging status on the mobile phone is incredibly convenient and gave me the opportunity to finish my espresso just in time for the fully charged battery. I was surprised to learn that it only took half an hour to charge to 100% from approximately 50%.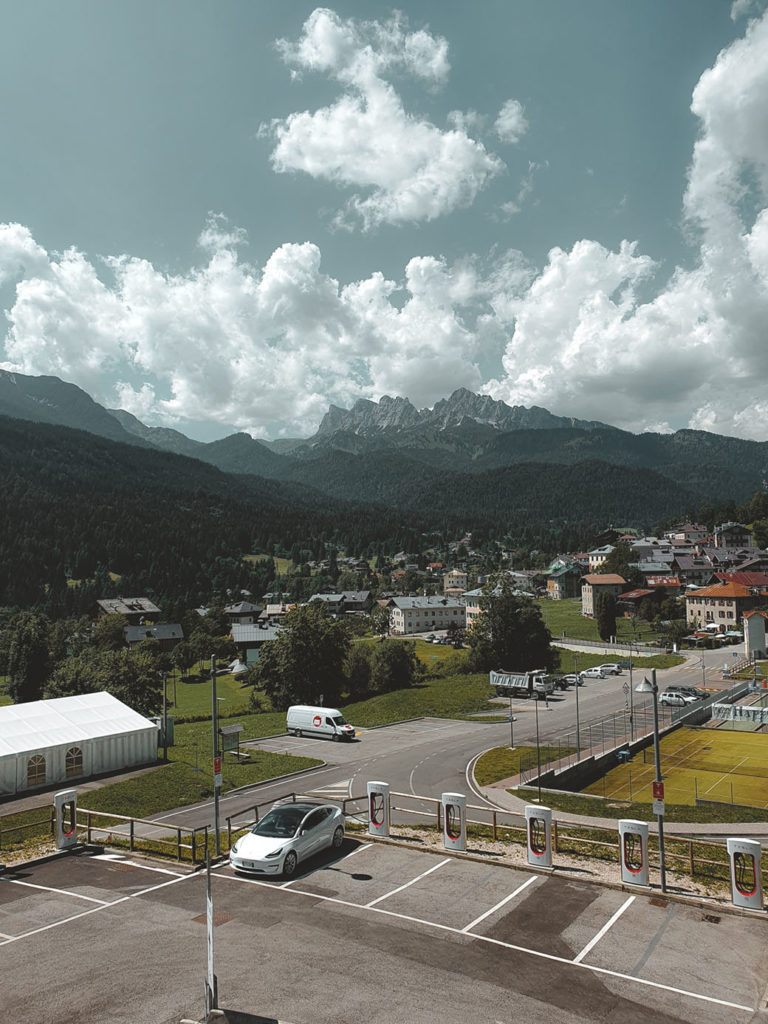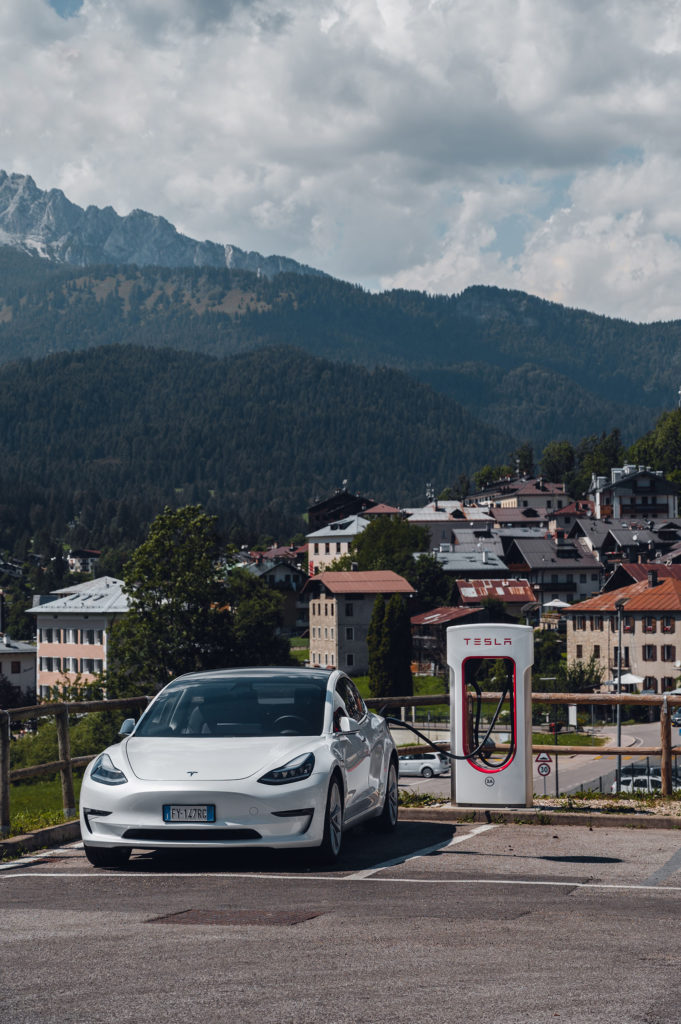 I continued my drive through the Dolomites, and eventually I had reached Val Gardena. This quirky village is an eclectic mix of Italy and Austria, which is reflected in both architecture, the local cuisine, and language. As I had reached my accommodation for the night, I checked in at La Perla, a hotel aptly situated at the foot of a high mountain range, merely a short drive to the Val Gardena Valley. Since I arrived at the hotel in the evening, I connected my Model 3 to the hotel's destination charger and charged the vehicle overnight.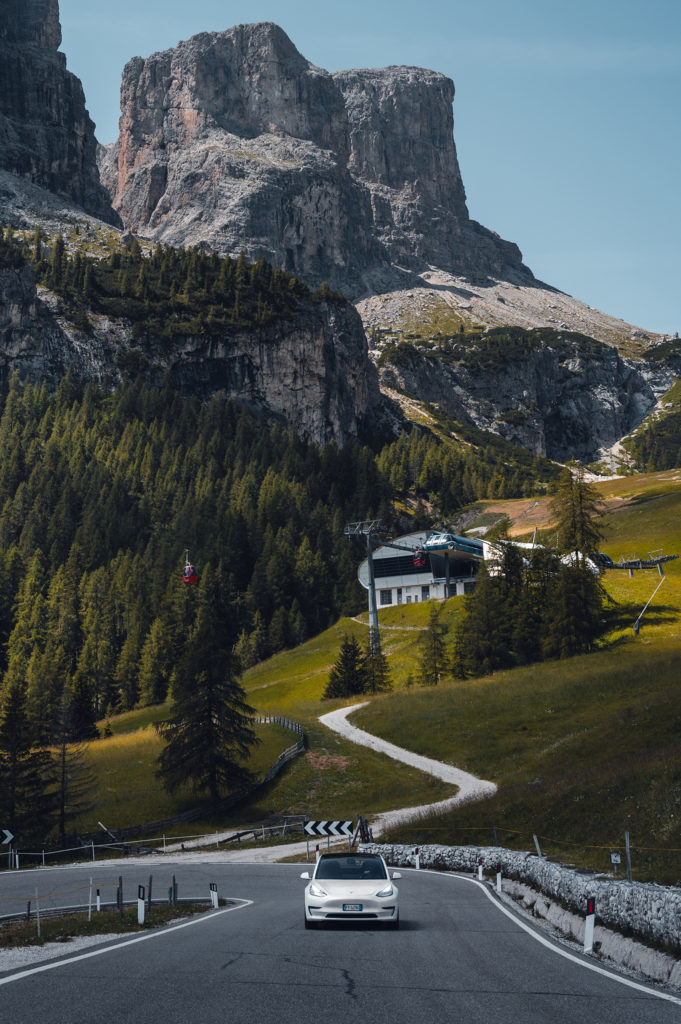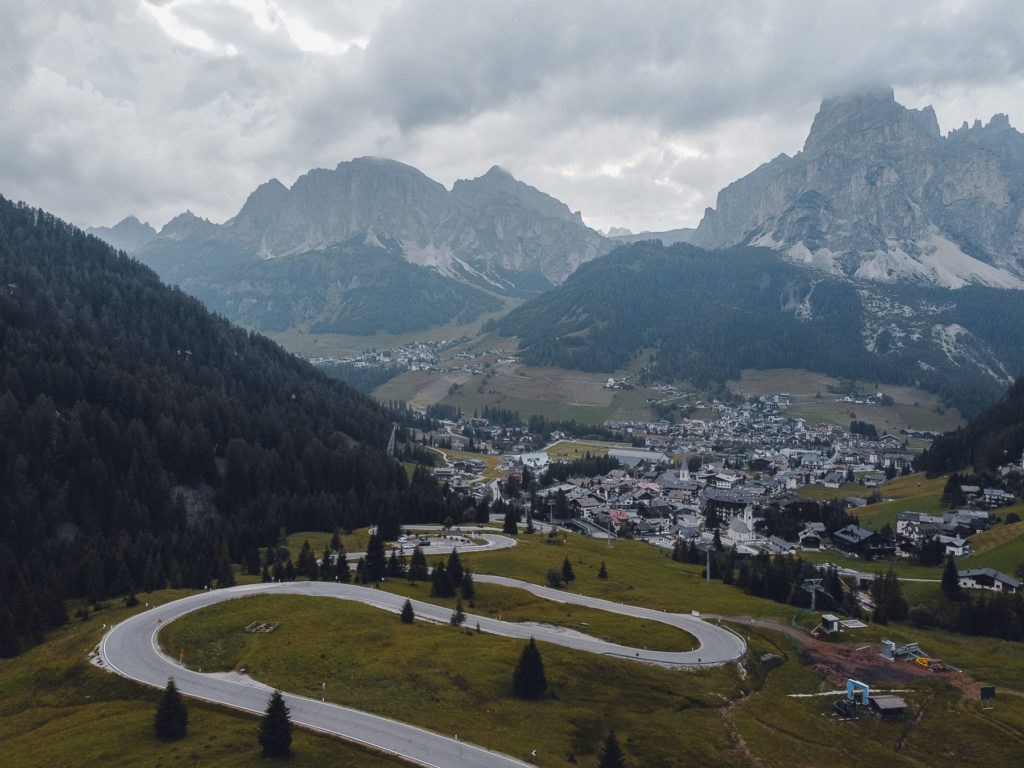 The next morning I woke up happy to find that my Tesla had a full charge. After constantly being surrounded by the panoramic mountain views, I was itching to get out and explore the best of the Italian Dolomites. I hopped in the car and took off in search of beautiful landscapes. As I drove at the winding roads through the Passo Gardena, a mountain pass with an elevation of over 2.000 meters, I had soon lost count of the number of times I had to stop the car, in awe of what I saw in front of me. The scenery was otherworldly, with soaring peaks, beautiful alpine meadows, emerald lakes, and picturesque villages. The epic landscapes were like a scene from Middle Earth.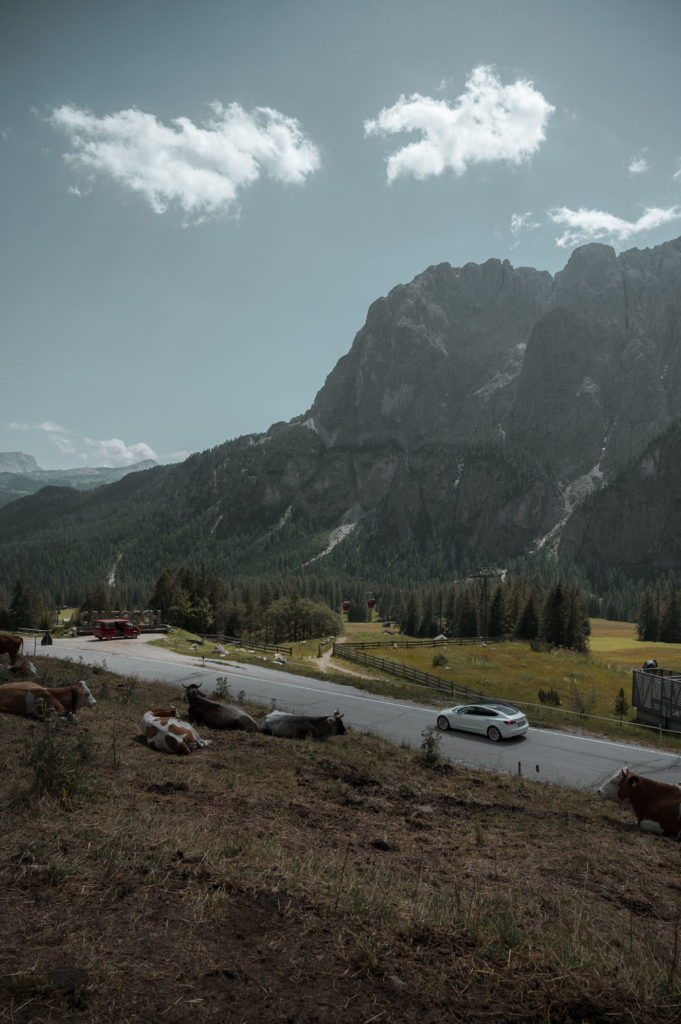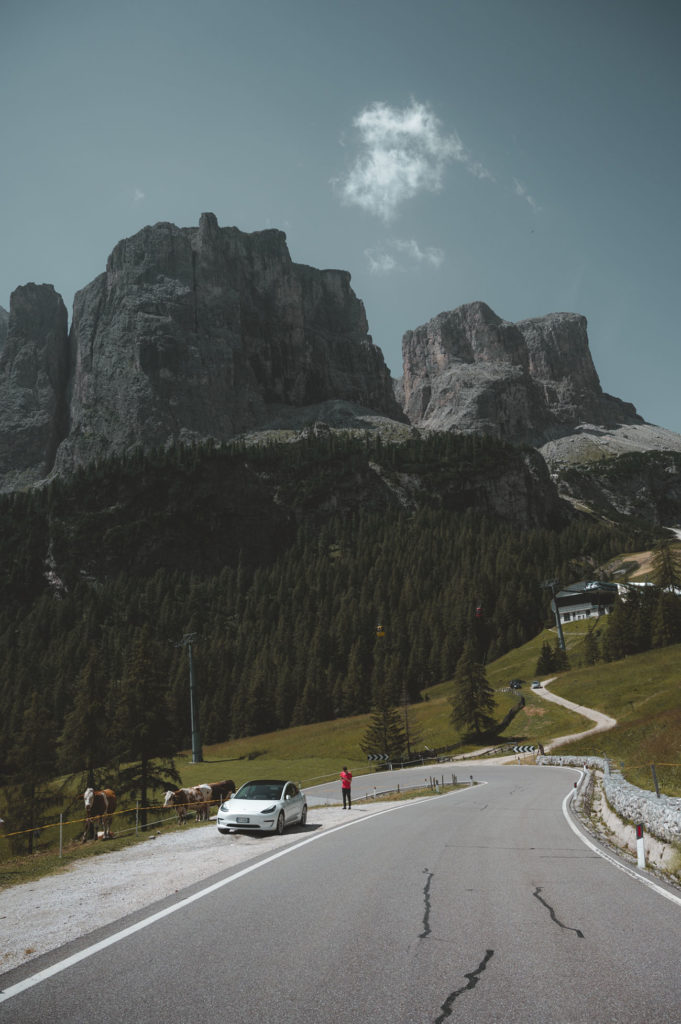 I decided to set off towards Ortisei and the peaks of Seceda. The road from Passo Gardena to Ortisei was dramatically scenic, and I drove past sharp cliffs, beautiful flowering alpine meadows and grazing cows. At this point, the roads meandered gently along the mountains, and I had to tackle sinuous curves, bends, loops, turns, and windings.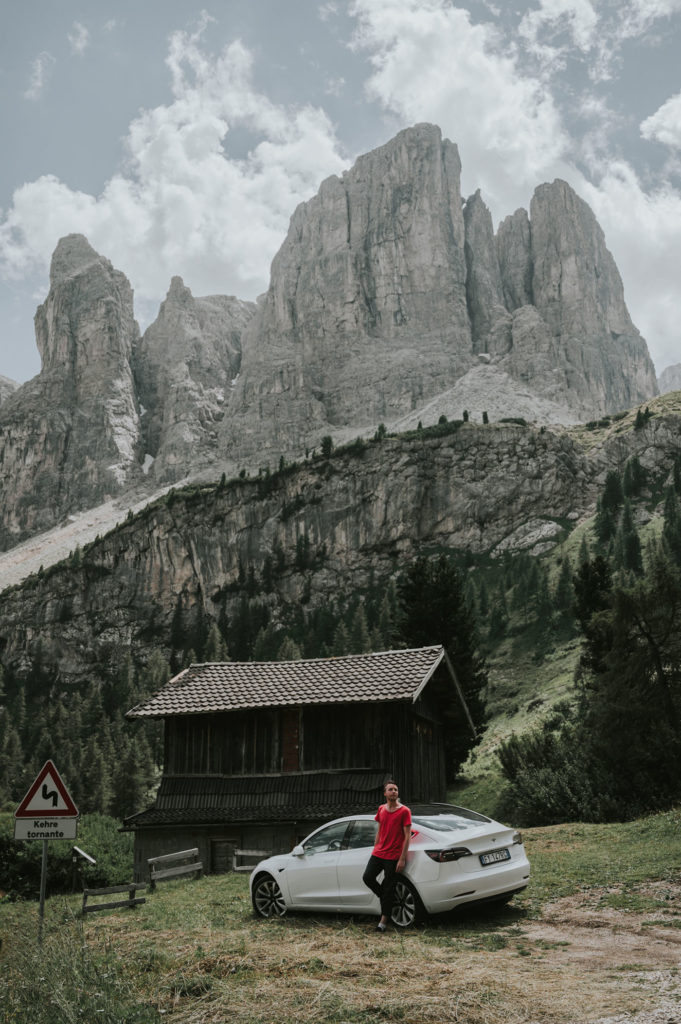 It is noticeable that Tesla values​ safety. Model 3 is equipped with cameras and sensors, and on the touchscreen display, it is possible to see how the vehicle is positioned in the lane, how close to the car is to other surrounding vehicles, and the roadside. This particular feature was very useful when driving on the narrow roads on my way to Ortisei. It always takes some time before you get used to the size of a new car, especially if you go from a smaller to a larger vehicle. The roads in the Dolomites are very narrow, and for me who was not familiar with the route before, it was very helpful to be able to glance at the touchscreen display to get an idea of how I was positioned in the lane.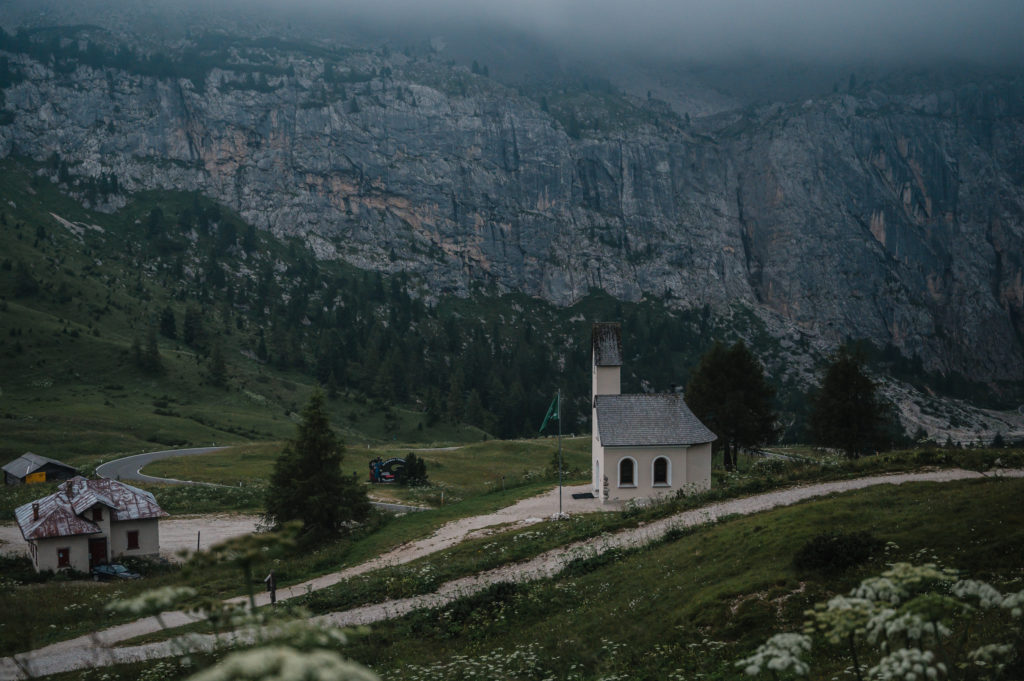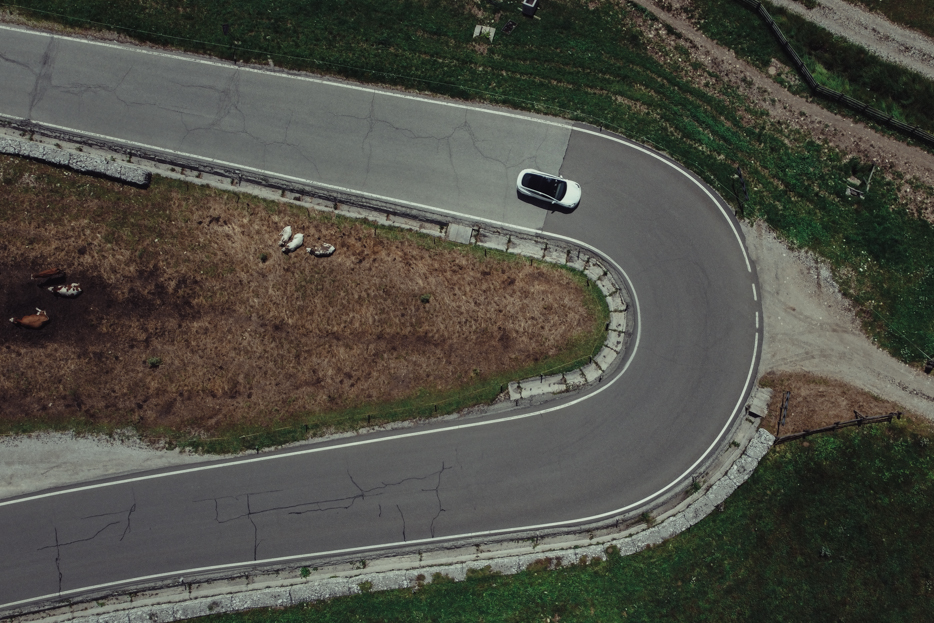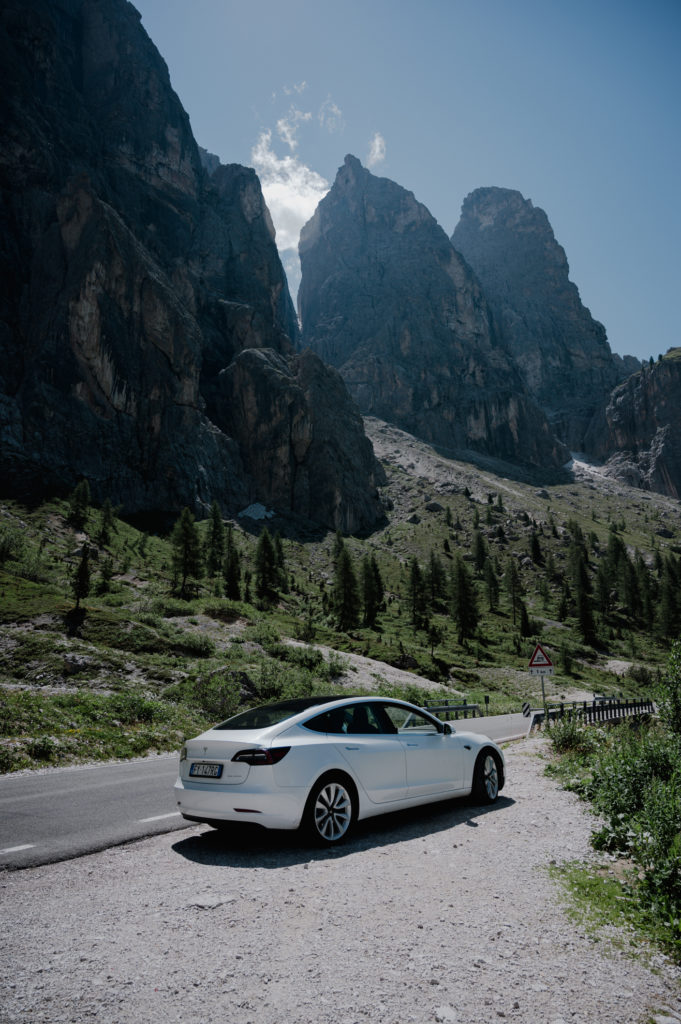 Once I had reached Ortisei, I switched the car for my hiking boots, and started my journey up to the peaks of Seceda. When you have been driving for quite some time, it is a relief to get out of the car and get some physical activity, so I was delighted to be wandering through spectacular terrain; the jagged skyline was adorned with thorny mountain peaks, pastel-colored cottages, and lush alpine meadows covered in crocus flowers brought me a sense of peace. I eventually reached an altitude of 2500 metres, and stayed by the Seceda ridgeline and the dagger-like Fermeda peaks for a dramatic landscape photo shoot.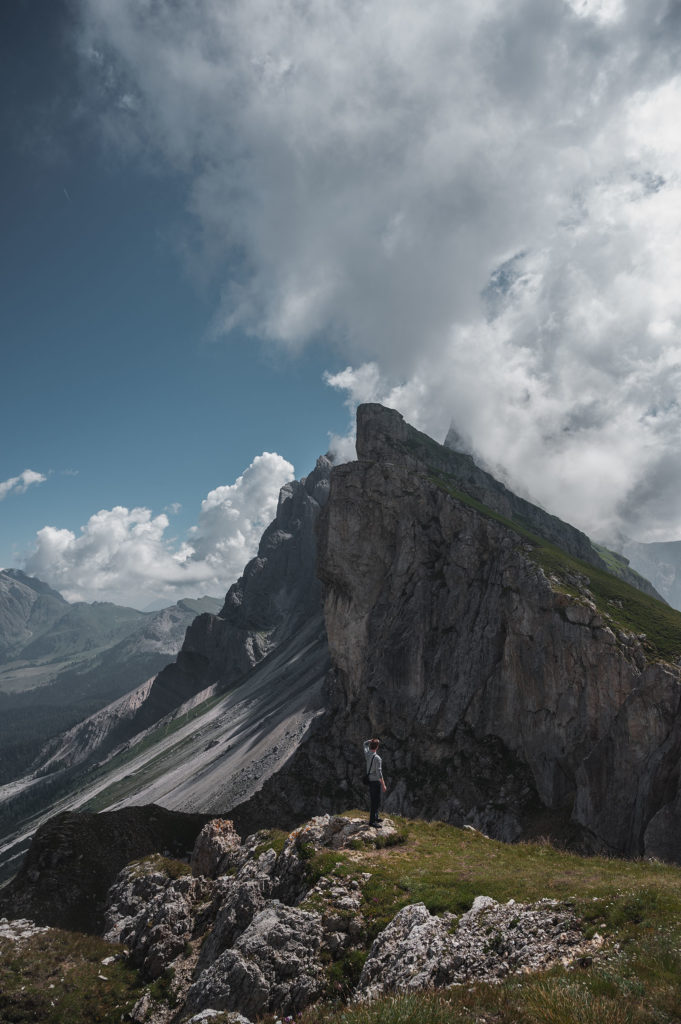 After having enjoyed a brief respite after my hike in Ortisei, I hopped into the car and headed for my next road trip stop; Lago di Braies (Pragser Wildsee), a mythical crystal clear lake surrounded by high mountain peaks and lush greenery. The 2-hour drive from Seceda to Lago di Braies was breathtaking, with beautiful views of northern Italian mountains and cliffs.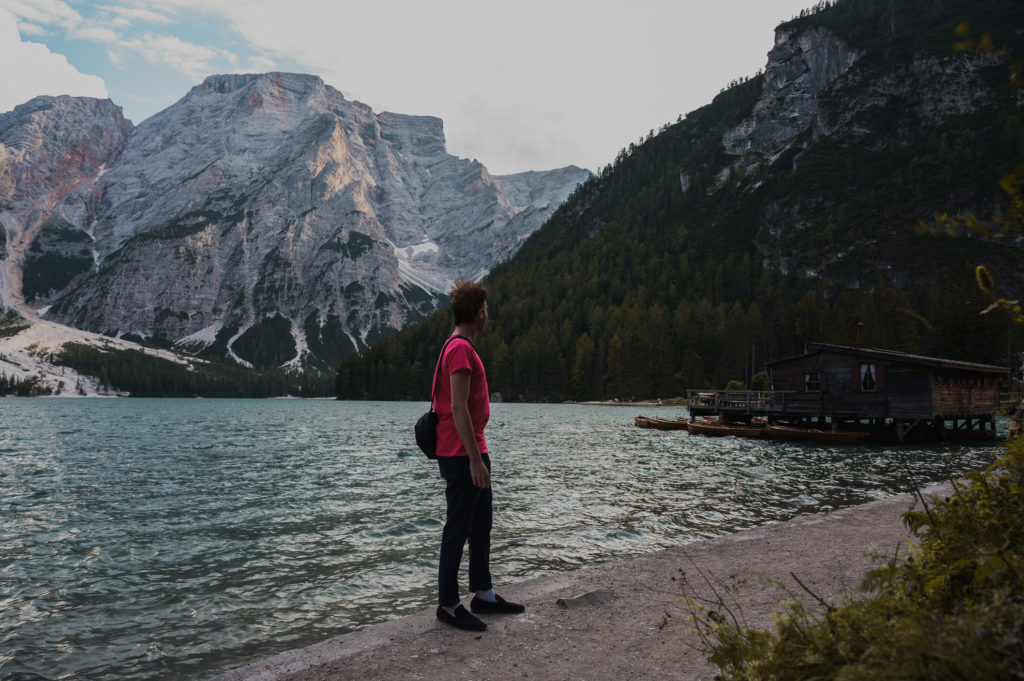 During my walk around Lago di Braies, the dusk had settled over the lake, and the sky was filled with dramatic dark mighty clouds. After an hour of intense photography, it was time to head back to the hotel before it got too dark.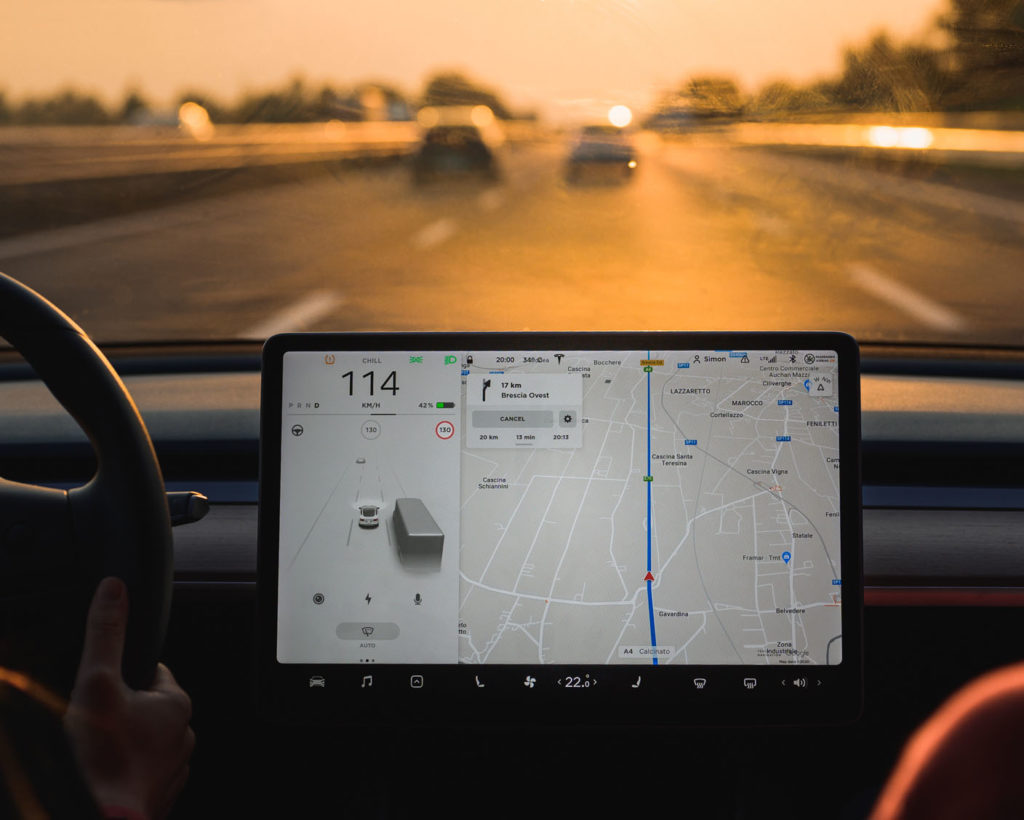 The next day was my last in South Tyrol, and my stay up in the mountains was as magical as it was short. In the best of worlds, I could have stayed longer, much longer, but the reality that the adorable landscape had conjured away began to catch up. The drive back to Milan where I first picked up the Model 3 was pleasant. Empty of energy and full of new memories, I sat comfortably behind the wheel on the empty Italian highway. The sun had started to set and the sky got darker as I got closer to Milan. Once there, I returned the car in the same way as I had picked it up, by leaving the key card in the car, and locking the vehicle using the Tesla application on my smartphone.
Camp Mode
The tech nerd inside me enjoys that the Model 3 is packed with features, although some of these are more useful than others. While it is neat that you can play Backgammon and read the news on the touch screen while waiting for the battery to charge, I'm not sure I would have used these features on a regular basis. In contrast, one feature that I can see myself using abundantly, which I unfortunately did not have the opportunity to try during this particular trip, is Tesla's "camp mode".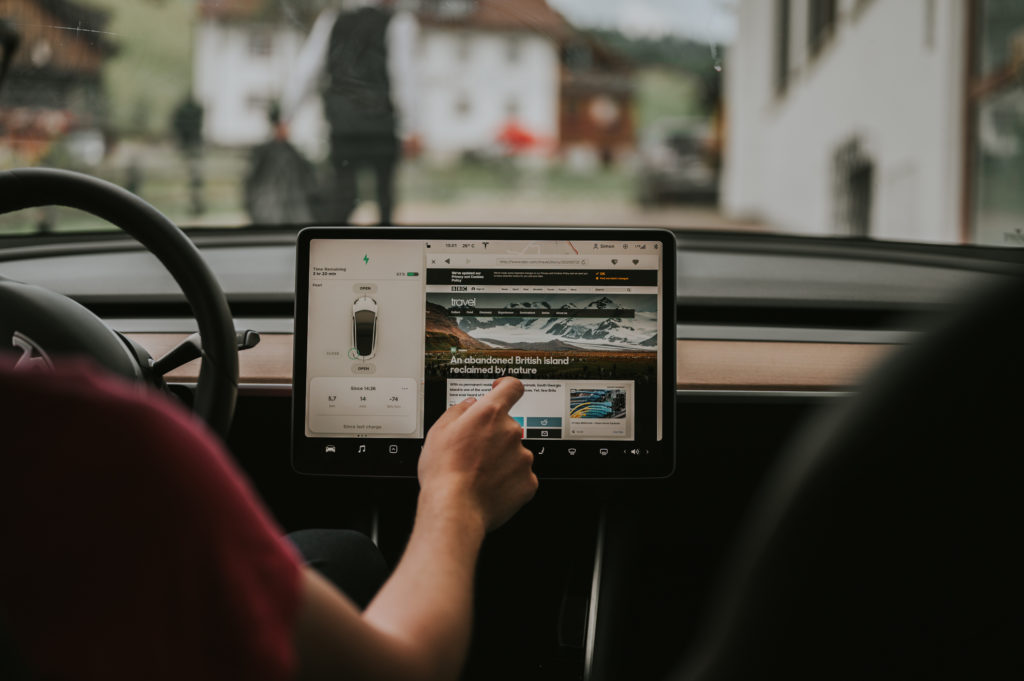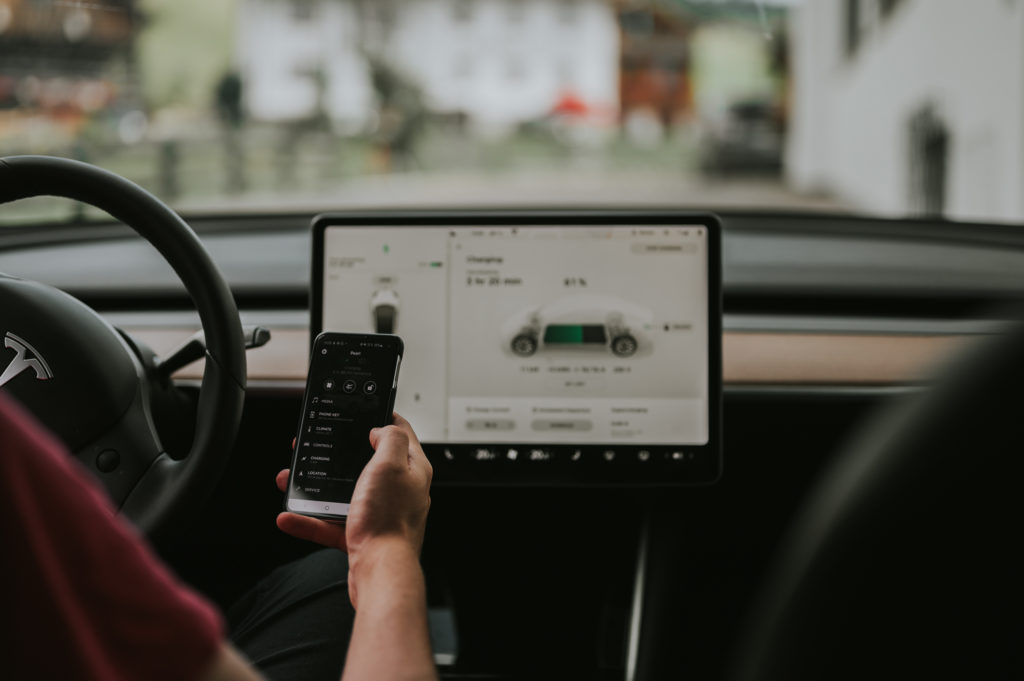 The camp mode feature enables the AC, heat, or ventilation to run while the rest of the car is switched off. What is more, the two rear seats can be completely folded down, transforming the car into a comfortable sleeping area where a full-grown person can lie down – legs fully extended. In addition to this, camping enthusiasts such as myself would be happy to hear that there are specially designed compact mattresses that are specifically tailored to the Tesla Model 3. This adds a large portion of flexibility to the already flexible car holiday as there are times when you would rather sleep out in nature, but do not want to lug around camping equipment such as tents and sleeping bags.
The camp mode, in my opinion, promotes spontaneity and opens up new opportunities to explore the world. With the Model 3, you not only have an environmentally friendly vehicle that takes you from one destination to another, you also have a portable and cosy sleeping area, which gives you the freedom to stop almost anywhere and spend the night. This paves the way for scenic experiences, and for me who has a penchant for sleeping in nature under the starry skies, a sleeping place under Model 3's glass roof is the next best thing.
Conclusion
With current travel trends where travelers are in quest of exploring secluded destinations and long for authentic experiences oriented by nature, I find it pleasant that modern technology allows us to explore our planet whilst minimizing our environmental footprint. All cars take you from point A to point B, the difference lies in the experience and this is where Tesla's Model 3 excels. The minimalist interior combined with the 15-inch touchscreen gives a contemporary and futuristic impression that exudes premium without compromising on functionality. The car itself is responsive and precise on the road, making it an incredibly easy car to drive. The range is fantastic thanks to clever energy management, and like a modern smartphone, new software updates and optimisations will only make the Model 3 a better vehicle over the years to come.