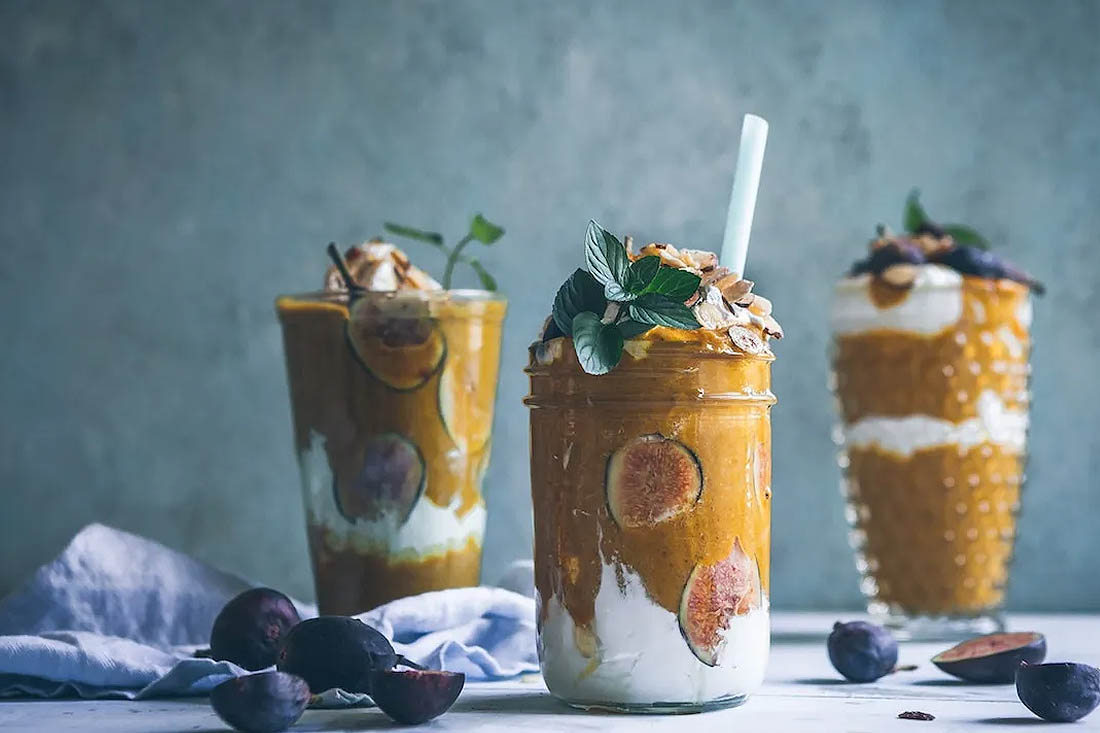 Creamy Fig And Pumpkin Latte Smoothie
With the first leaves turning and autumn approaching fast, my cravings for pumpkin spice is increasing all the more. Most people tend to associate pumpkins with not much more than Jack-o'-lanterns, Halloween and possibly Charlie Brown, but fact is, there is a lot more to this cute orange groud, not only in the flavour department, but also in the nutrition departments.
Health Benefits Of Figs
Figs have a long, ancient history, and being among the oldest fruits ingested by humans, it has been around for centuries. Remnants have been found in Neolithic excavations sites, dated 5,000 B.C.
Figs are often said to be the world's healthiest food. They are an excellent source of fibers and packed with minerals, including calcium, potassium, iron and magnesium, as well as vitamin A, E and K.
The potassium helps to control blood pressure, and the high concentration of dietary fibers promotes regular bowel function. The calcium strengthens our bones, and phosphorus contributes to bone formation.
Health Benefits Of Pumpkin
Pumpkins have multiple health benefits, and the vitamin- and nutrient-rich flesh of this squash plant is well worth incorporating into your everyday diet. Pumpkin is incredibly rich in carotenoids, the organic pigments that are responsible for the species' vibrant orange-yellow hue. These pigments act as antioxidants and have cancer-fighting properties.
In addition, the body has the ability to convert some carotenoids, such as beta-carotene (which is also found in carrots and apricots), to vitamin A. Vitamin A is essential to our vision and prevents degenerative damage. 2 dl of pumpkin is packed with 200% of our recommended daily intake of vitamin A!
Furthermore, pumpkins also contain potassium, fiber, and vitamin C, which all support heart health and strengthens our immune system. Lastly, pumpkin seeds are rich in tryptophan, an amino acid that contributes to the body's production of serotonin, the neurotransmitter that is responsible for maintaining mood balance.
---
The Recipe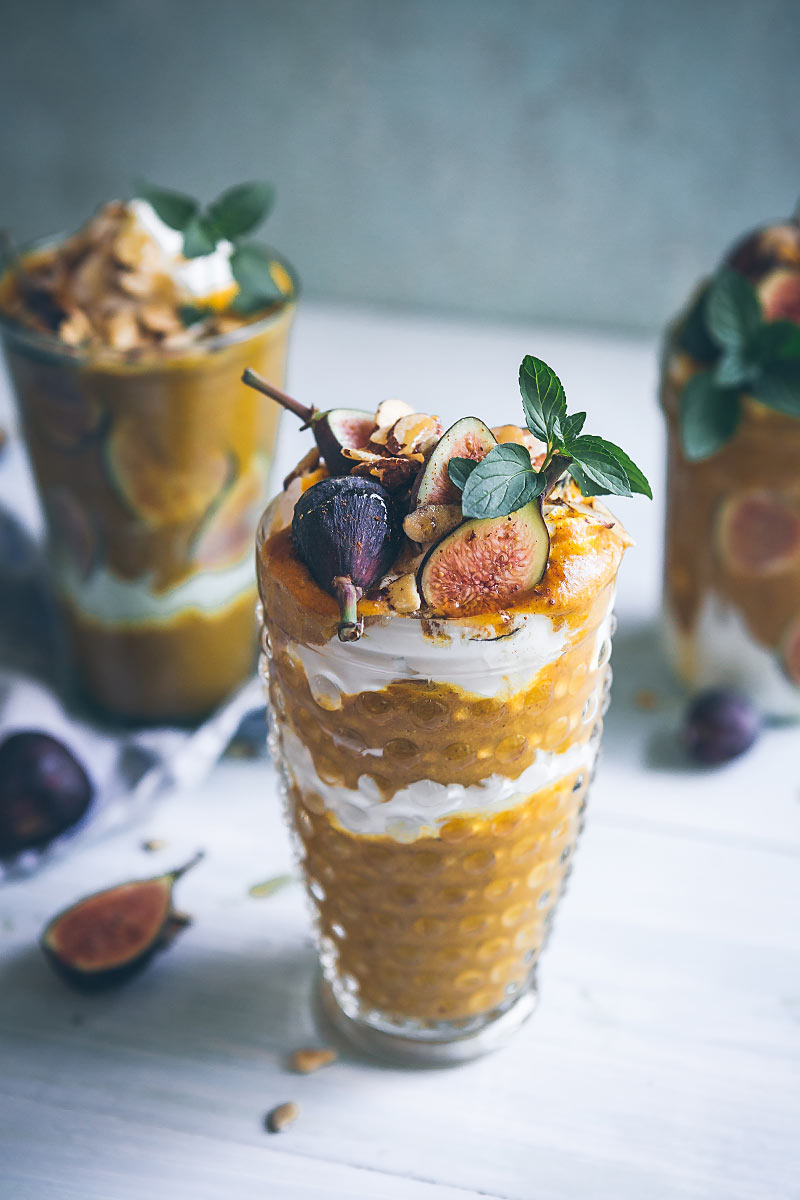 The following smoothie is ridiculously simple to make. It's based on almond milk, banana and figs and can be garnished with various toppings such as granola and walnuts. For some extra warm spice, add some cinnamon, ginger, and vanilla. It will add extra fiber to your day, and keep you full for a long time.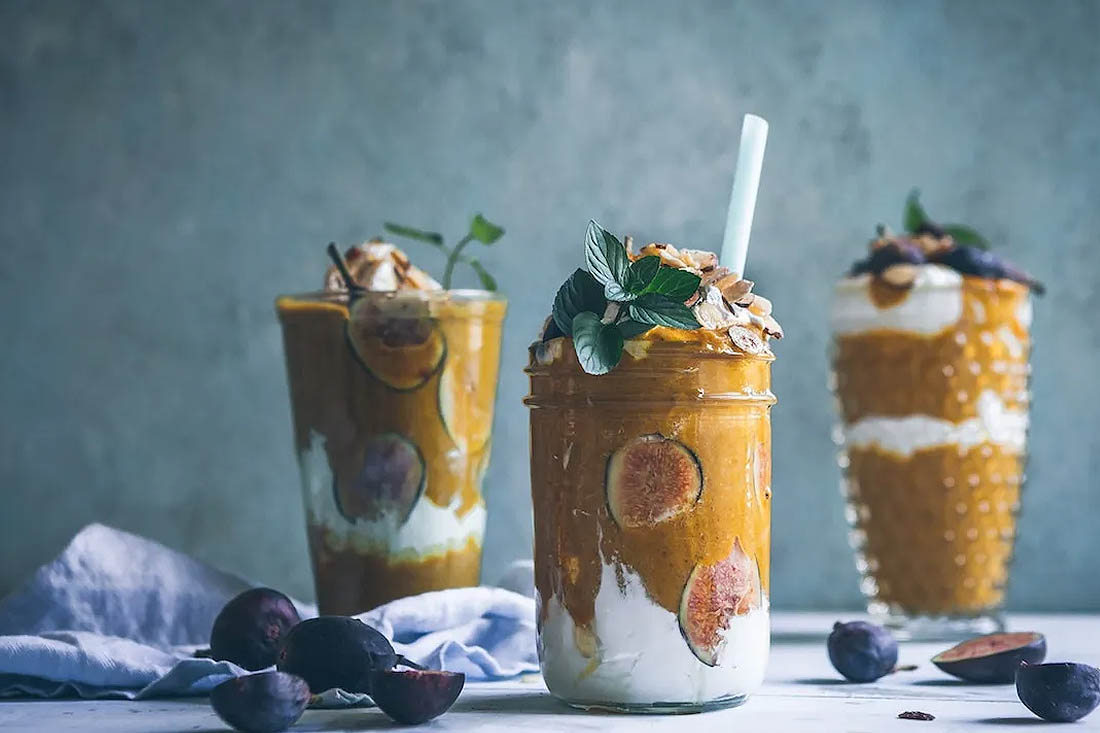 Ingredients
2dl almond milk (or milk of choice)

1dl canned pumpkin puree

0.5 teaspoon vanilla extract

0.5 teaspoon cinnamon

0.5 teaspoon ground ginger

1 tiny pinch salt

½ banana, chilled or frozen

2-4 ice cubes

1/4 cup coconut yogurt (topping)

3-4 fresh fig (topping)

0.5dl rolled oats or granola (topping)

vegan coconut whipped topping (optional)
Instructions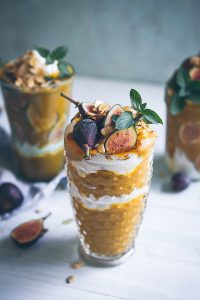 1. Remove the stems of the figs and chop them into halves. We will use these for garnish to add some visual appeal, so try to make it look pretty ;).
2. Put some granola and some coconut yoghurt aside for later. Add the almond milk, the pumpkin, the banana and the ice cubes (in the order listed) to a blender and blend until smooth.
3. Add the spices; vanilla extract, cinnamon, ground ginger and salt. Blend for a few seconds to distribute the spices evenly.
4. Transfer to a serving glass. Add the the figs.
5. Sprinkle the granola over the drink. Add some vegan coconut whipped topping.
Notes
Experiment freely and top with a variety of toppings.