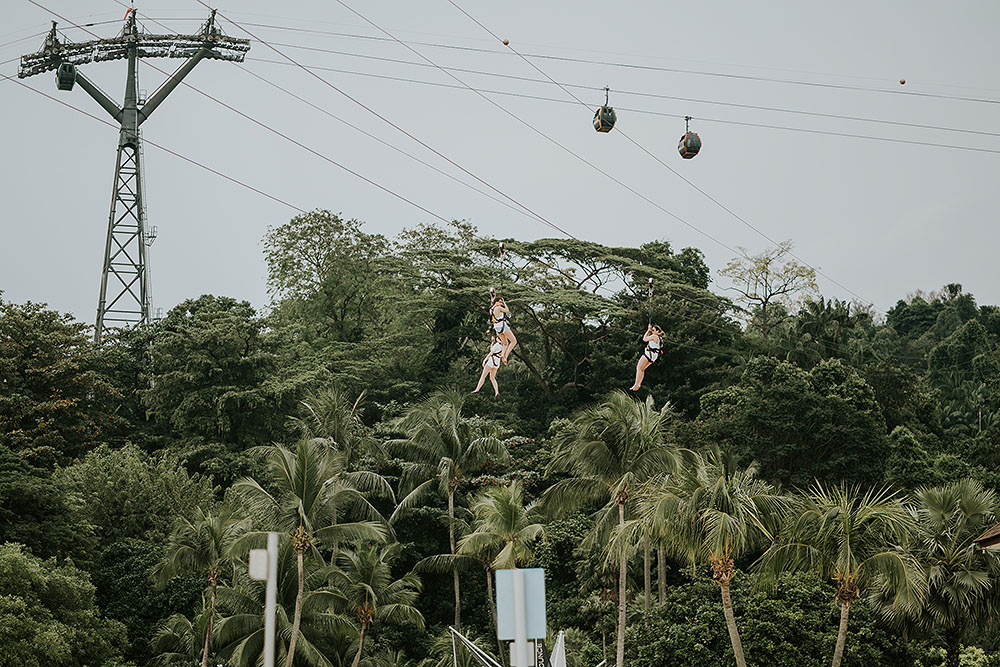 Jungle Adventures At The High Ropes Adventure Park MegaAdventure Singapore
Located amidst the lush and tranquil environment on the resort island Sentosa lies the MegaAdventure Singapore. This aerial course park is home to four adventure activities – one 36-obstacle treetop ropes course, a 15m Mega Jump free fall simulator, a rock-climbing wall, and the world famous MegaZip. In fact, the park houses one of the longest and steepest zip wires in all of Asia, and as an avid adventure park aficionado, I was very excited about my visit.
The scenery on the way up to the park, which is located at the top of Mount Imbiah, is stunning and gives you a completely different view of Singapore. Upon arrival, I was fitted into a harness with wire carabiners. The instructors explain everything you need to know and share the safety instructions before each obstacle course.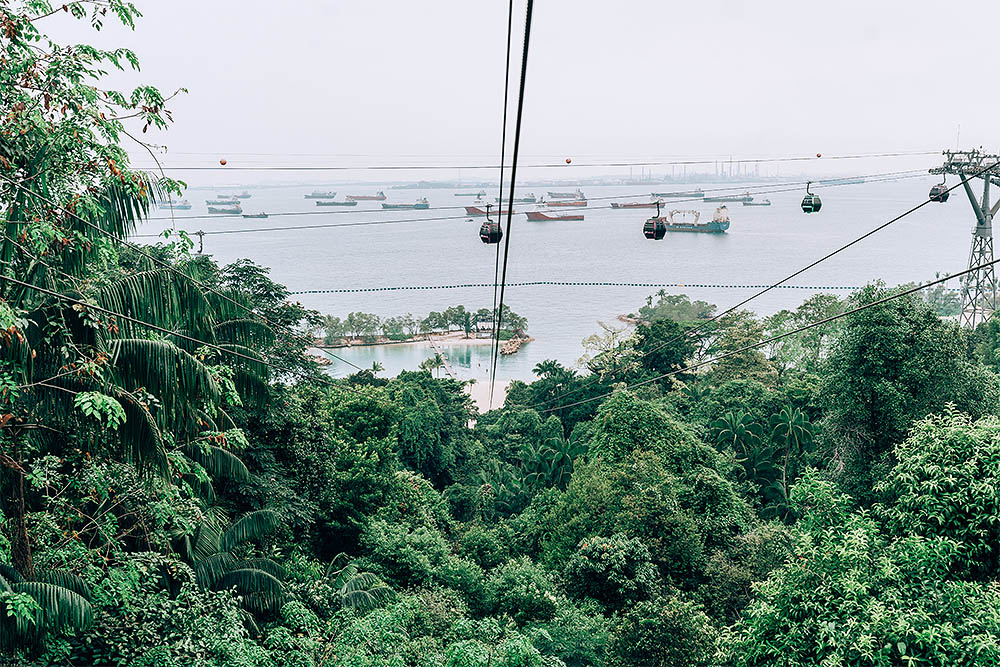 MegaClimb is a high ropes adventure course, constructed on 5 – 15 metre high Eucalyptus trees. The MegaAdventure Singapore offers a total of three levels of obstacle courses, with each level gradually increasing in height. There are a total of 12 treetops obstacles at each level. The obstacles are made out of ropes, floating planks, wires, wooden logs, wobbly beams and shaky ladders. There are instructors available at all times, but for the most part you are on your own, and if you fall, you have to pull yourself up.
I conquered all three levels but did not quite realise what I was in for. I found each obstacle challenging my strength in unexpected ways as I tried to manoeuvre myself through various obstacles to complete the course.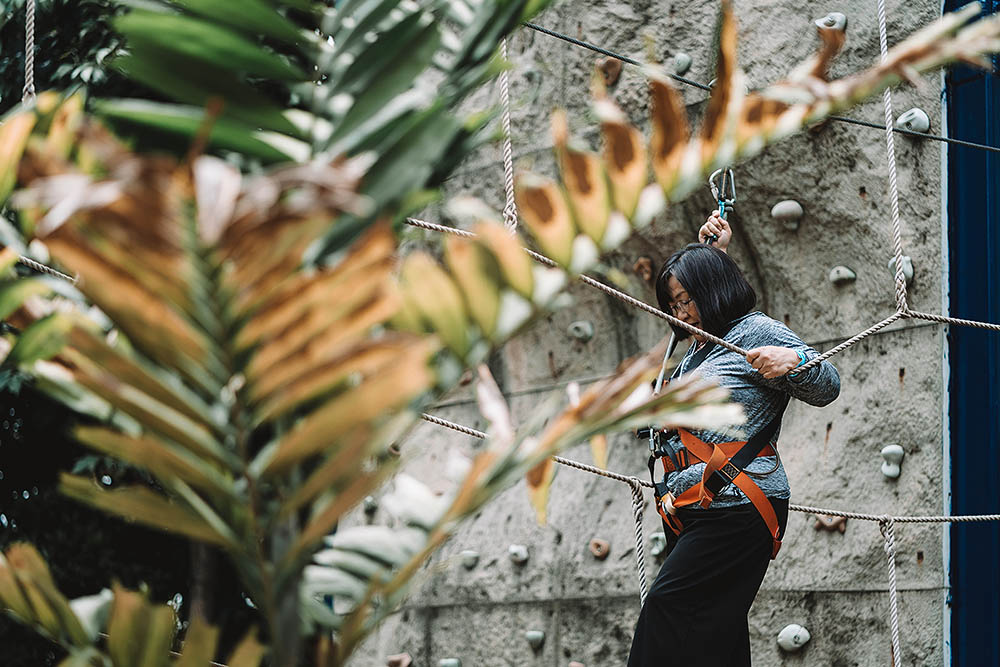 The MegaJump station is at a height of 5 metres. The experience is supposed to be akin to a free-fall bungee jump but with the difference being that one is attached to a wire cable. The descent is quick and I experienced a very smooth landing. I can't really say I experienced a free-fall sensation since the harness was pulling me back – after all, nothing truly compares to a parachute jump experience from a plane ride.
The world famous MegaZip is a 450 metre long and 75 metre high zip line that crosses the lush jungle of Sentosa Island at an exhilarating 60 km/h. The MegaZip platform, located at the peak of Imbiah Hill 75 metres above ground, provides an astonishing view over Sentosa Island. The zip line stretches over both the jungle, beach, and sea. The ride itself is just as thrilling as it is refreshing and whisked me 450 metres through the beautiful Singaporean landscape.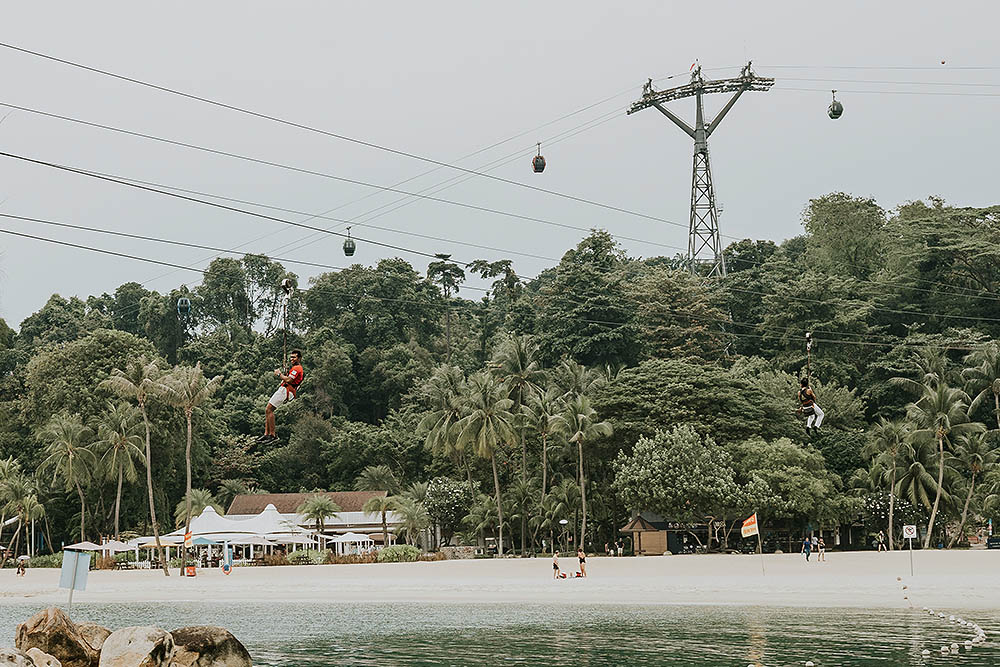 My day at the MegaAdventure Singapore was an exhilarating experience and truly pushed my fears to the limit while offering astonishing views over Sentosa Island. I am a long time fan of treetop parks but doing the obstacles in a picturesque setting such as Sentosa Island really added to the experience.
About MegaAdventure Singapore:
– The park has been voted Top 10 Experiences in Singapore and received the 2019 TripAdvisor Traveller's Choice Award.
– Located on Sentosa Island, Singapore.
– Home to Asia's no.1 zipline
– Offers three aerial high ropes adventure courses varying from 5-15 metres in height.
– Also offers a 15-metre free-fall parachute jump, four trampolines, and a climbing wall.
Tips & Recommendations:
– The climate in Singapore is hot and humid. I visited during the hottest month of the year, and it got sweaty! I would recommend to wear tight-fitting cotton/linen clothing. Linen is lightweight and breathable, and the tight-fit will ensure you don't get them caught on anything.
– The equatorial sun is very strong so make sure to re-apply sunscreen.
– If you want to bring an action camera such as a GoPro, make sure to mount it somewhere, as you will need both hands to complete the course and will have to rely on capturing hands-free shots.