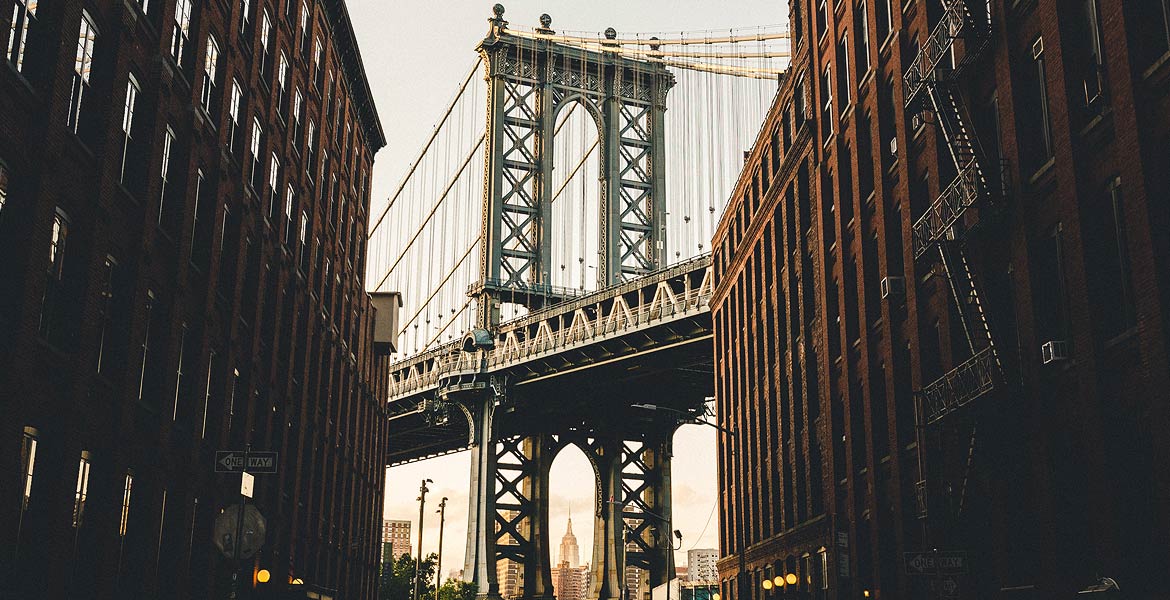 New York City – An Ultimate Beginner's Guide
This article is part of a New York series aimed at helping you learn more about the city and how to make the most out of America's cultural capital. In this post you'll find a complete New York beginner's guide of helpful information on New York City's boroughs and neighbourhoods, how to get around, mass transit and general travel tips.  
Located at the southern tip of the State of New York, New York City is not only the most populous city in the United States, but also one of the most populous urban agglomerations in the world. With 8.5 millions people calling New York City home, it boasts majestic skyscrapers, historic landmarks and lush green parks.

Boroughs and Neighbourhoods of New York City
New York City is made up of five boroughs; The Bronx, Brooklyn (Kings), Manhattan (New York), Queens and Staten Island (Richmond). You can almost say New York City is like several cities in one, where each borough has its own culture and reputation.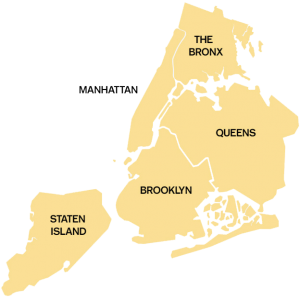 At 23 square miles, the island Manhattan is the smallest of the boroughs, yet it has more people (1.6 million people) than the largest borough. Head directly to Manhattan and you'll find well known landmarks such as the Empire State Building and Central Park.
The Bronx, located to the north-east of Manhattan, is the second smallest of the boroughs at 42 square miles is home to 1.3 million people. Head to the South Bronx to get a view of the appreciated Yankee stadium, the lush green gardens of the New York Botanical Gardens or the Bronx Zoo which offers outdoor cafes and exhibits.
At 71 square miles, Brooklyn is the most inhabited borough with 2.5 million people residing there. Brooklyn has plentiful of ethnic groups with a large African American community in the Bedford-Stuyvesant area, Russians in the Brighton Beach area and Hispanics in Bushwick. Head to Brooklyn if you're interested in art – the Brooklyn Museum houses the second largest collection of art in the USA.
At 109 square miles, Queens is the biggest of the boroughs and has a population of 2.2 million people. If you're traveling to New York City by air, it is likely you'll touch down in Queens, as both John F. Kennedy International Airport (JFK) and LaGuardia Airport (LGA) are situated in here. If you have the chance, make sure to stop by the Unisphere, a symbol of Queens, in the shape of a giant globe in Flushing Meadows Park.
At 58 square miles and with 470,000 residents, Staten Island is the least populated boroughs. It also happens to be the southernmost part of both NCY and the state of New York. Staten Island is separated from the rest of the boroughs by New York Bay, but is easily accessed from Brooklyn by the Verrazano-Narrows Bridge. In contrast to the other four boroughs, Staten Island is not connected to the New York City Subway system, however the free Staten Island Ferry connects the borough to Manhattan and will take you on a scenic ride, passing the Statue of Liberty whilst offering scenic views of the the beautiful skyline of Lower Manhattan and Ellis Island.
Airport Transfer, New York City Airports
If you're visiting New York City and traveling by air, there's a high probability you will touch down in John F. Kennedy International Airport (JFK), LaGuardia Airport (LGA) or Newark Liberty International Airport (EWR). JFK International Airpor, one of the world's more well known airports, is situated in Queens, about 15 miles from Manhattan. Also situated in Queens, only 9 miles from Midtown Manhattan,  is LaGuardia Airport, the smallest of the major airports in the NYC area. Newark-Liberty International is located in neighbouring New Jersey, only 35  minutes away from Lower Manhattan.
You can easily get to Manhattan from all three airports by either taxi, public transportation, shuttle bus or commuter trains. If your budget allows, why not take a helicopter and enjoy the wonderful overhead views of the Manhattan skyline?
Taxi Cabs
Taxis are generally the easiest way to get to NYC, but this is also one of the more expensive options. Consider that you're now in New York City, thus traffic can jam up any time. Therefore, travel time varies and is hugely dependent upon traffic and road conditions. Always allow 30 extra minutes in case of heavy traffic.
Travel time and cost: 
– JFK Airport – Manhattan: flat rate of $52.50 USD + tolls and gratuity // 45 – 60 minutes
– Newark Airport – NY Penn Station: $69–$75 USD + tolls and gratuity // 35 – 50 minutes
– LaGuardia Airport – NYC Penn Station:  $29–$37 + tolls and gratuity // 20-35 minutes
Public Transit
If you don't want to spend all your travel money on taxi cabs, mass transit is a competitive and affordable option. The AirTrain  in combination with public transport, such as the New York City Subway or Long Island Rail Road (if traveling between JFK – NYC) or NJ Transit  (if traveling between Newark – NYC) is one of the cheapest options. AirTrain is available at both JFK and Newark Airport and links the airports to the NYC subway, the Long Island Rail Road, as well as NJ Transit's commuter trains. There is no train service into Manhattan from LaGuardia Airport, however, you can travel between Manhattan and LaGuardia entirely by public transportation.
Travel time and cost:
– JFK Airport – NY Penn Station: $7.75 USD in total // 60 minutes (Airtrain + subway)
– JFK Airport – NY Penn Station: $15 USD in total // 35 minutes (Airtrain + Long Island Rail Road)
– Newark Airport – NY Penn Station: $13 USD in total // 30 minutes  (Airtrain + NJ Transit)
– LaGuardia Airport – NYC Penn Station: $2.75 USD in total // 60 minutes (city buses + subway)
Shuttle Bus
If you can't be bothered with dragging your luggage onto public buses and trains, a third option to consider is shuttle buses. The price is somewhere between the cost for public transportation and a private taxi cab ride. Most popular options include SuperShutte, Go Airlink NYC and NYC Airporter. Prices range between  $17 – $25 USD for JFK-Manhattan, $23 – $25 USD for Newark Airport – Manhattan and  $14 USD – $19.60 USD for LaGuardia Airport – Manhattan.
Travel time and cost:
– JFK Airport – NY Penn Station:$25-$17 USD in total // 1.5 hours (SuperShuttle, GO Airport Shuttle, AirLink or NYC Airporter)
– Newark Airport – NY Penn Station: $23-$25 USD in total // x minutes  (SuperShuttle, Go Airport Shuttl, AirLink)
– LaGuardia Airport – NYC Penn Station: $14-$19.60 USD in total // 1 hour (SuperShuttle, AirLink, GoAirportShuttle, NYC Airporter)
---
Read our article New York City Airport Transfers: a Complete Guide for an extensive guide on the three main airports that serve the NYC area, and, most importantly, the available options for traveling between the airports and NYC, including details on travel time, directions and exact price details. 
---
Transport & Getting Around New York City
If it's your first time in NYC, getting around can initially seem intimidating, so I'd recommend to familiarize yourself in advance which will save you both time and hassle once you're on the go. New York City's transportation system includes one of the largest subway systems in the world, an aerial tramway and the world's first mechanically ventilated vehicular tunnel. Public transportation is easily accessible and the city offers subways, buses, trams and ferries.
Getting Around New York City by foot is easy, as it's a perfect walking city. The positive aspect of getting around by foot is that you get the opportunity to familiarize yourself with neighborhoods in a completely different way than if you'd travel by taxi cab. It is also a perfect opportunity to discover hidden gems and stay on your favourite spot to take some impressive photographs. All five of NYC's boroughs can be delved into completely by foot, and all boroughs are worth a visit. Look for details in architecture, street life and landscape. Don't miss to cross the impressive Brooklyn Bridge or go for a walk in Flushing Meadows–Corona Park.
If you're feet are getting sore, hop on a subway train which can take you practically anywhere within the four New York boroughs Manhattan, Bronx, Brooklyn and Queens. The subway does not extend to Staten Island however. Some of the municipal rapid transit trains in fact run above ground and can offer striking views of the city. Traveling by subway is fast, efficient and cost effective. The New York Subway MTA Map and Route Planner will help you plan your trip and find your way.
Subway trains run every 2-5 minutes during peak hours, every 5-15 minutes during the day and every 20 minutes during the period midnight-5 a.m. I highly recommend you to purchase a $1 MetroCard, which you load with either a Pay-Per-Ride balance (minimum $5) or an Unlimited Ride (7 or 30 days). For more information on the NYC subway and different means of payment, indulge in the Transportation in New York City article.
You also have option to travel by city or express buses. To travel on city buses alone is an experience in itself, as it offers beautiful views of the Big Apple, something you miss out when traveling underground. The one downside is that, just as taxi cabs, buses are subject to traffic jams. . The majority of buses in Manhattan run either Uptown/Downtown or Crosstown and can take you to spots where subway trains don't stop.
In addition to the city buses and subway, you can also travel by ferries. If you're traveling on a budget, you certainly musn't miss the free Staten Ferry Island, which connects the southernmost point of Manhattan to the north part of Staten Island. The ferry is in actuality a commuter ferry, but as it passes the NYC harbour make sure to take in the beautiful view from Downtown Manhattan, Ellis Island and the Statue of Liberty. Continuing,  NY Waterway operates both commuter ferries that connects Manhattan, New Jersey, Brooklyn, Queens and Governor's Island. Look for the East River ferry that serve the areas around the East River or the Hudson River Ferries that serve the North New Jersey and Manhattan.
Finally, if time is of essence, you can always just hail a green och yellow taxi cab which will take you anywhere you need. You may also opt for an Uber instead. as the latter tend to be a bit less expensive.  The minimum taxi fare is $2.50 USD and charges increase by $0.5 USD for every minute or 1/5 of a mile (0.3 km). Additional surcharges of $0.5-$1 USD are added at nights 8 p.m. – 6 a.m. or during weekdays 4 p.m. –8 p.m. respectively. There is a $0.5 USD New York State tax, and a tip of 15–20% is always expected. Finally, tolls added at the end of your journey. If you're just traveling a short distance, try to hold out a "C" with your hand, which will indicate to the taxi drivers that you're looking for a quick ride. If you're lucky, you might even get an off-duty cab to pull over and assist you.
---
Read our article Transportation in New York City for a complete guide on how to get around and forms of transportation available. The article includes tips and tricks, helpful smartphone app recommendations and price details. 
---
Free Wifi in NYC
If you're roaming the streets of NYC and suddenly need to make a call, browse the web for directions or charge your device – you're in luck. There are plenty of options for public wi-fi service in New York City, and you can stumble upon wifi hotspots in parks, subways and in so called Link kiosks.
As of recently, NYC has developed the biggest and fastest free network in the USA by replacing 7500 pay phones booths with tall, slim, screen-wrapped kiosks. These so called Links can be found all over The Bronx, Brooklyn, Manhattan, Queens and Staten Island and each Link structure offers residents and visitors Wi-Fi, phone calls, device charging and a tablet for Internet browsing. Standing within a 150-foot radius, you can either use your own device to connect to LinkNYC's Wi-Fi, or you can use the touchscreen Android tablet provided in the Link to browse the web and access city services, maps and directions. You are also allowed to make phone calls to anywhere in the U.S. by using the Vonage app on the tablet or the tactile keypad and microphone or headphone jack. If you need to charge your device, you can do this via the power-only USB port. All of this, completely free of charge.
In addition to the Links, public Wi-Fi service is offered in about 80 parks, including Central Park, Bryant Park, Flushing Meadows Corona Park and Brooklyn Bridge Park. The service is provided by companies such as AT&T, Cablevision, and Time Warner Cable. Some hotspots, such as the AT&T's offer completely free and unlimited wi-fi, whilst other hotspots, such as the Cablevision or Time Warner Cable's offer a 10-minute free pass, with the option to purchase a $0.99 full day pass. To find your nearest hotspot, view a map of the Parks WiFi locations.
Local SIM Card
If you don't want to rely on wifi being readily available, you could pick up a prepaid local SIM card, as I always do on my trips. Avoid purchasing a SIM card at the airport, as they are often overpriced. Instead, head for the nearest AT&T or T-Mobile stores in the city and get personalised assistance by one of the sales person. They can assist you in picking the plan that is best suited for your needs.
T-Mobile offers the Tourist Plan for US$30.00, valid for 3 weeks and includes unlimited data with up to 2 GB, unlimited domestic and international texting to 140+ countries, 1000 minutes of domestic talk.
---
Hopefully the New York Beginner's Guide have helped you some in your planning. Although the article could get much more lenghty, above are our top recommendations for a beginner traveling to the Big Apple. For those of you that have visited New York in the past, what basics would you recommend for a first time visitor?