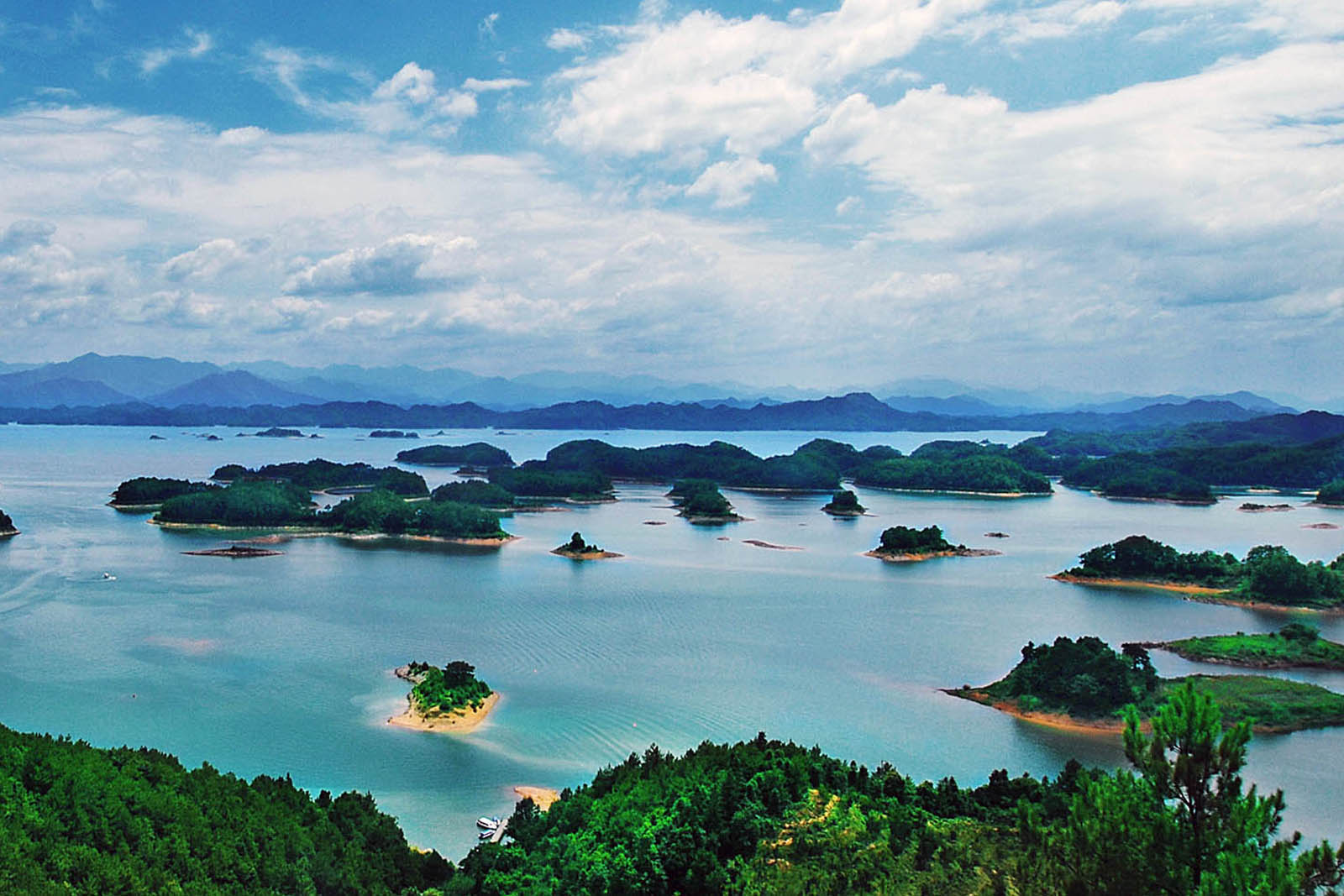 An Authentic Experience at Qiandao Lake, the Thousand Island Lake
One of my favourite aspects about travel blogging is that I am given the opportunity to present you destinations that you may not have thought about visiting before.
I recently got the opportunity to experience Qiandao Lake, located in Chun'an County, Zhejiang Province, China. Qiāndǎo Hú, which translates to "The Thousand Island Lake", derived its name from its unique characteristic – namely the 1,078 large islands that dot the lake, and the additional thousand smaller ones scattered across it. It is a man-made freshwater reservoir with an alluring history. The lake is home to a submerged ancient city – Shi Cheng. China's very own Atlantis was constructed during the Eastern Han dynasty (AD 25-200) and is now resting at the bottom of a lake, remaining well-preserved and rest of a depth of 26-40 metres.
Qiandao Lake
Qiandao Lake is gradually being developed into a tourist resort, with a myriad of things to do and experience. It is a place of incredibly natural beauty, filled with astonishing viewpoints, expansive lagoons, dense lush forest and towering majestic mountains.
My own journey to this enchanting place began in Shanghai, located at the Chinese East Coast, about 20 miles from Hangzhou. Travelling between these two cities is relatively easy, as there are multiple bus departures every day connecting Hangzhou to Pudong Airport in Shanghai. Despite my inability to speak Chinese, there was no problem whatsoever to locate the bus terminal, purchase the tickets, and find the right bus that would take me directly to Hangzhou. The bus ride lasted for three hours and while my travel companion tried to get some sleep after a long flight, I was fascinated by the Chinese infrastructure we drove past.
Once at the bus terminal in Hangzhou, which was just a stone's throw away from the Landison Plaza Hotel where we were going to spend our first night, I met up with Jenny, co-worker at Absolute China Tours. Jenny guided us to the hotel and during the leisurely stroll she excitedly told us some interesting tidbits about Hangzhou's rich history.
The next day we woke up relatively early, and after having sampled a rich and abundant breakfast buffet at the Landison Plaza Hotel, we hopped on a bullet train from Hangzhou East Railway Station, and within an hour we had already reached Zhenzhu. The high-speed rail in the country consists of a network of railways designed for speeds up to 350 km/h (217 mph), and traveling by high-speed rail within China turned out to be very convenient and an easy way to travel between different cities.
Our first stop on the tour was the Chun'an County Museum (县 博物馆). Upon entering the museum, I was enchanted by the art installation and light decor on display. As I gazed up at the ceiling, I saw ancient looking wooden boats dangle from the ceiling, surrounded by the immersive large-scale installations of creative lighting art.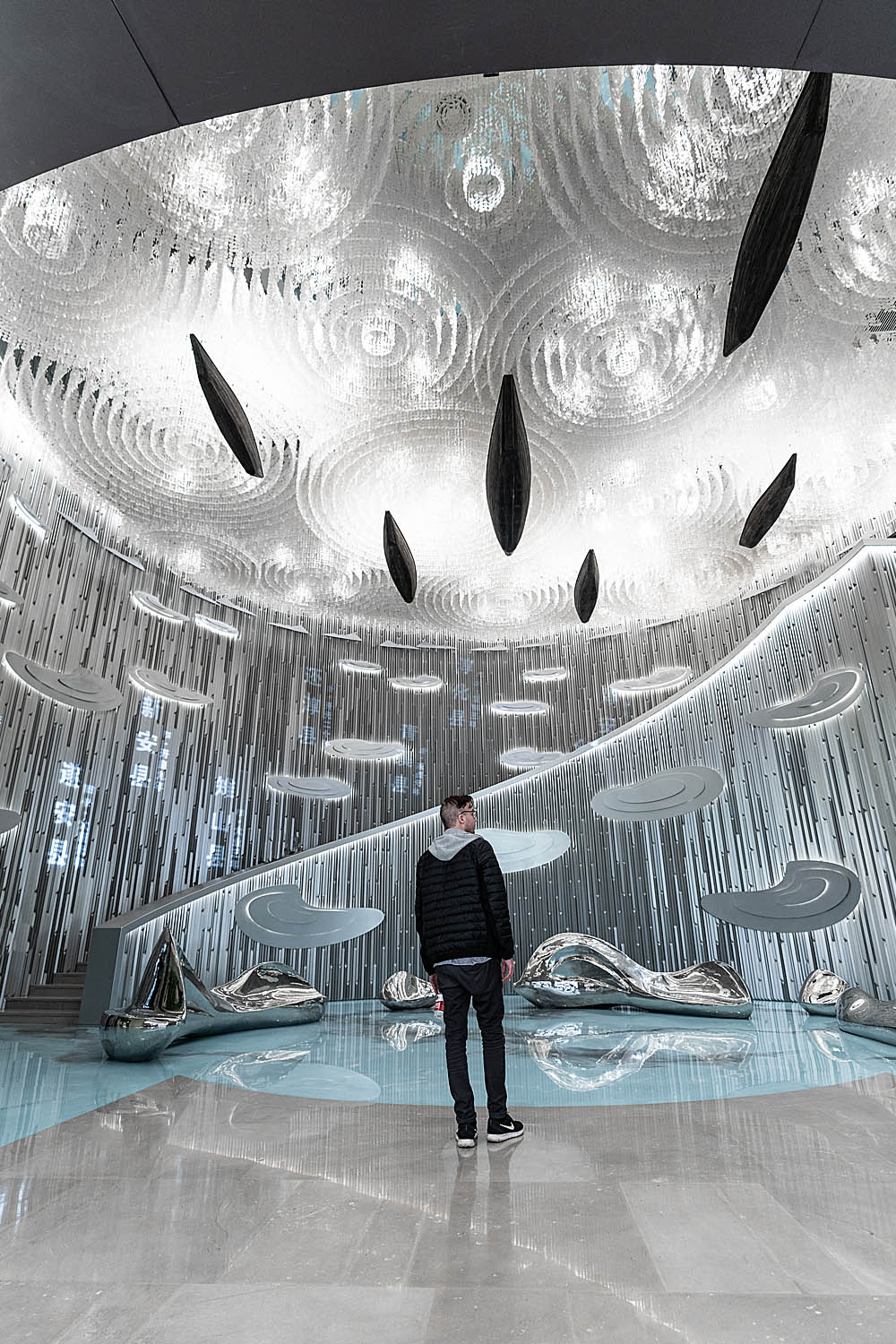 Enchanted by the immersive large-scale installations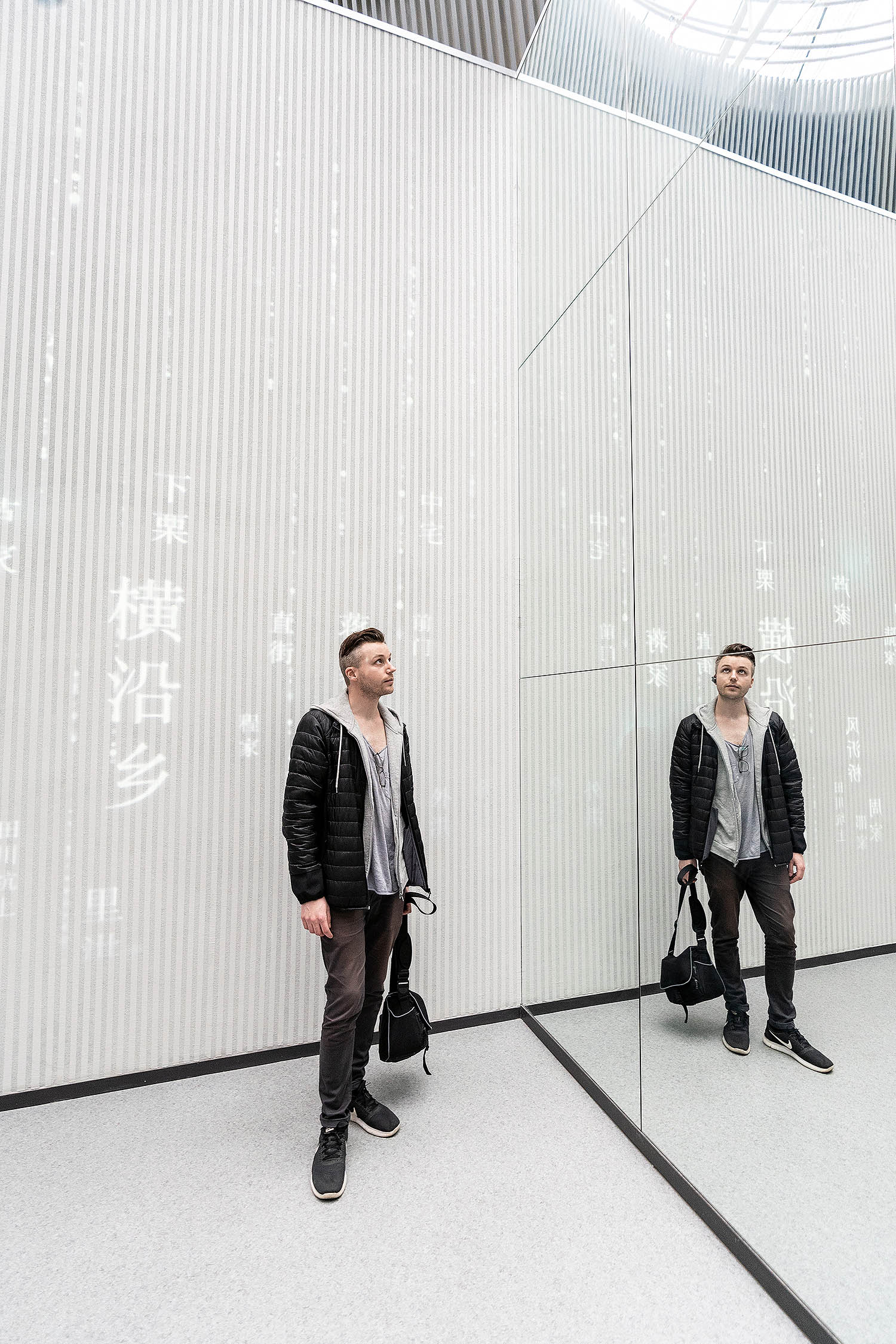 Having spent about an hour at the museum, it was time for the next stop at the tour, a local eatery serving the traditional Chinese dish "hot pot". Hot pot is a Chinese cooking method – a gigantic pot of simmering, seasoned broth is heated on an induction burner, and as the pot is kept simmering, ingredients are placed into the pot and are cooked for a long time. Archeological evidence gives spport that the earliest hot pots appeared around the Han Dynasty (AD 25-200), and hot pot subsequently became popular among Chinese emperors and nobilites. The cooking method spread throughout China, where distinct regional variations developed and remain to this day. It was interesting to get to know the Chinese food culture a little bit better and the dining experience encapsulated the communal dining ethos so typical of the Chinese culture.
Experiencing Local Chinese Customs at Aoshan Fishing Village
After lunch, we boarded the bus and head to the next stop on this journey – Chun Xiang Ju B&B in Aoshan Fishing Village, where we would spend the night. Once at the B&B, we met up with a group of very friendly locals and had the opportunity to cook our own dumplings using traditional Chinese methods. When the sun started to settle for the evening, it was time to prepare for the bonfire and BBQ party. For dinner, we enjoyed a live fire cooking serving up classic Chinese dishes. Highly seasoned meats and vegetables were roasted on spits over an open fire. In contrast to American-style BBQ, the Chinese method involves roasting smaller cuts of meat which is then served on skewers. I learned that bonfire gatherings is one of the local residents' favorite ways to relax and socialize, and was a nice way to round off the evening.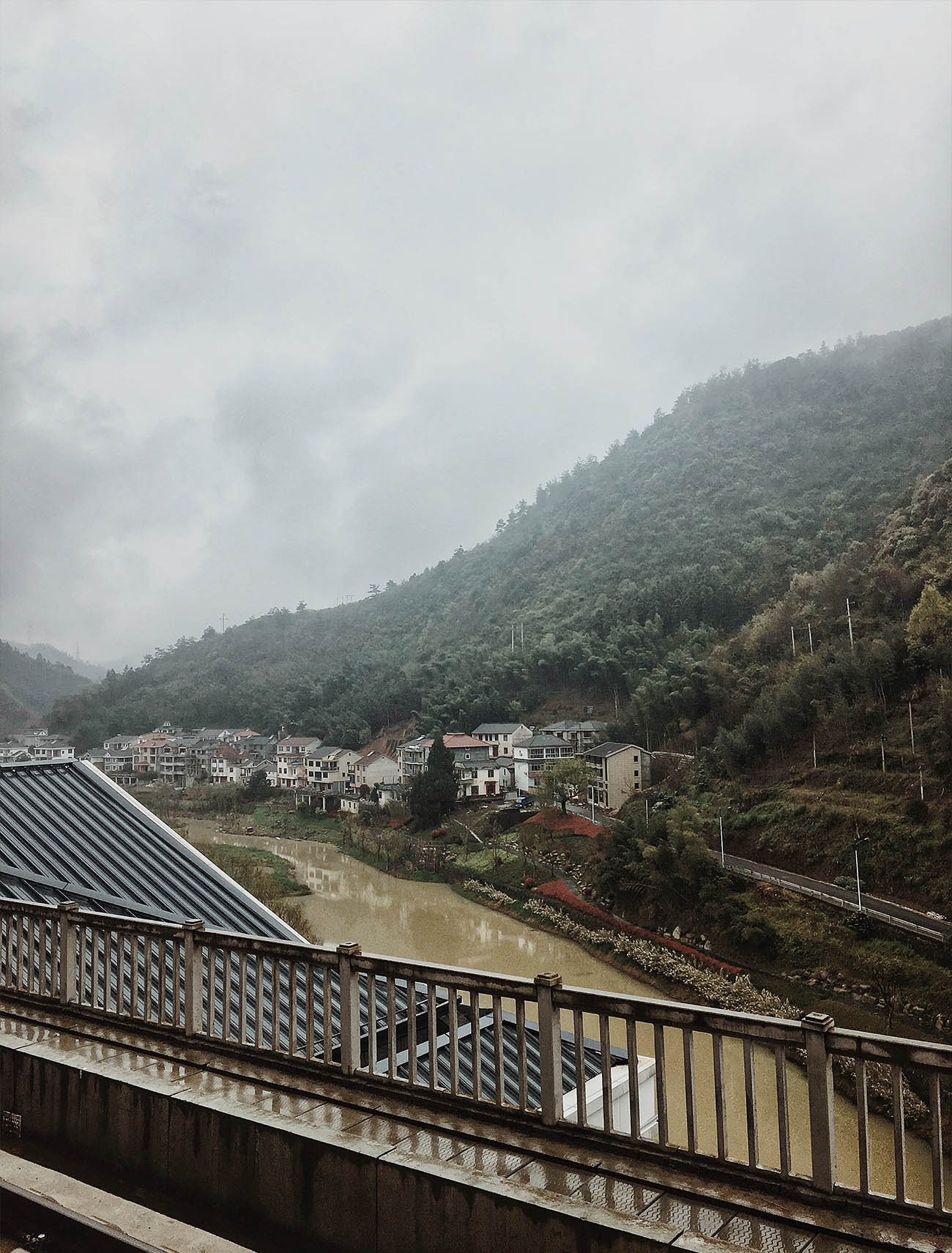 Natural Wonders at Meifeng Peak
The following day, we embarked on a boat trip which took us to Meifeng Island, situated at the Zhuangyuan Peninsula. The island is the largest artificial island of Qiandao Lake and home to the viewpoint Meifeng Peak (梅峰 岛). To reach the peak, we boarded a cable car which offered us panoramic views without having to go through the effort of hiking a winding trail up the mountain. Once at the vantage point, we scoured the site and explored winding paths through the forest to find the most awe-inspiring photo opportunities. Once having found our way to the East and West observation platforms, we were met by some of Qiandao Lake's best natural highlights. Although it was relatively foggy the day of our visit, it was difficult to not be fascinated by the surroundings. Lush green trees, a dramatic misty sky, and towering rugged mountains make this beautiful landscape. The stay at Meifeng Peak (岛) was short but wonderful and I definitely think it is a destination worth visiting.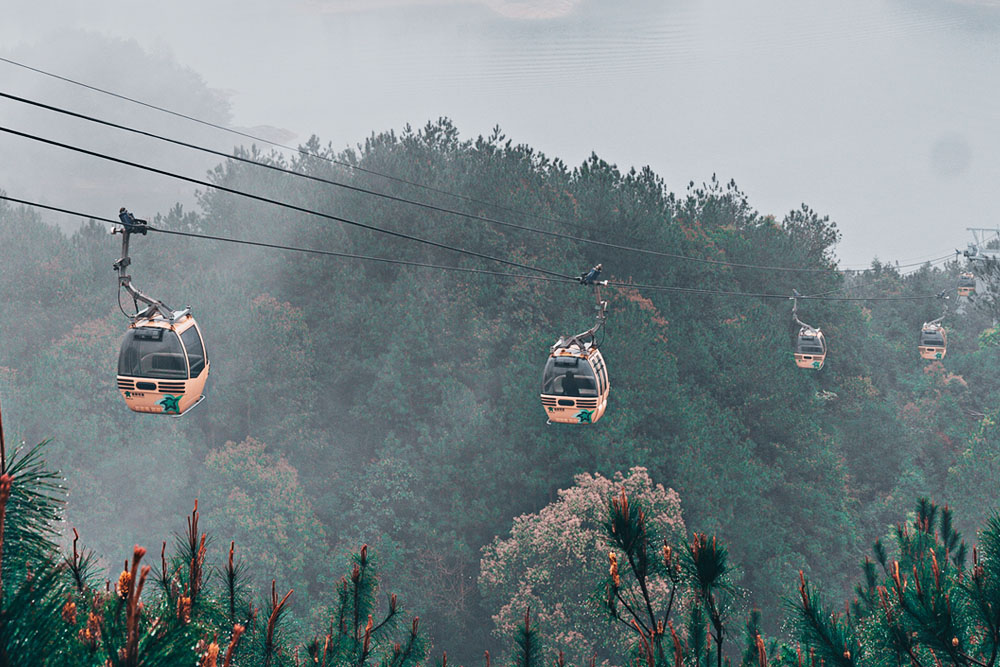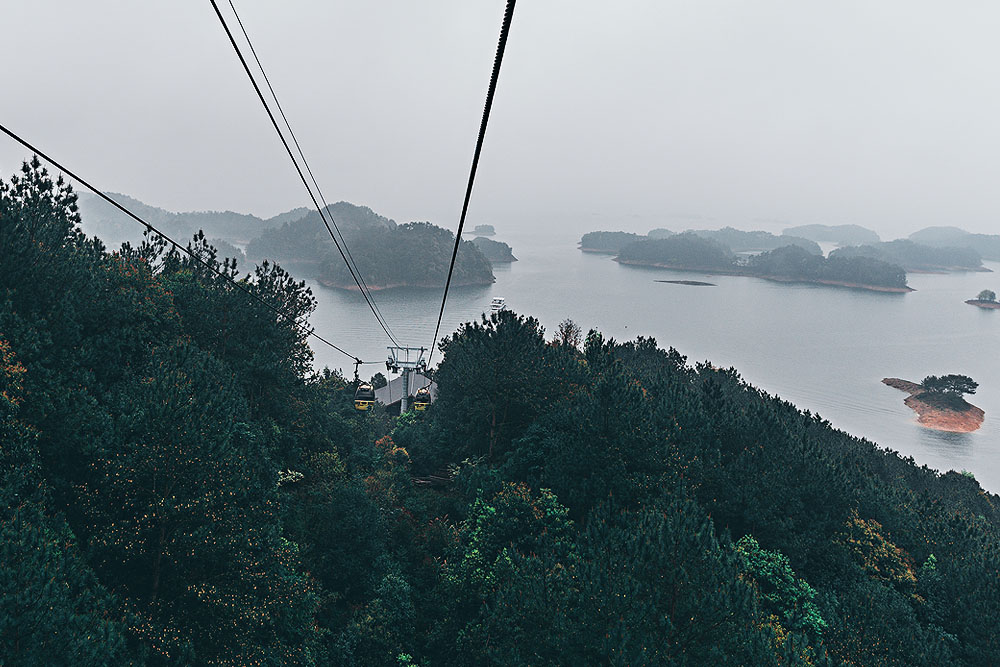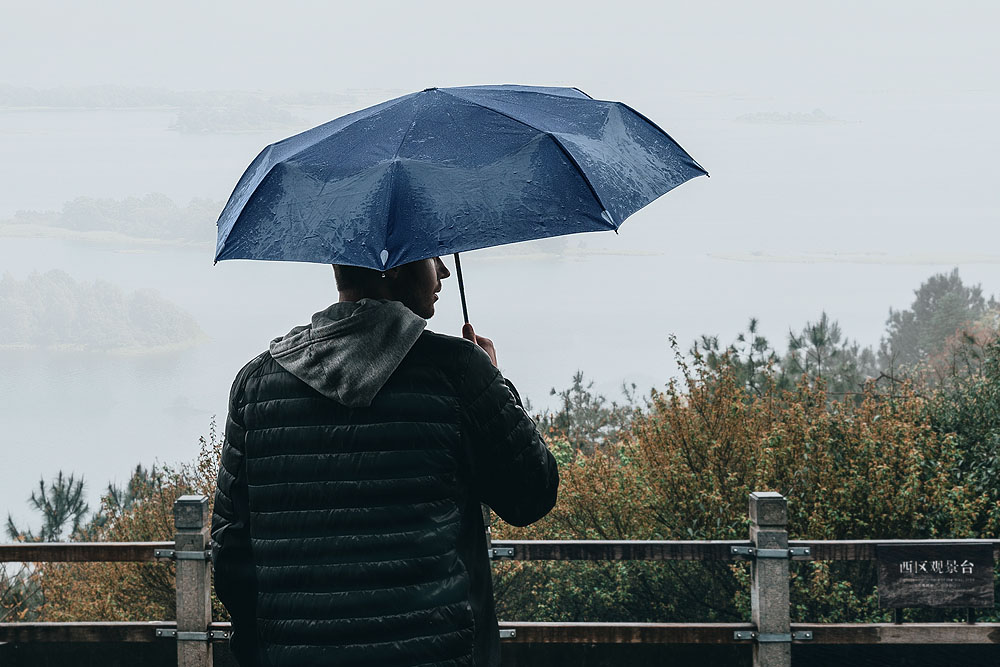 The Lotus
The Qiandao Lake Tour was concluded with a visit to The Lotus, a quaint Chinese restaurant situated in Xiushui Square by Qiandao Lake. Typical to Chinese culture, we were served a myriad of smaller dishes at the center of table, and each person in the group was given a small plate to transferring food from shared plates to their own. I learned that this way of sharing a meal is a Chinese custom and liked it very much as it allowed us to sample the different dishes and enjoy a diversified meal. The lunch at the Lotus concluded our Qiandao Lake tour and it was once again time to board the bullet train that would take us back to Hangzhou.
During the train trip back to Hangzhou I was thinking about what I had learned from my experience at Qiandao Lake. China is so much more than a high-tech society with metropoles. China has not only an impressive culture, rich history, curious cuisine, and interesting customs, but also these most amazing wildlife and nature. It is only a matter of getting out of the big concrete jungle and daring to explore the path less travelled.