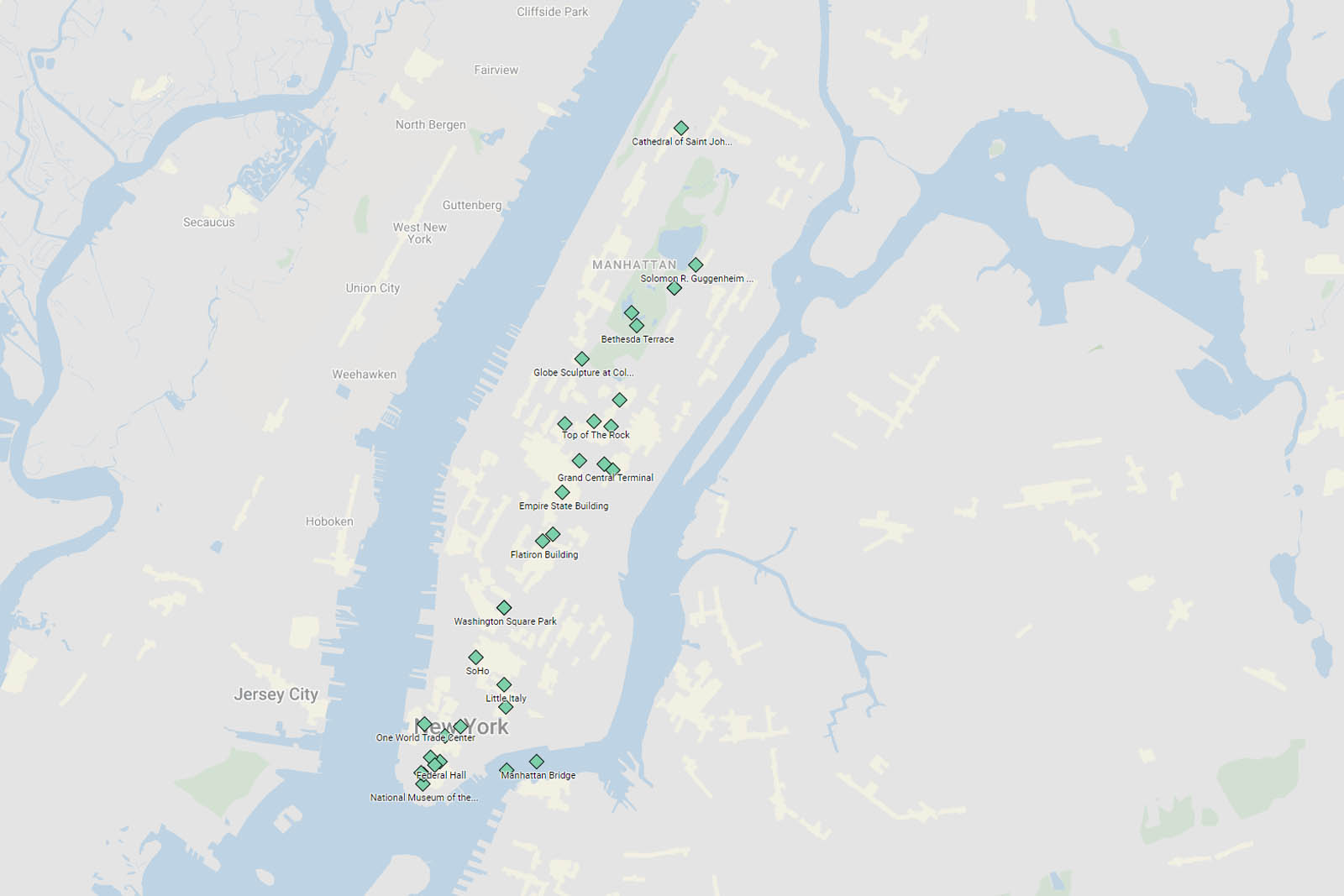 Walking the Entire Lenght of Manhattan in 7 hours
Broadway is not only New York City's oldest and most iconic street, at 16.3 miles, it's also happens to be longest. It literally runs the entire length of Manhattan – 13.8 miles from Bowling Green at the south tip of the island, to Marble Hill, the northernmost neighbourhood in Manhattan. After Marble Hill, the roadway continues north for an additional 20 miles through the Bronx and Westchester County before ending north of Sleepy Hollow.
If walking is your preferred mode of transportation, don't miss out on a strenuous but unforgettable experience. You can either walk the entire Broadway in Manhattan, from Bowling Green to Marble Hill (13.8 miles), or you can opt for walking the entire length of Manhattan by also going cross street for a stop at popular landmarks, attractions and hidden gems. This article will provide you a staggering 20 miles (33km) suggested route and an in-depth guide featuring perfect pit stops along the Manhattan island.
Part 1: 4 mi (8 km) | ~1 hour, 40 minutes
– National Museum of the American Indian
– Wall Street
– Trinity Church
– Federal Hall
– One World Trade Center
– Brooklyn Bridge
– Manhattan Bridge
Part 2: 3 mi (5 km) | ~1 hour, 7 minutes
– Chinatown, Little Italy, Soho
– Washington Square Arch
– Flatiron Building
– Madison Square Park
– Empire State Building
– Bryant Park and New York Public Library
Part 4: 8 mi (14 km) | ~3 hours
– Metropolitan Museum of Art
– Guggenheim Museum
– Cathedral of Saint John the Divine
– Morris-Jumel Mansion
– The Cloisters
– Broadway Bridge
7 hour Manhattan Walk Itinerary
The following interactive map pin-points 35 must-see locations during your walk along the length of Manhattan. It also offers you a suggested route with detailed step-by-step directions.
Bowling Green: National Museum of the American Indian
1 Bowling Green | 40.70401, -74.01372.
Start by the picturesque grand entrance of the National Museum of the American Indian, located south of Bowling Green.
Wall Street: Charging Bull & Cunard Building
Broadway & Morris Street and 25 Broadway respectively | 40.70555, -74.01344 and 40.70578, -74.01397.
Continue up Broadway and stop at the north tip of Bowling Green to get your picture taken with the Charging Bull, originally guerrilla art, nowadays one of the most photographed sites in New York City. Also known as the Standard & Poors Building, the Cunard Building is a Renaissance-inspired limestone building, constructed in the 1920's with spectacular interior design. In 1995 the first floor interior was designated a New York City landmark.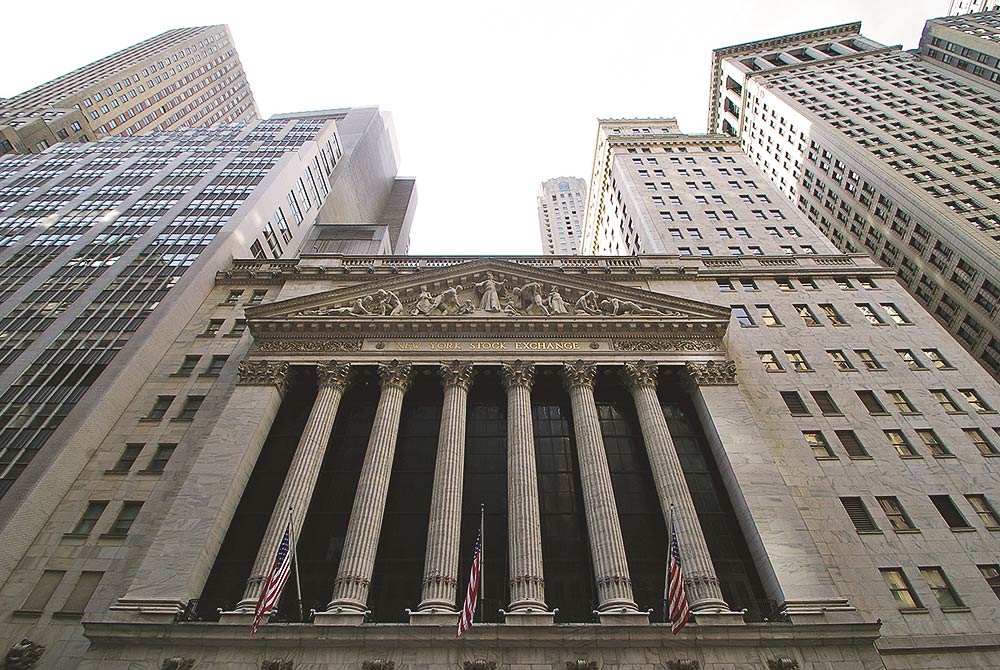 Trinity Church
75 Broadway | 40.70806, -74.01218.
Near the intersection of Wall Street and Broadway lies the Trinity Church, a modest but picturesque piece of architecture with a gambler roof and small porch, was constructed in 1698. If there are no services going on, you can enter to admire the the beautiful interior. If entering, tourists may be asked to pay a small fee.
Federal Hall National Memorial
26 Wall Street | 212-825-6990.
A National Historic Site since 1939, a Greek Revival building and the birthplace of American Government. This site was where George Washington took the oath of office as the first President of the USA. Nowadays, the Federal Hall serves as a museum and memorial.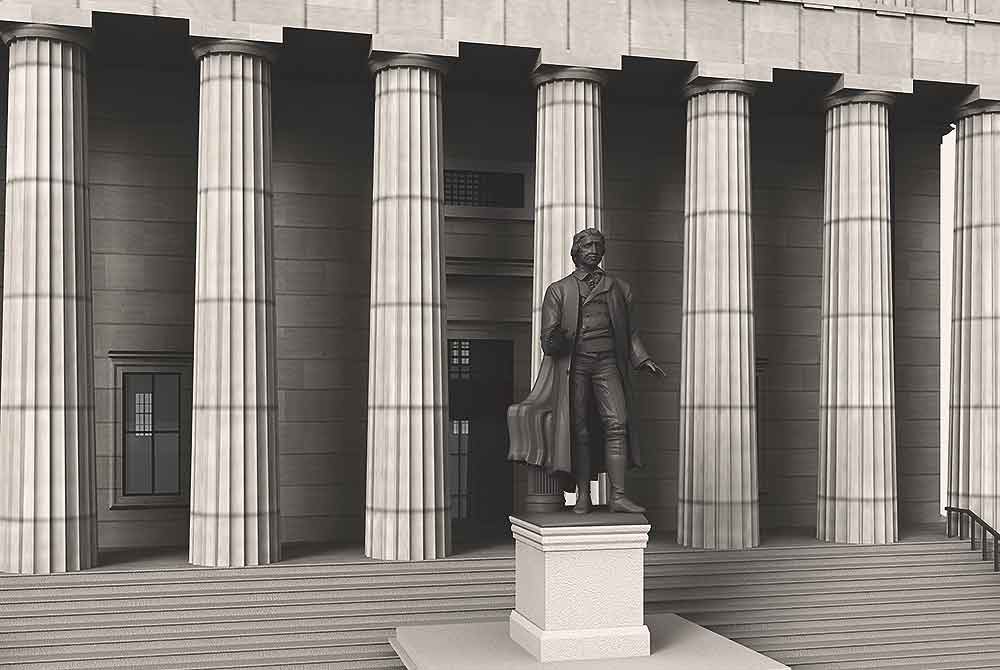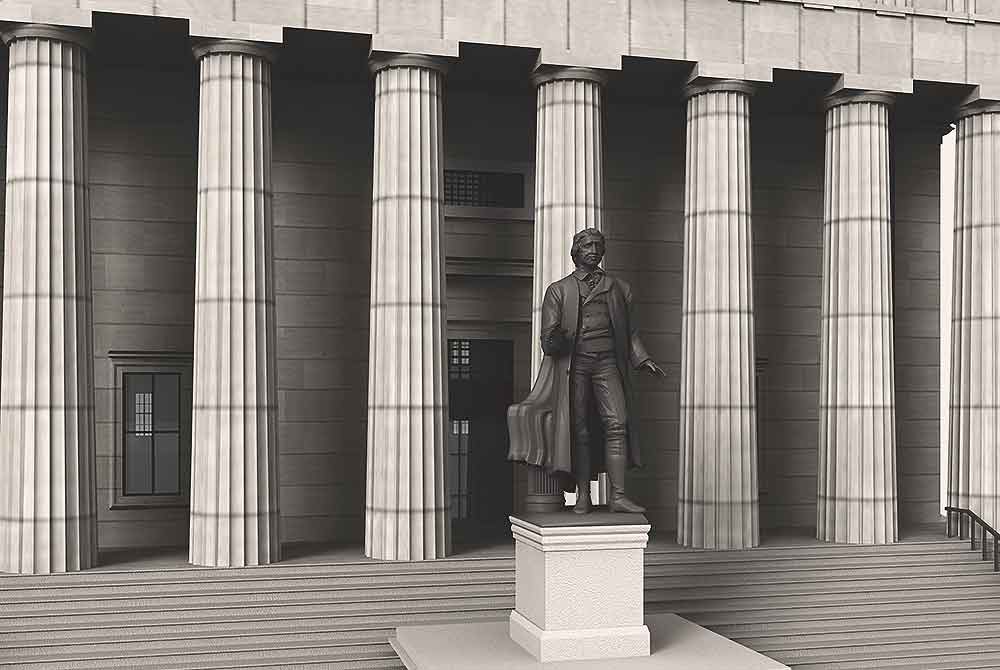 One World Trade Center & 9/11 Memorial
285 Fulton Street and 911 Greenwich Street respectively | 40.71323, -74.01336 and 40.71156, -74.01317.
Deviate to the west, crosstown streets, and you'll stumble upon the 9/11 Memorial and the One World Trade Center. The 1WTC is the tallest building in the Western Hemisphere, and the 6th tallest in the world.
Photo Tip: Head to the the corner of Fulton and Nassau Street for direct view of the One World Trade Center, which lines up between the buildings surrounding it.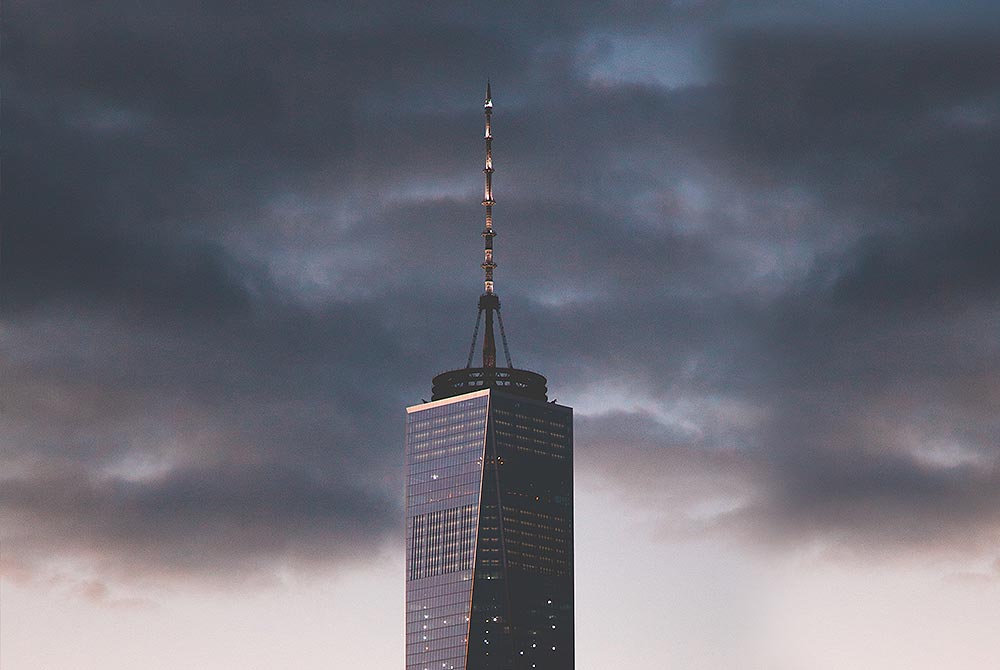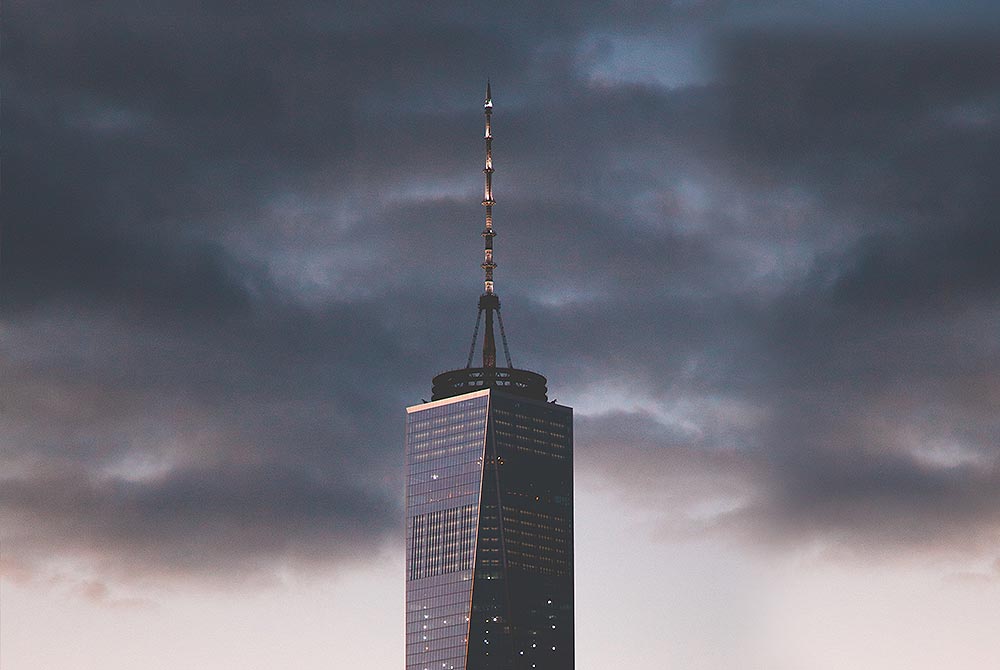 Brooklyn Bridge
40.70608, -73.99686.
Walk from Manhattan into Brooklyn or from Brooklyn into Manhattan by crossing the Brooklyn Bridge and enjoy the striking views of the Manhattan skyline. If you're starting in Manhattan, the two closest subway stations are Chambers St. stop (trains J, Z) and Brooklyn Bridge/City Hall stop (train 4, 5, 6). Other nearby stations are Park Place (trains 2, 3), City Hall (trains N, R) and Fulton Street (trains A, C). The Manhattan Entrance to Brooklyn Bridge is hard to miss.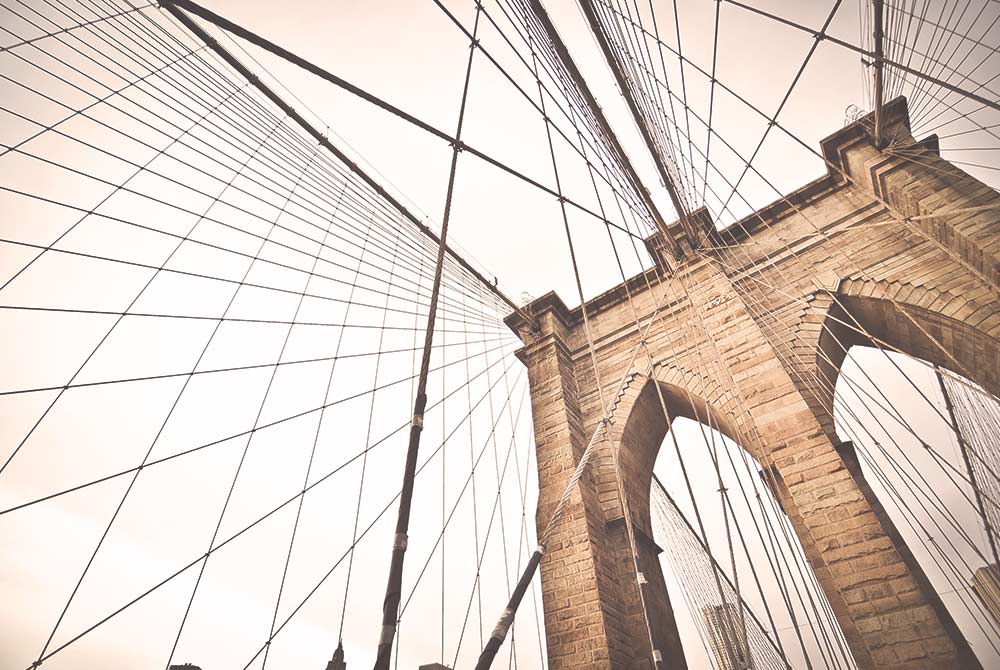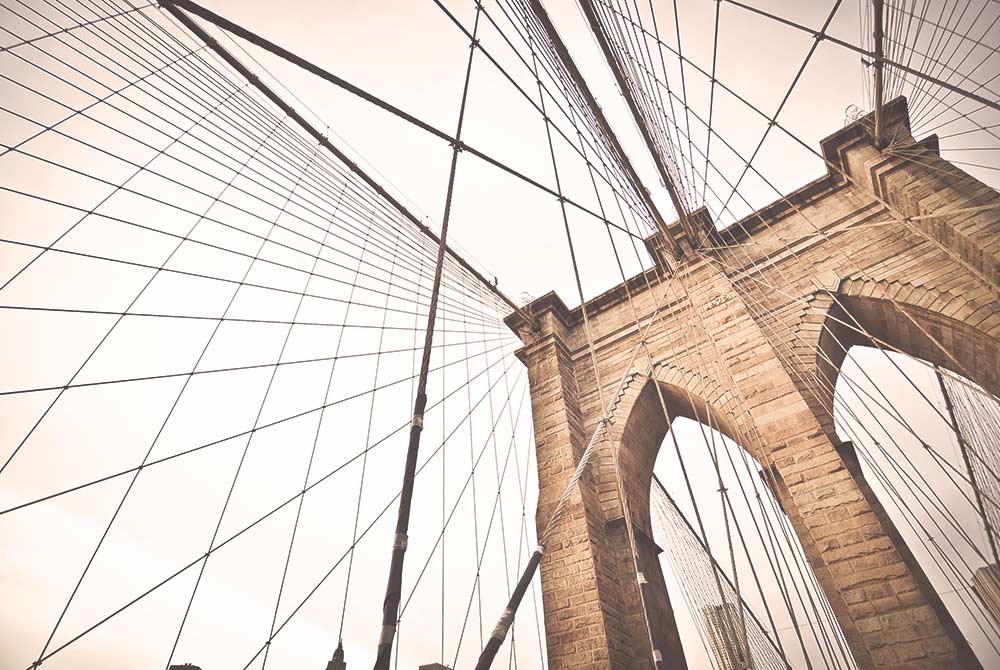 Manhattan Bridge
40.70749, -73.99077.
Get back onto Manhattan by crossing the Manhattan Bridge pedestrian path. From here, you can shoot the Statue of Liberty, New York Harbor, and the Brooklyn Bridge. Dumbo, also known as Down Under the Manhattan Bridge Overpass, is a Brooklyn neighbourhood located between Brooklyn Bridge and Manhattan Bridge. It's a must if you're in constant search of the picture perfect location for your shots, as Dumbo offers excellent photo opportunities of both bridges.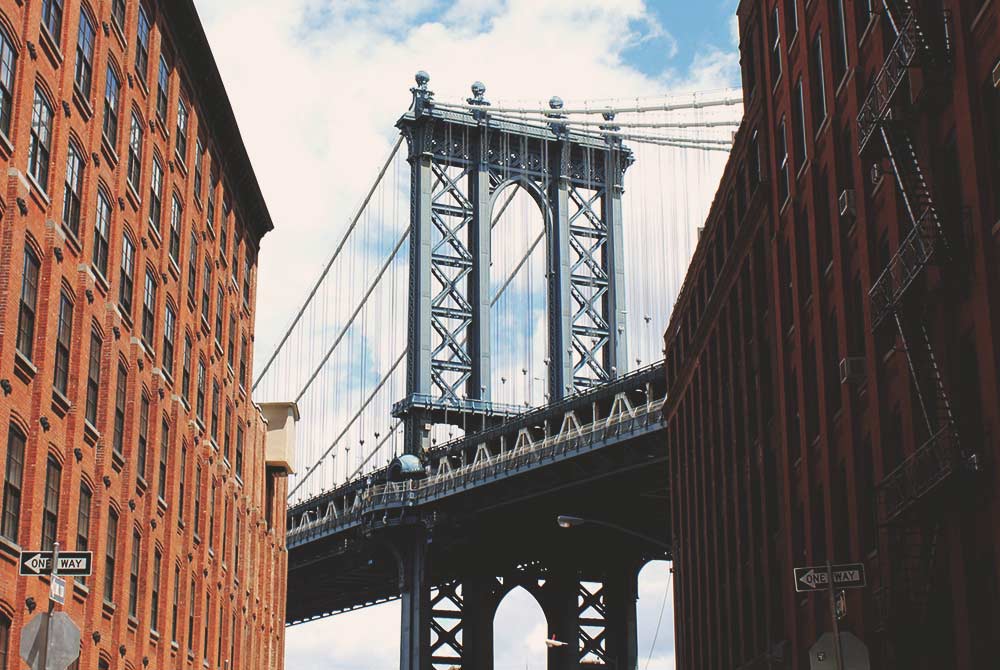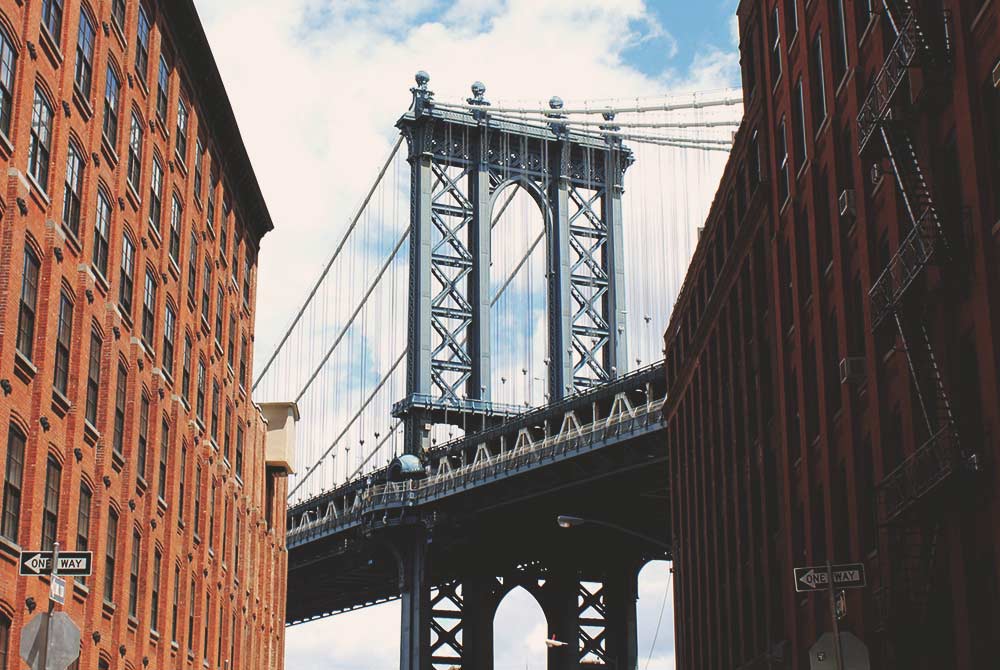 Chinatown, Little Italy & Soho
Neighbourhoods of Lower Manhattan.
As you get off the Manhattan Bridge pedestrian path, you will be making your into Chinatown. Whilst you walk towards the next stop, Washington Square Arch, you will pass Little Italy and Soho.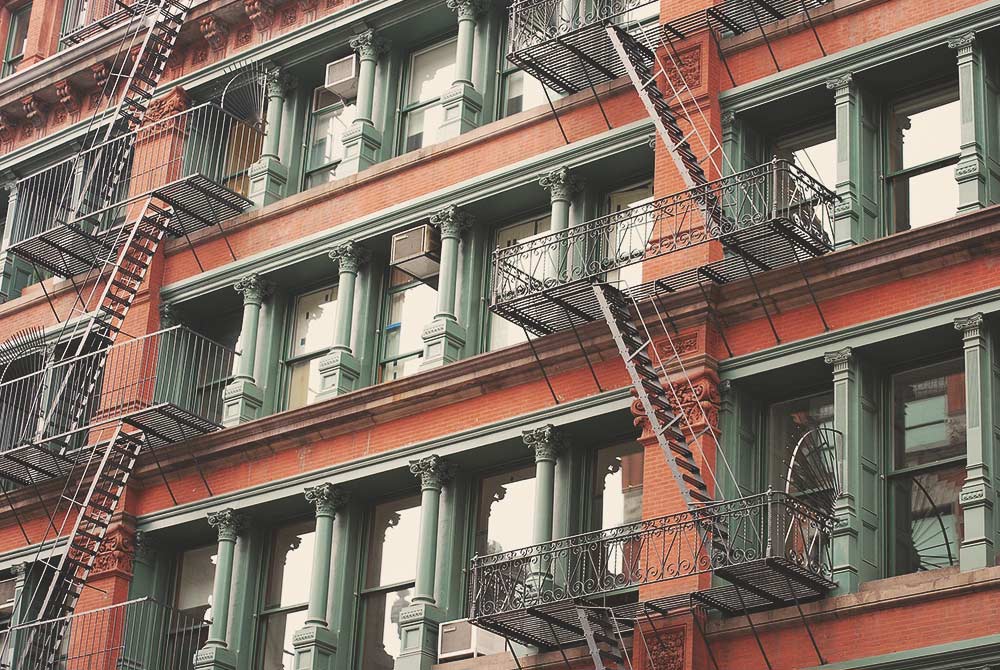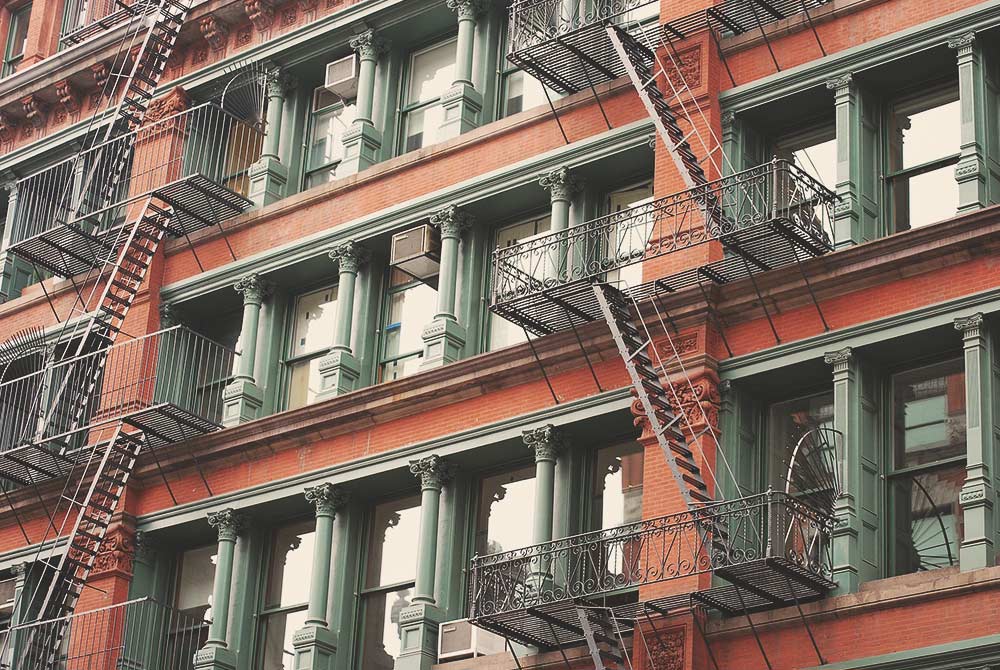 Washington Square Park
Washington Square N | 40.73082, -73.99733.
Stroll through this 9.75-acre (39,500 m2) park, located in Greenwich Village, Lower Manhattan. This is a public park, landmark and meeting place for bustling cultural activity. Don't forget to visit the Washington Square Arch, a fine white marble triumphal arc, constructed in 1892. Before the marble arch was erected in 1892, there used to be a wooden arch in its place to celebrate the centennial of President George Washington's inauguration. The arch is very reminescent of the French Arc de Triomphe de l'Étoile, and one of the most famous monuments in New York City.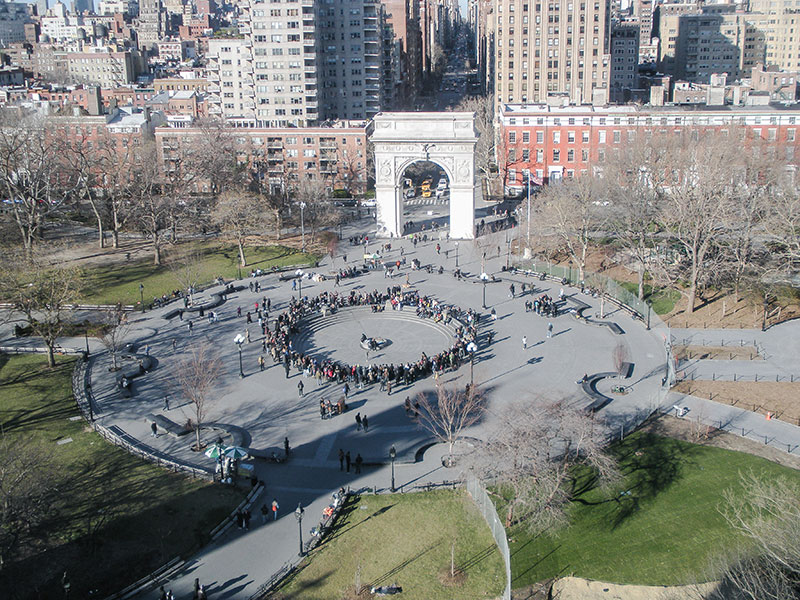 Flatiron Building
175 5th Avenue | 40.741, -73.98965.
At 87 metres high, this iconic triangular 22-story building was once one of the city's tallest building and was designated a National Historic Landmark in 1989. This charming piece of architecture, one of the finest examples of early skyscraper design, certainly makes for an interesting object to photograph.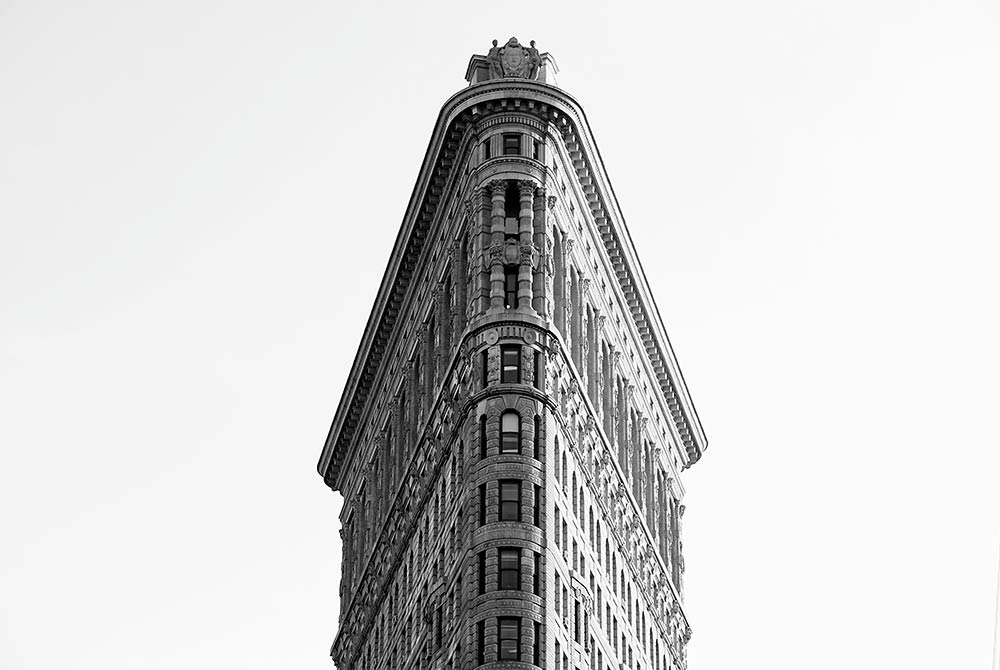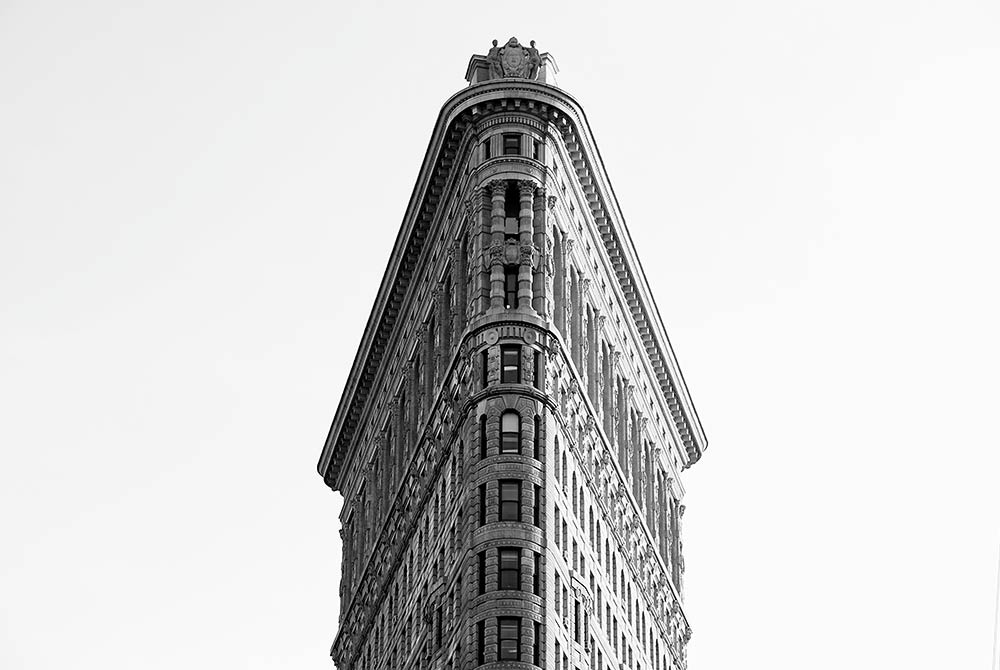 Empire State Building
350 5th Avenue | 40.74844, -73.98565.
Along with the Statue of Liberty, the Empire State Building is one of the most photographed landmarks of NYC. Standing 381 metres tall, the 102-story building not only overlooks into New York, but also the neighbouring states of New Jersey, Pennsylvania, Connecticut and Massachusetts. The Empire State Building offers two observatories atop – the 86th Floor Observatory and the 102nd Floor Observatory. If you're in luck and the weather allows, you'll be able to see for a distance of up to 80 miles. While you make your way to your next stop, the Grand Central Station, follow 5th Avenue and you will pass Bryant Park and the New York Public Library. The library has appeared in the apocalyptic science fiction film The Day After Tomorrow and the Hollywood flick Oblivion.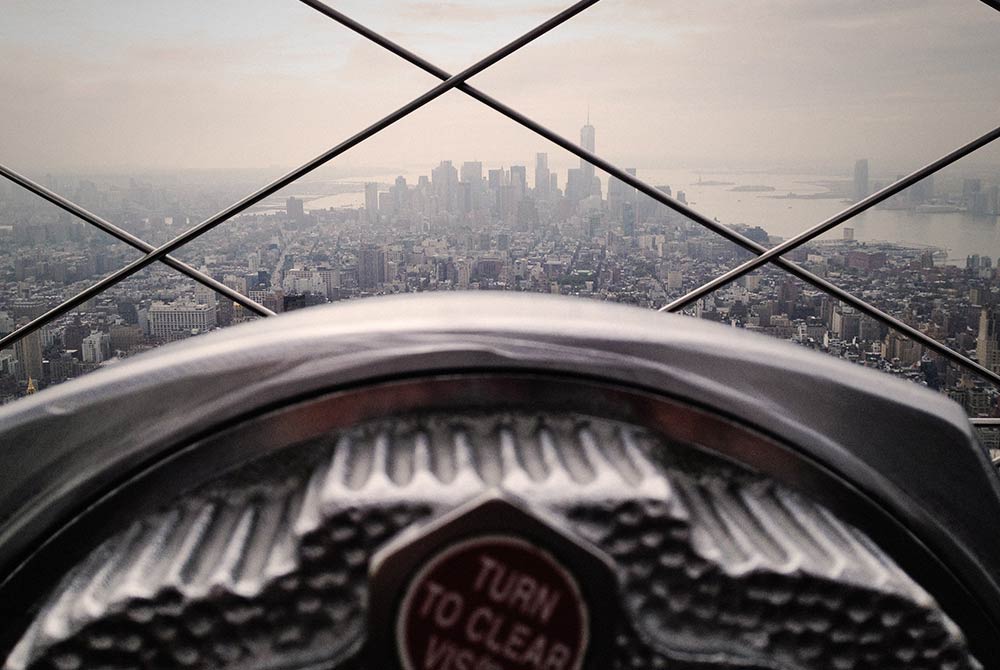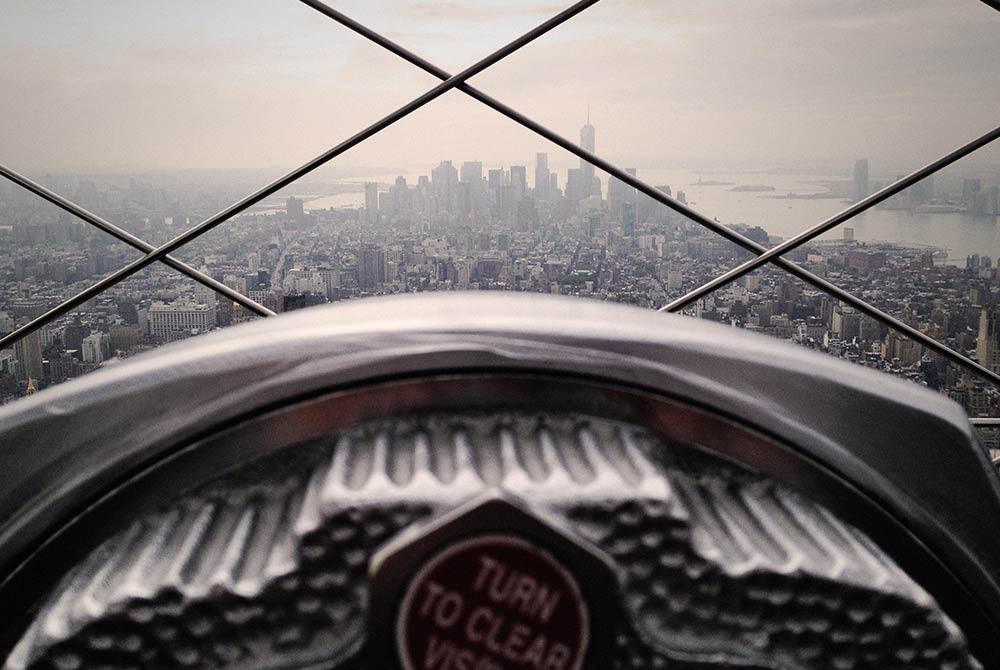 Chrysler Building & Grand Central
405 Lexington Avenue and 89 Eeast 42nd Street respectively | 40.75175, -73.97551 and 40.75272, -73.97722 respectively.
This beautiful piece of Art Deco style skyscraper is one of the most buzz-worthy buildings in the country, and very rightfully so. The Chrysler building doesn't offer tours, but the exterior is beautiful and completely worth capturing on film. For good photo shoots of the building, you could also ride to the top of the Empire State building and photograph from its observatory deck. For street level photos, head to the South Side of 42nd Street by Bryant Park and you'll have Chrysler Building to your East, as well as the Grand Central. Alternatively, shoot from the Queensboro Bridge. While you're in the neighbourhood, Grand Central Market is barely 30 meters (95 feet) away, so make a pit-stop for some magnificent food at every turn.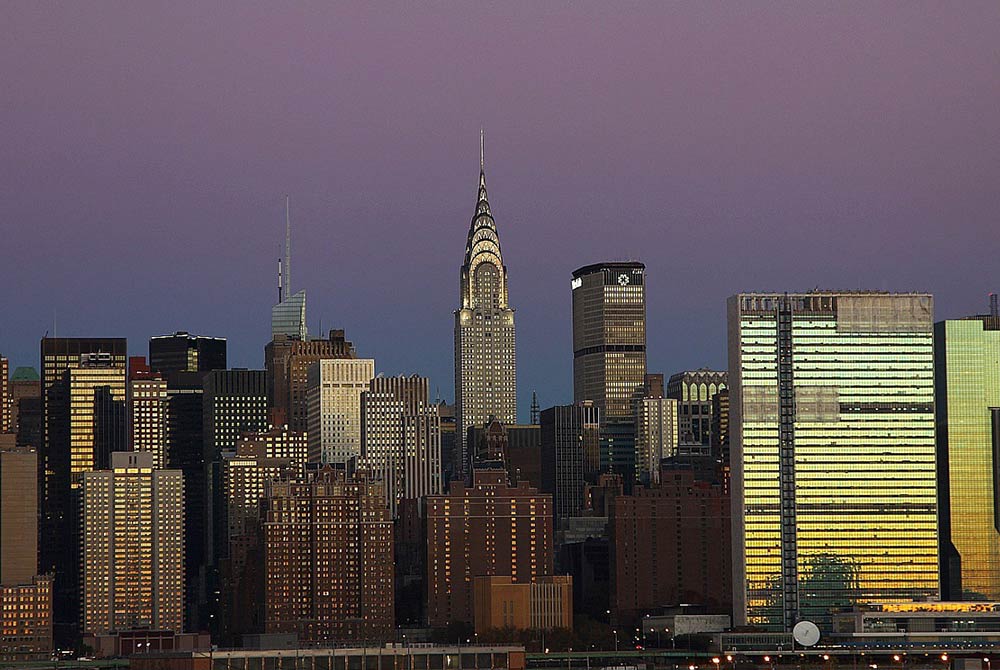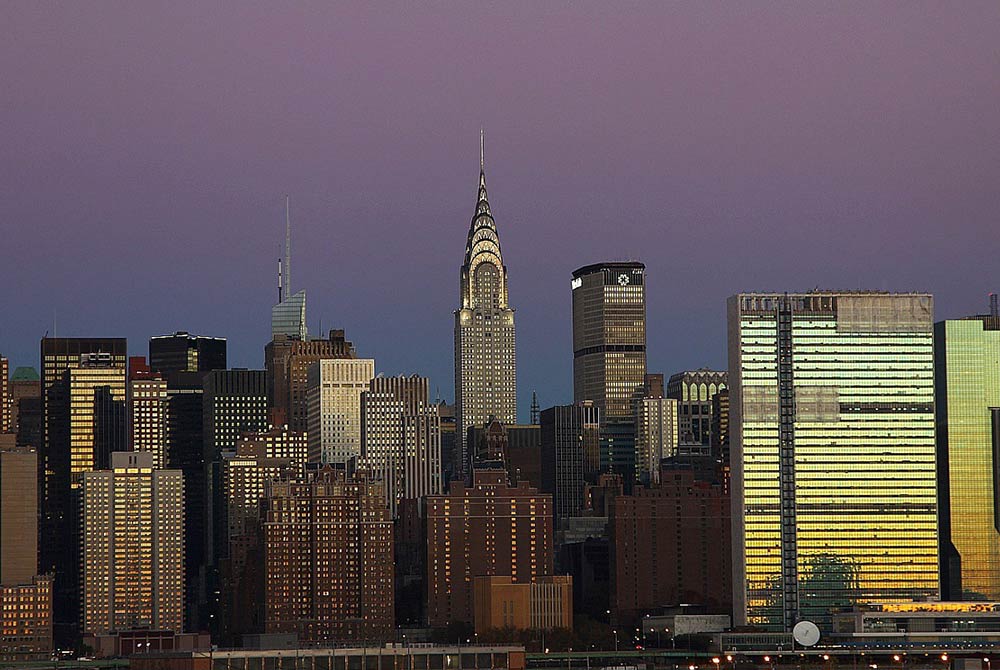 St. Patrick's Cathedral
Rockefeller Center, 30 Rockefeller Plaza | 40.75924, -73.9793.
St. Patrick's Cathedral is a majestic Neo-Gothic Roman Catholic church, constructed in 1879 and located just opposite Rockefeller Center and the Atlas statue. With its 100 metre tall twin spires, this towering building is a prominent and popular landmark of the city.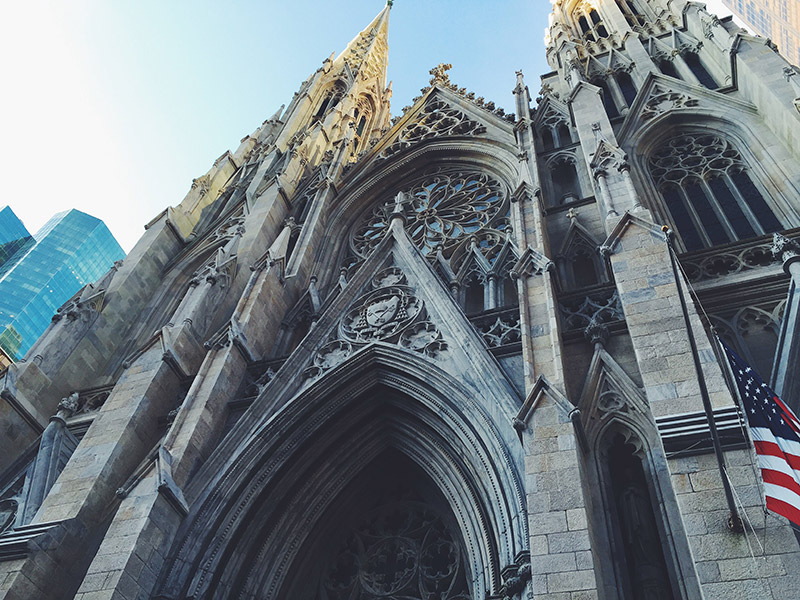 Rockefeller Center
30 Rockefeller Plaza New York, NY
Located in the center of Midtown Manhattan, the 22-acre large complex consists of 19 towering buildings, spanning the area between Fifth Avenue and Sixth Avenue and 48th and 51st Streets. In 1987 it was declared a National Historic Landmark. 30 Rockefeller Plaza is known for its 70 floors high observation deck, the Top of the Rock, boasting unobstructured 360° city views. The Top of the Rock is open daily from 8am – Midnight adn the entrance is situated on 50th Street, between Fifth and Sixth Avenues.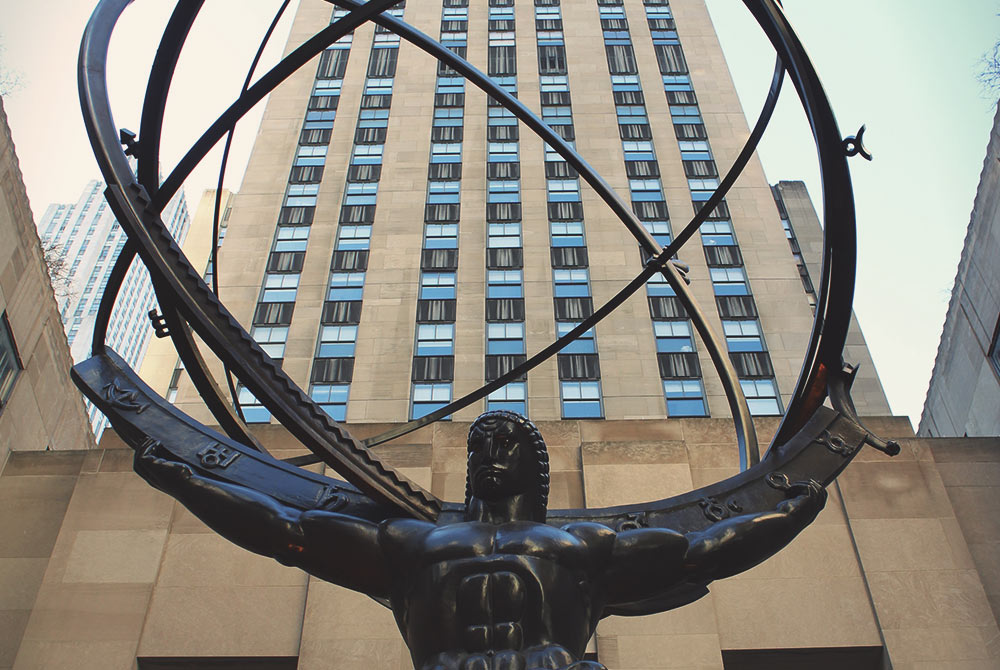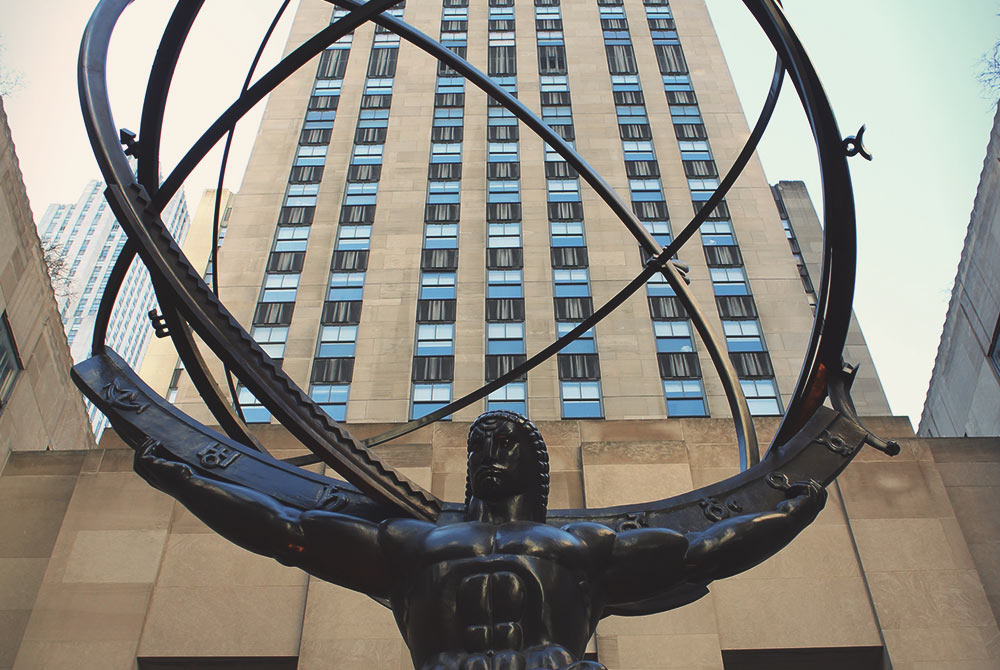 Times Square
Times Square | 40.75889, -73.98513.
About 50 million tourists visit the site annually and half a million people pass through Times Square daily, making it one of the world's busiest pedestrian intersections. It's not hard to understand why it's at times referred to as The Center of the Universe.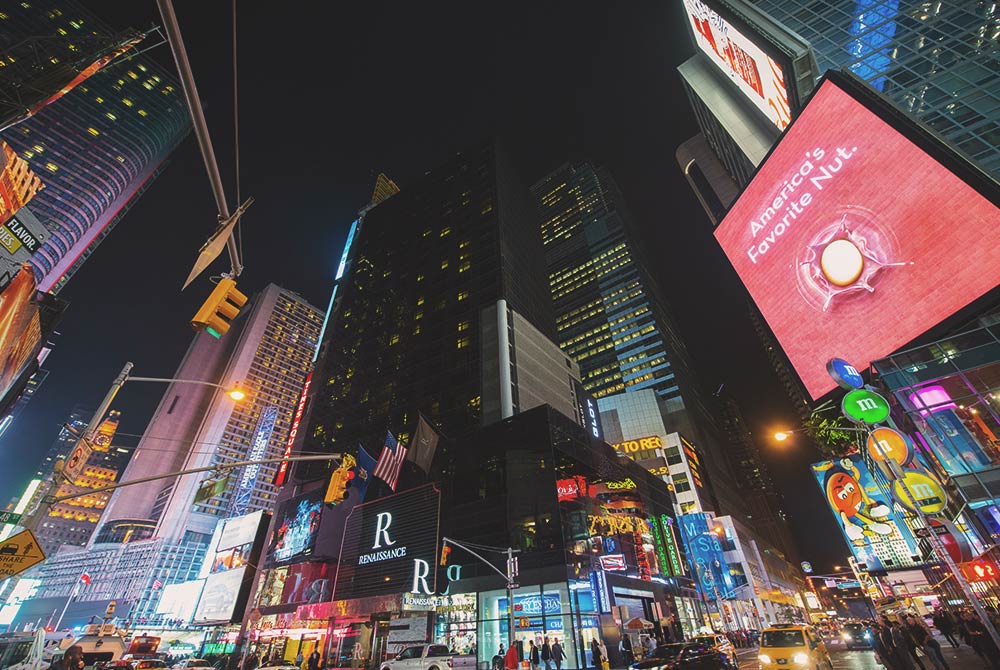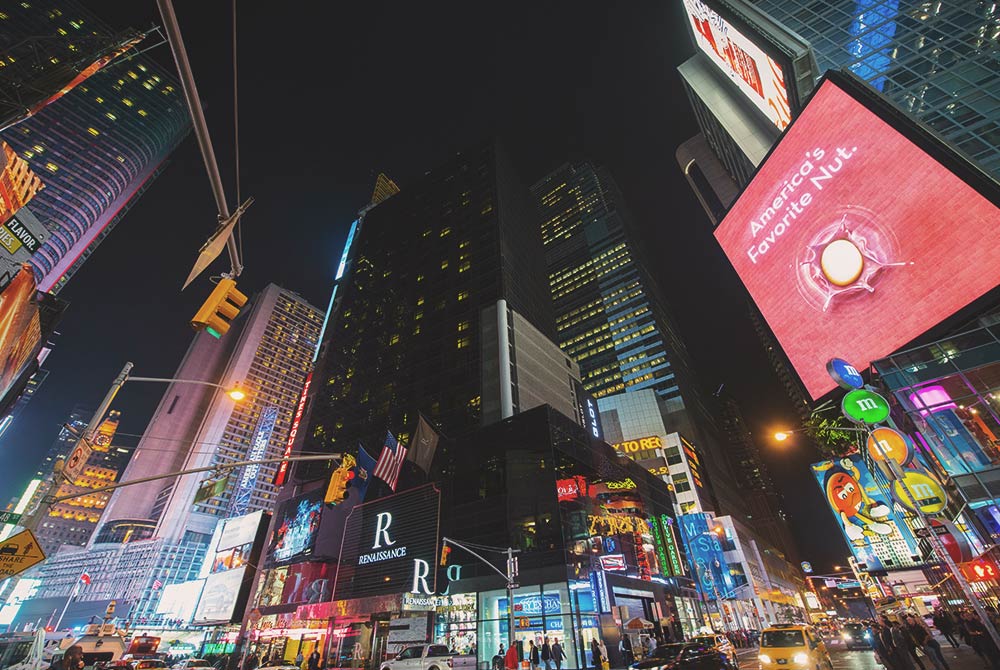 Central Park: Bethesda Terrace, Bow Bridge & The Metropolitan Museum of Art
72nd Street, 74th Street west of Bethesda Terrace and 1000 5th Avenue respectively. | 40.77381, -73.97081, 40.77568, -73.97172 and 40.77943, -73.96324 respectively.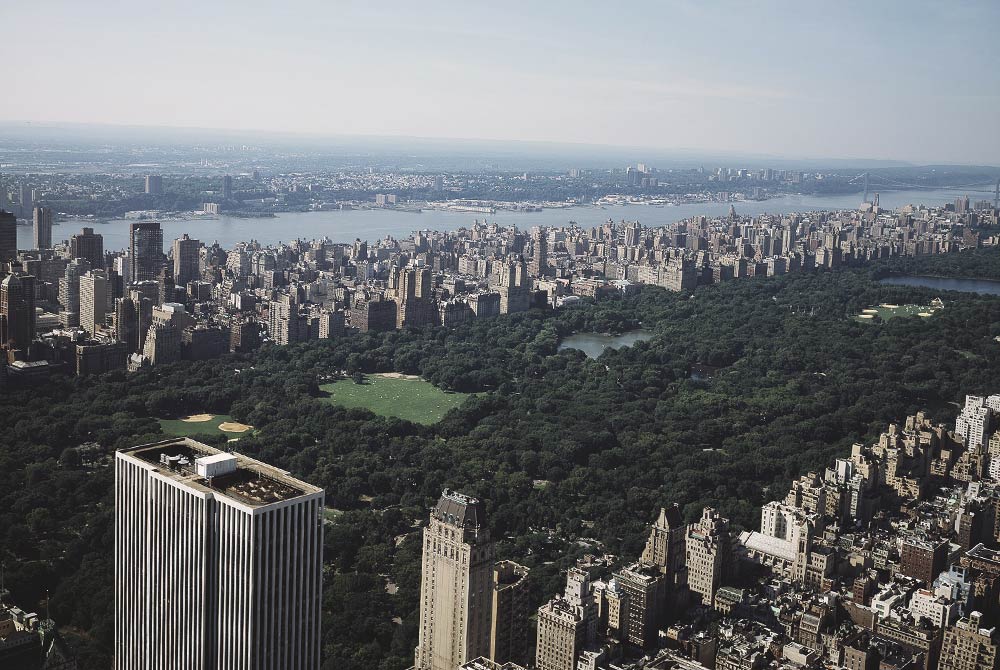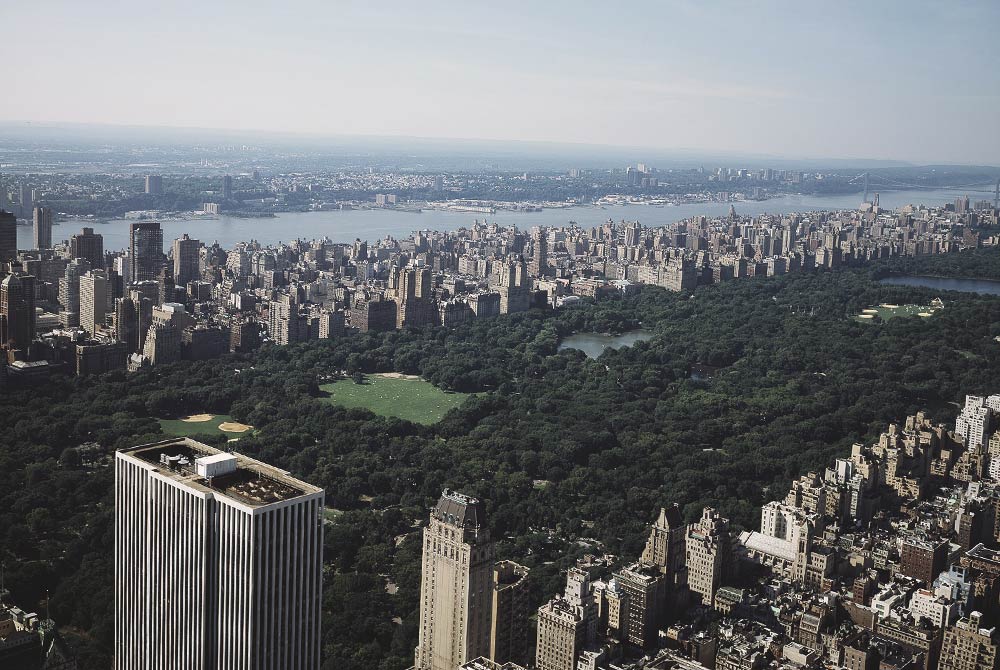 Even though Flushing Meadows Corona Park in Queens is larger in size, Central Park is hosts over 40 million visitors annually, making the 843-acre area the most visited urban park in the entire country. It also happens to be one of the most filmed locations in the world. In 1962, Central Park was designated a National Historic Landmark. The park is about 2.5 miles from north to south, so this pleasant walk shouldn't take you more than 50 minutes. However, I do recommend to make pit-stops along the way for excellent photo opportunities. Don't miss the Bethesda Terrace and Fountain (72 Terrace Dr, New York, NY 10021), which overlook The Lake. The Lower Passage of the terrace is extremely picturesque, and well worth a visit. Only a stone throw away, northwest of Bethesda Fountain, lies the Bow Bridge, a romantic white cast-iron bridge built between 1859 and 1862. As you continue up north, stop by at the The Metropolitan Museum of Art for some pictures of its exterior. Admission to the Met is pay-what-you-wish at the door.
Solomon R. Guggenheim Museum
1071 5th Avenue | 40.78297, -73.95897.
As you make your way through Central Park and walk along the Jacqueline Kennedy Onassis Reservoir, you will pass a must-see location just a stone throw away. Home to Impressionist, Post-Impressionist and early Modern and contemporary art, the Guggenheim Museum is a cylindrical building, wider at the top than the bottom. It's just as much a sculpture as it is an museum, and well worth a visit for it's spectacular interior design.
Budget Tip: The Guggenheim museums offers a pay-what-you-wish admission every Saturday between 5:45–7:45 pm.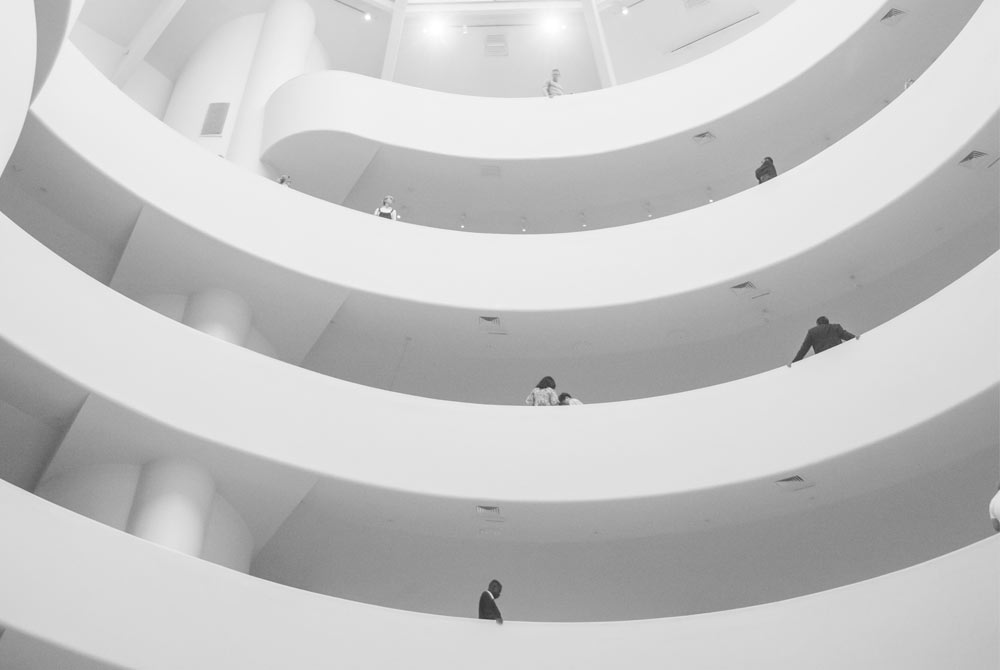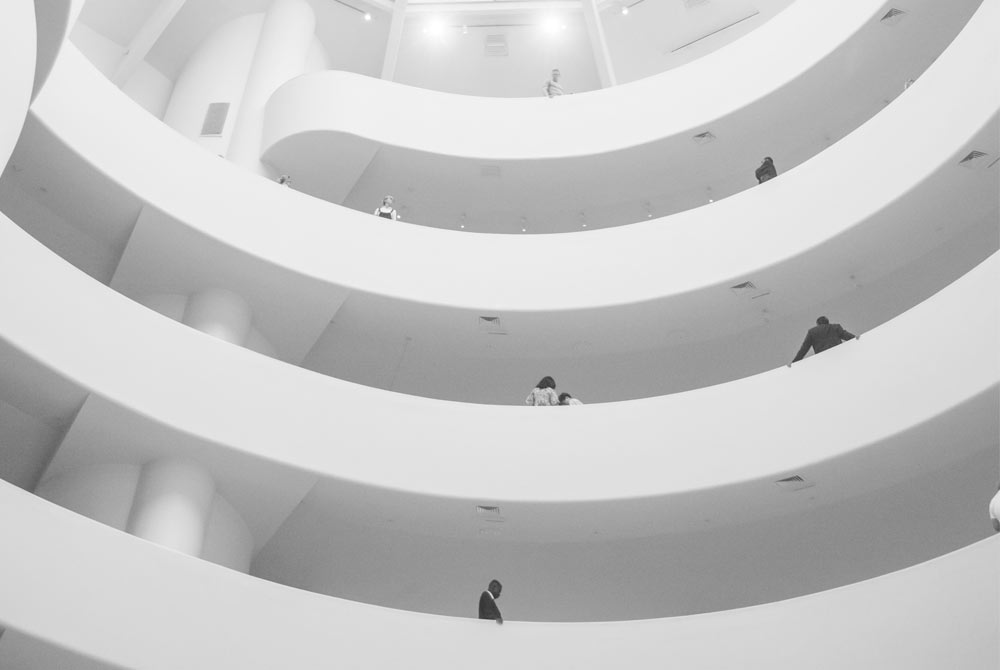 Cathedral of Saint John the Divine
1047 Amsterdam Avenue | 40.80383, -73.96187.
Modest in size only in comparison to the majestic skyscrapers, the largest cathedral in the world will not leave you unimpressed. Its distinctive architecture consists of both a detailed façade and a striking interior where Byzantine Revival-Romanesque Revival styles meets Gothic Revival design.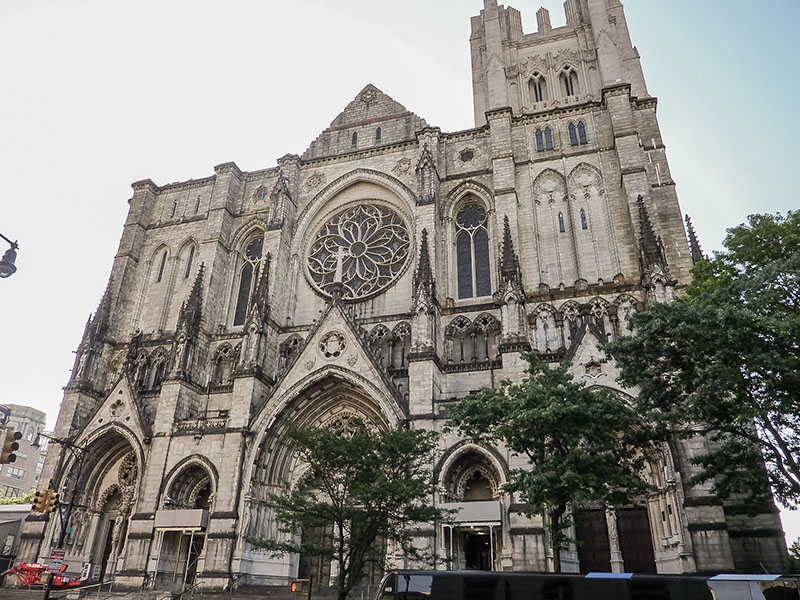 Morris-Jumel Mansion
Roger Morris Park, 65 Jumel Terrace | 40.83445, -73.93857.
Make a quick stop at Manhattan's oldest residence, the Morris-Jumel Mansion.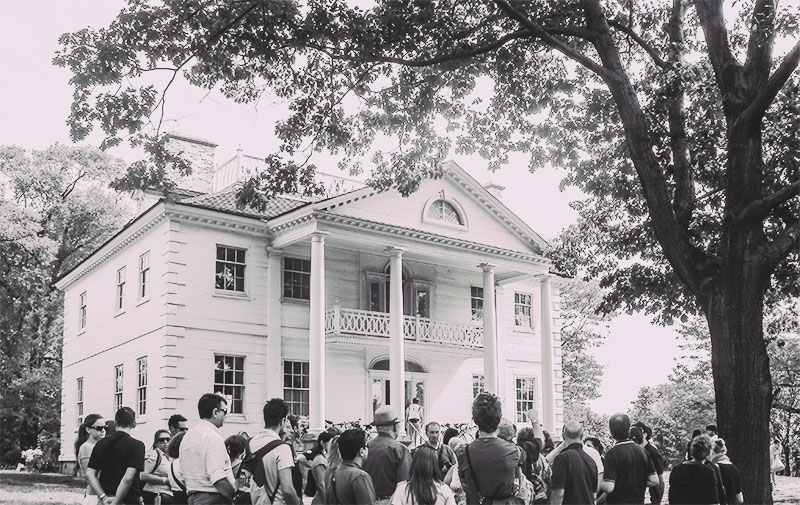 The Cloisters
99 Margaret Corbin Dr. | 40.86486, -73.93172
The Cloisters are of Romanesque and Gothic style, very reminiscent of European medieval architecture. The location is a New York City landmark and has been used as a filming location a number of times. The cloistered gardens are quiet and peaceful, making this a perfect spot to round off your Manhattan Walk.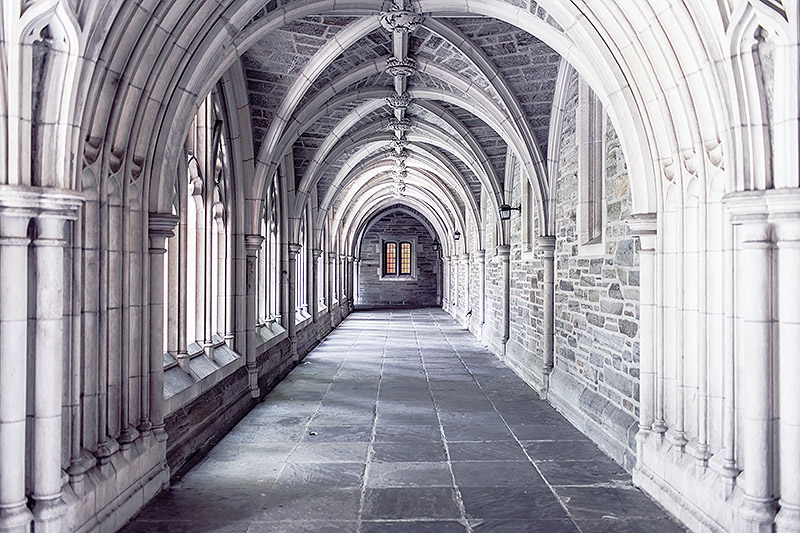 The Broadway Bridge
40.87361, -73.91111
The Broadway Bridge connects Manhattan Island and Marble Hill and crosses the Harlem River Ship Canal. Enjoy shooting some riverside pictures. This is the end of your 33 miles walk across the entire length of Manhattan. At this point, your feet should be sore but hopefully your spirits are high.
---
As extensive as this guide is, it barely scratches the surface of what New York's got to offer. If you're pressed for time, this guide ensures you'll get to see the majority of the world famous main sights of NYC while it still gives you room to venture off the beaten path to discover less known buildings, tiny coffee shops, cozy corner bakeries and less explored neighbourhoods.
Have you or do you plan to walk the entire length of Manhattan? Feel free to share your tips and advice!