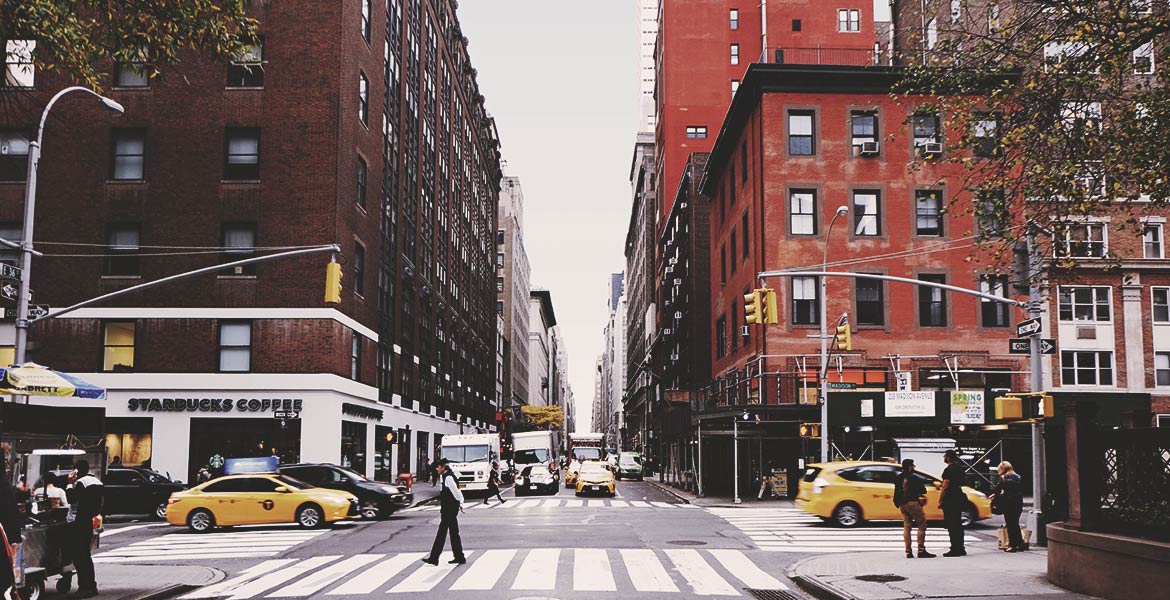 Transport & Getting Around New York City
Considering the fact that New York City is the most populous city in the United States, it comes as no surprise that the transportation system includes one of the largest subway systems in the world, an aerial tramway and the world's first mechanically ventilated vehicular tunnel. To get around NYC can seem intimidating at first sight, but being prepared and  familiarize yourself in advance always helps and will save you precious time whilst you're exploring the buzzing city that never sleeps.

By Foot
Believe it or not, NYC is actually a quite walk-friendly city and walking can be a real adventure. It is also a perfect opportunity to make use of that impressive camera gear you'll most likely be carrying around. All five of NYC's boroughs can be delved into completely on foot, with Manhattan being the smoothes but also the most favoured. Exploring New York is best suited for those who care for the details in the architecture, street life, landscape and people. Don't be surprise if you pass actors, television personalities, pop stars and models.
To make your experience as a pedestrian pleasant, it's important to understand how streets and avenues are laid out. Avenues are numbered low to high and go north and south, whilst streets are numbered low to high and go east and west.
20 street blocks, such as 40th St. to 60th St. equals 1.6 km, and take about 20 – 30 minutes to walk. You can walk the entire length of Manhattan in about 6 hours.
Be aware of the "rule of right" which applies in both escalators and whilst walking the streets too. Walk and stand to the right so that those in a hurry can brush past you.
Best Walks: Across the Brooklyn Bridge, past the Queens waterside, Flushing Meadows–Corona Park.
The Subway
If you're traveling alone, the public subway train will be your best bet as it's fast, efficient and cost effective – best of all, it operates 24 hours a day, every day of the week. NYC's rail and bus system is run by the Metropolitan Transportation Authority (MTA) and known as MTA New York City Transit. The term subway refers to the trains run by the New York City Transit Authority and does therefore not include suburban railroads, the AirTrain that connects the subway to the airports, or the PATH trains to New Jersey. You will need a MetroCard, which is a reloadable subway/bus card (read more about the MetroCard below).
The subway system connects the four boroughs Manhattan, Bronx, Brooklyn and Queen, however it does not extent to the fifth borough; Staten Island. You can use the system citywide and as long as you don't exit the system through a turnstile you can transfer to other subway lines as many times as needed free of charge. Within two hours of using your MetroCard, you are allowed to transfer from bus to subway or vice versa.
Generally, the subway stations on the same line are 8 to 10 blocks apart. The subway does not connect to Staten Island, instead the free Staten Island Ferry can take you there. There are both local trains that stop at every station, as well as express trains that use a different track and stopp only at certain major stations. Make sure you check before boarding the train so that you don't mistake one for the other! Subway trains run every 2-5 minutes during peak hours, every 5-15 minutes during the day and every 20 minutes during the period midnight-5 a.m.
Tips: the MTA Trip Planner can help you with a customized route for both subway and MTA bus lines, whilst Google Maps and Hopstop.com features helpful direction. The New York Subway MTA Map and Route Planner will help you plan your trip and find your way.
City Buses
Buses might not be as fast as the subway, but what they lack in speed they make up for in experience by offering scenic views of NYC. The route designations include a letter and number. The letter stands for the borough, e.g: B=Brooklyn, Bx=Bronx, M=Manhattan,  Q=Queens and S=Staten Island. The majority of routes traffic within the designated borough, however the Q32 is one of the exceptions, which runs to Penn Station in Manhattan. You can tell the city buses apart from the Express buses by the X-mark. Keep in mind that just like taxi cabs, buses are subject to traffic jams.
In addition to the MetroCard, all city buses also accept exact coin change. Pennies or bills are not accepted. You enter at the front of the bus where you also pay for your fare, and you exit through the doors at the rear of the vehicle. If paying by MetroCard, you're allowed an automatic transfer; between bus to bus and between bus to subway. However, if paying with cash, request a transfer with the driver when you board. You will receive a ticket that you can use for the second leg of your journey, which will be valid for two hours.
The buses run every 5 – 15 minutes, but make sure to check the schedule and route map at the bus stop which specifies when the bus should arrive and where it will go. Many routes offer overnight service and are available 24/7. From 11pm – 5am, you can ask the bus drivers to stop wherever you wish, if you're in luck, they will accommodate your wish as long as they deem it safe. The majority of buses in Manhattan run either Uptown/Downtown or Crosstown. Generally speaking, each bus stop is two blocks apart on avenue routes and one block apart on cross-street routes. If you pay by MetroCard, you are free to transfer to another bus or the subway free of charge, as long as the transfer is done within 2 hours.
Also note that you should to push on the black band or pull the cord to request a stop, elsewise you risk the driver passing your stop as they only stop if they see passengers waiting at the  bus stop.
Tips: In the age of the smartphone, you can scan the QR code at the bus stop in order to receive real-time information on when the next bus is arriving. I also recommend the iOS and Android app BusChecker which offers an interactive map and real-time arrival information for each bus. The app works by retrieving GPS data from each vehicle, hence the arrival and departure information is accurate. With the live street-level route maps you can easily see and explore where each bus goes.
The Roosevelt Island Tram
Make sure not to miss out on the amazing view of Midtown East from the Roosevelt Island Tram, an aerial  tramway that spans the East River and links Roosevelt Island to the Upper East Side. Best of all, all it costs is a swipe of your MetroCard.
MetroCards for MTA
The MetroCard is a plastic card that is used throughout New York City to pay for public transport fares. The MetroCard can be used on the subway, city buses, express buses, PATH and the Airtrain. You can purchase a card for $1 USD at MetroCard vending machines, subway station booths, in subway stations kiosks and also with some merchants, such as shops, grocery stores and newsstands that have the MetroCard sign in their windows. Buses do not sell oMetroCards, so make sure you have your card ready before boarding buses.If a subway station is marked with a green ball – you can purchase a MetroCard inside. In contrast, if it's marked with a red ball, you need to already have a MetroCard in order to be able to enter through the entrance.
Upon initial purchase, you must load the card with a minimum of $5.50 USD. When paid by MetroCard, single rides on city buses and the subway cost $2.75 USD whilst Express Bus rides cost $6.50 USD. You can also purchase a single ride ticket for $3.00 USD at subway vending machines, but the single ride ticket doesn't allow transfers and must be used within two hours of purchase.
There are two types of options for the MetroCards; they can hold either a Pay-Per-Ride or Unlimited Ride. Unfortunately, the MTA discontinued the one-day Fun Pass. Both the Pay-Per-Ride and the Unlimited Ride balance can be maintained on the same card. The Pay-Per-Ride MetroCard carries a dollar balance and can be used on the subway, city buses, Express buses, PATH and the Airtrain. The 7 day Unlimited Ride MetroCard costs $31 + $1 USD and the 30 day Unlimited Ride MetroCard costs $116.50 + $1 USD, and the cards are valid until midnight on the 7th and 30th day respectively. Upon swiping your card through a subway turnstile, the display will show you the remaining balance. There are also MetroCard Readers at station booths where you can scan your card for information on expiration date and remaining balance.
A standard Pay-Per-Ride Metrocard can be used by up to four persons at once. So if you're traveling in a group, it's more than enough to top up one MetroCard and then swipe it once per person.  The unlimited ride card does not offer this option, as you are not permitted to share the pass with anyone else. Also be aware of that the 7 day pass can be used only on local city buses and the subway.
A maximum of three children less than 44 inches tall each travel for free when accompanied with a fare-paying adult.
Boats & Ferries
Waterway transportation was long the form of transportation that dominated the NYC waters. Before any bridges were built, it was ferries that connected New York and Brooklyn.  But as the construction of tunnels and bridges commenced, ferry waterway transportation slowly faded.
Staten Island Ferry
If you're traveling on a budget, you musn't miss the Staten Island Ferry. This 25-minute ride will take you from Whitehall Ferry Terminal on Lower Manhattan to St. George on Staten Island, whilst it simultaneously offers you scenic views of the Statue of Liberty, Ellis Island, the Wall Street's skyscrapes and the harbour of this beautiful waterfront city. What's more – it's completely free! This commuter ferry operates year round, 24/7 seven days a week and the ferry runs every 30 or 60 minutes or every 15 or 20 minutes during peak hours. If you're going for a leisurely ride, it'd be best to avoid rush hours. Check the Staten Island Ferry's website for schedules.
St. George Ferry Terminal is located at 1 Bay Street and is accessible by MTA Busses and the Staten Island Railway (SIR). The Whitehall Ferry Terminal on Manhattan is located at 4 South St., which you can access by both the subway and city buses. Take the subway, train #1 to the station South Ferry, train J or Z to Broad Street or #4 or #5 to Bowling Green. If you're traveling from Staten Island, take the Staten Island Railway to St. George.
Please bear in mind that the Staten Island Ferry is essentially intended for commuters, so if you're looking to get perfect photo opportunities of the Statue of Libery, this might not be the best option. There are plenty of private ferry operators that that offer sightseeing tours specially designed for tourists.
NY Waterway Ferries
In addition to the Staten Island Ferry, there are a few other NYC harbour commuter ferry service providers. NY Waterway has the largest ferry and excursion fleet in the NY Harbour and operates both commuter ferries between docks in Manhattan and docks in New Jersey as well as harbor and sightseeing cruises.
The NY Waterway's East River Ferry connects Manhattan to destinations in Brooklyn, Queens and at times Governor's Island. Check the official schedule for departures as they vary. A single-ride one-way ticket costs $4 USD on weekdays and $6 USD on weekends. All day passes are $12 USD or $18 USD respectively. Click the link for an interactive map of the East River Ferry routes.
The NY Waterway's Hudson River Ferries serve the North New Jersey and NYC, West Midtown, Downtown and Financial District. The NY Waterway's Belford Ferry serve the Belford, NJ community, Paulus Hook/Jersey City, NJ, World Financial Center and Pier 11/Wall St. in South Manhattan and Pier 79/W. 39th St. in West Midtown.
New York Water Taxi
Yet another ferry service company that operate both commuter ferries and harbor tours and cruises. The commuter routes connect docks in Manhattan with docks in Brooklyn (Wiliamsburg, Fulton Ferry Landing, IKEA in Red Hook and Brooklyn Army Terminal), in Queens (Hunter's Point) and in Yonkers.
Tips: If you want a seat on the Staten Island Ferry – grab one fast as they fill up rather quickly. Personally I prefer to skip the seats and instead frequently switch sides so that I can  take in all views. Avoid ticketing lines by downloading NY Waterway's ticketing app for both iOS and Android, in which you can purchase a ticket and use it to board. You can also use the app to check schedules, locate connecting buses and get real-time updates.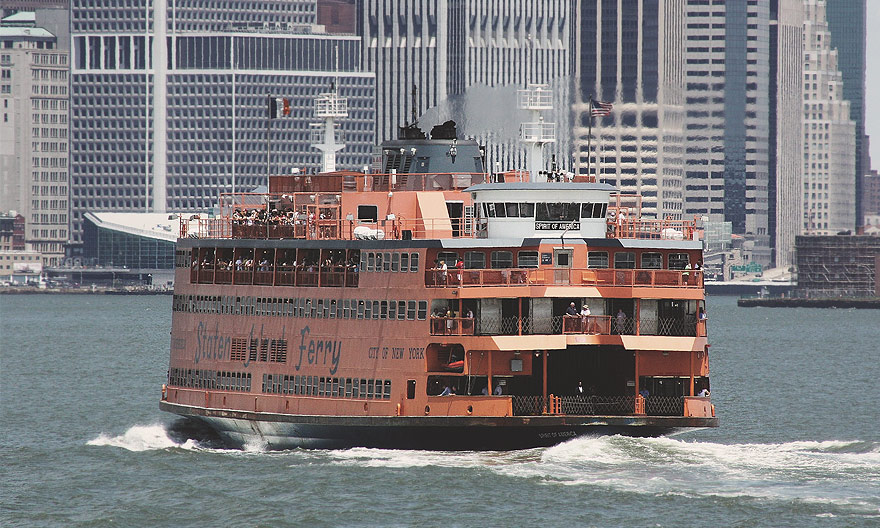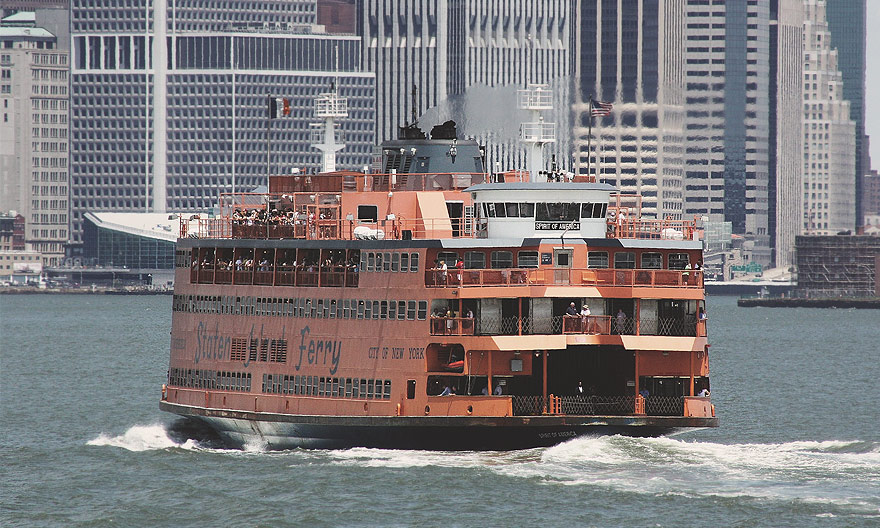 Taxi Cabs
If you're traveling in a group of three or more, you might want to consider getting a taxi cab. If you're on an budget, opt for an Uber instead. Taxi cabs are easily recognized as they're either bright yellow or green and sport a metal seal on the hood. To get a taxi, just hail any car that is available. Don't fret it the car passes right by you, it could either be off-duty or already full. If the roof light is lit, the cab is available. If the light is off, the car is off-duty or occupied. The rush hour is at its peak from 4 p.m. – 5 p.m, during this period, it might be harder to get a cab. To avoid any accidents, always board and exit curbside.
The minimum taxi fare is $2.50 USD and charges increase by $0.5 USD for every minute or 1/5 of a mile (0.3 km). Additional surcharges of $0.5-$1 USD are added at nights 8 p.m. – 6 a.m. or during weekdays 4 p.m. –8 p.m. respectively. There is a $0.5 USD New York State tax, and a tip of 15–20% is always expected (unless the service was substandard). Finally, tolls are not included but rather added to the metered fare at the end of your journey. There should be no additional charges for luggage or per passenger surcharge. Most taxi cabs accept credit cards in additional to cash payment.
Tips: If you're just traveling a short distance, try to hold out a "C" with your hand, which will indicate to the taxi drivers that you're looking for a quick ride. If you're lucky, you might even get an off-duty cab to pull over and assist you.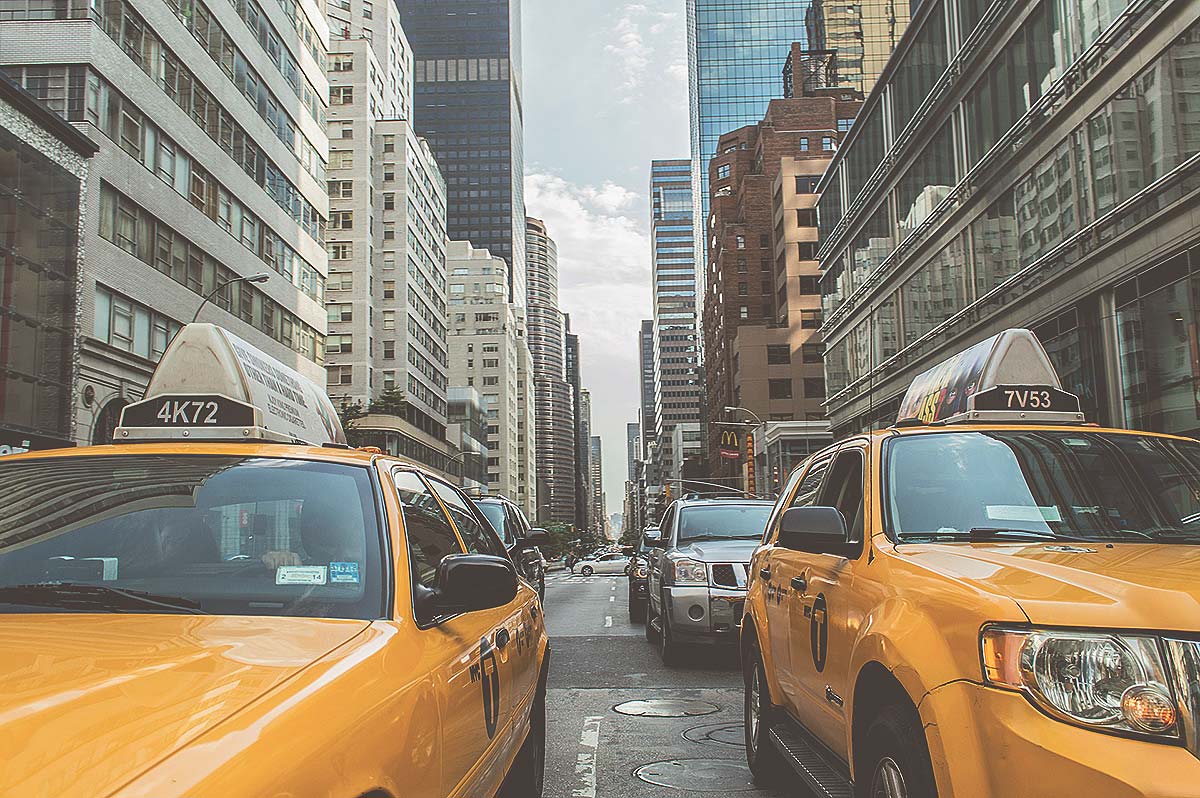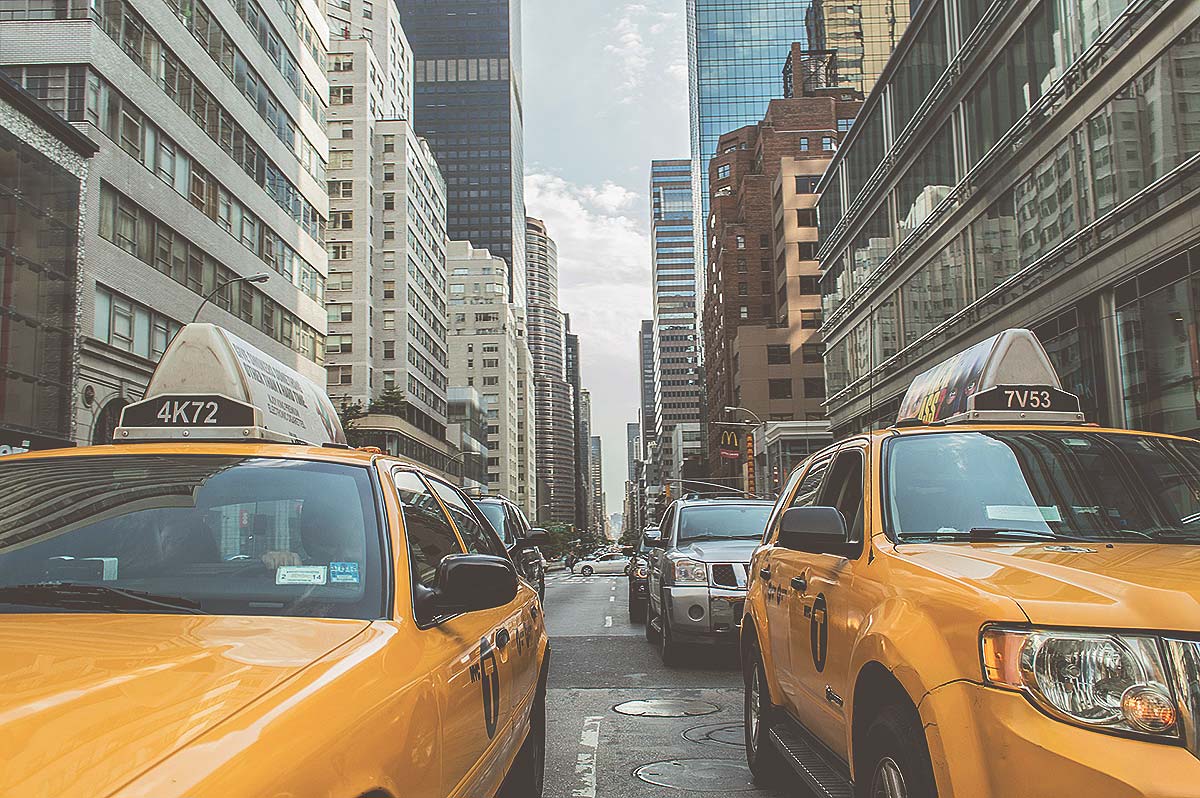 ---
Hopefully this guide will help a little along the way. What is your favourite means of transport in New York City? Let us know in the comments section below!