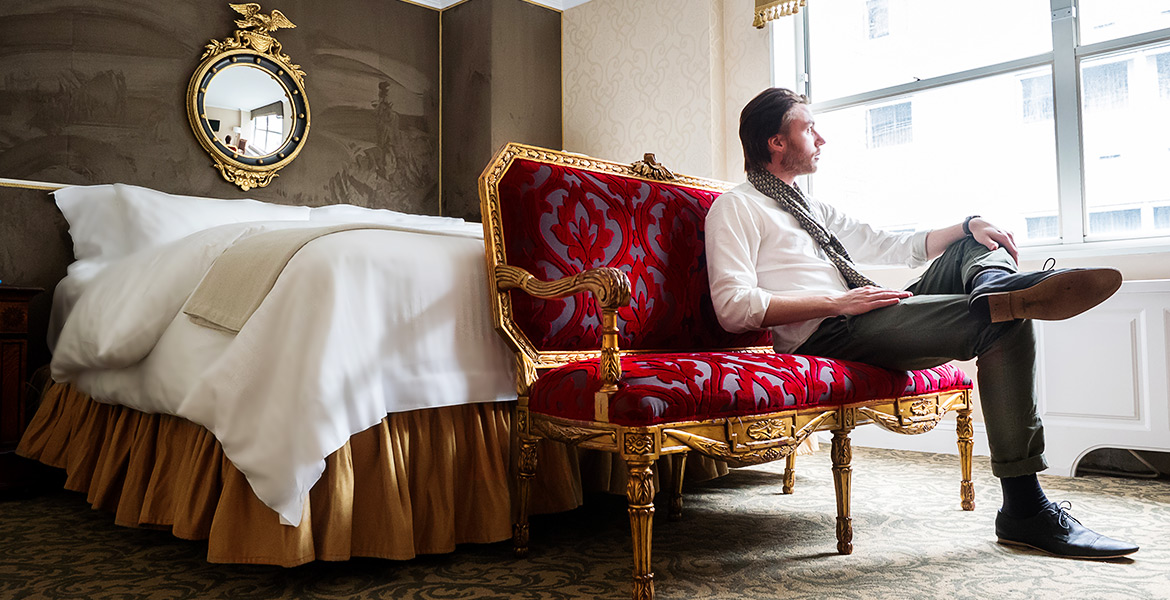 The Kimberly Hotel – a Place with Charm & Character
On my recent trip to New York City, I had the pleasure of staying at The Kimberly Hotel, a luxurious escape right in the heart of Midtown East, Manhattan. Nestled among iconic NYC attractions and landmarks, the property is located at 50th Street, between 3rd and Lexington Avenue, and if you have set your mind on staying in Midtown, the location of the Kimberly Hotel is hard to beat.
The area offers a vast selection of fine Michelin recommended restaurants that would make any foodie ready to loosen the belt a few notches (I know I certainly did!). For shopping fanatics, there is a myriad of boutiques, high-end department stores and extravagant shops sprinkled all along Lexington Avenue, not to mention Bloomingdale's on 59th Street as well as Saks Fifth Avenue and American Girl Place on 5th Avenue.

As far as mass transit is concerned, I had literally a 1-minute walk to the nearest subway station at 51 St. Lexington Avenue and a 1-minute walk to seven different bus stops in the immediate area. Grand Central Station, also which happens to be the world's largest railway station, is only 800 metres away, and connects to the New York City Subway as well as to trains heading upstate and Connecticut.
Turning to my stay, after the sun had dipped in the sky, I went for a twirl through the neighbourhood and passed St. Patrick's Cathedral, Rockefeller Center, Radio City Music Hall and the Museum of Modern Art – all located within 10-minute walking distance of the hotel. I enjoyed the plethora of attractions and points of interests only a stone's throw away, and appreciated the fact that they were all easily accessible on foot. Personally, I value that the location of my accommodation is within walking distance of popular sights and attractions, yet not in the epicentre of it all. Overall, the location of The Kimberly made it convenient, easy and efficient for me to explore the rest of the city, but always have close to home to refuel between activities.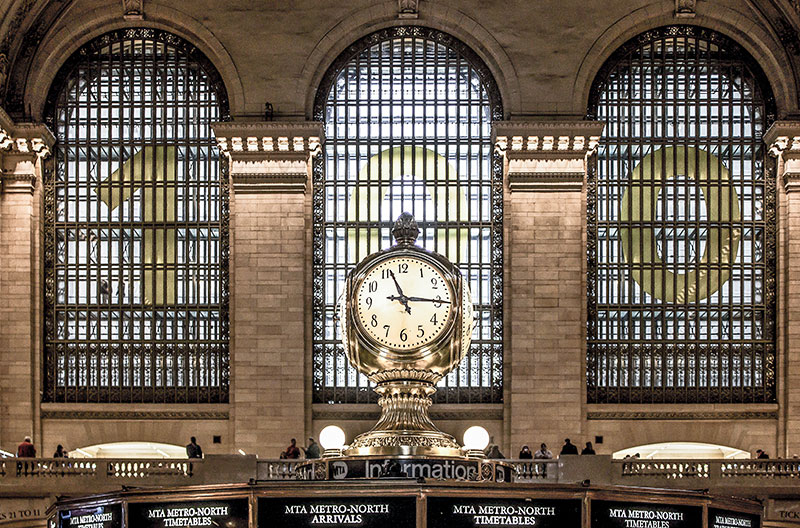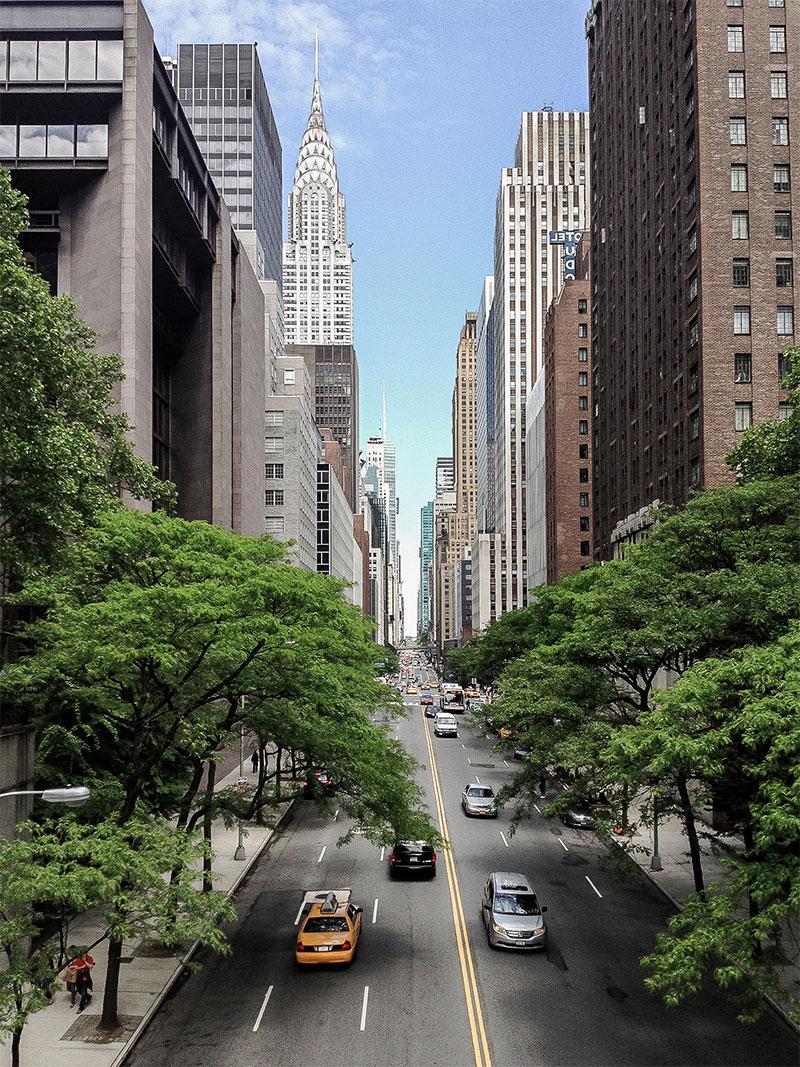 For your convenience, I've created a map with the nearest bus stops, subway stations and points of interests. Zoom deeper to see more. All these attractions and sights are within a 1.5 km (9 mile) radius of The Kimberly Hotel.
The Hotel
As a member of WORLDHOTELS Deluxe Collection, this property comprises of 192 deluxe guestrooms, studio suites, and one- and two-bedroom suites with private balconies and fully equipped kitchens. Facilities and amenities include a well-equipped fitness centre, complimentary access to the New York Health and Racquet Club, two on-site restaurants, and a rooftop bar; voted one of the world's best by the Telegraph.
Upon my arrival, I was greeted by courteous and knowledgeable staff. From the receptionists and porters to the concierges and room service staff, they were all very friendly and accommodating. Harry, the doorman, deserves a proper mention; he was eager to cheerfully assist and help, and made me feel extra welcomed by always being so good-humored and cheery. His enthusiasm certainly felt genuine and  further heightened my experience.
The moment I stepped inside the lobby of The Kimberly Hotel, I was transitioned into a peaceful atmosphere, pieces by Mozart playing subtly in the background. The interior is elegant, with period furniture, arched doorways and accents in warm gold and deep red. Attractive details such as opulent chandeliers, lavish mirrors and ornamental paintings hang throughout the hotel. The lobby is delightfully beautiful – most noteworthy is the majestic 2000-gallon marine aquarium situated in the centre of the room, containing colourful fish swimming back and forth among the blue coral.
Tip: If you value a room with view, request a suite with a balcony that overlooks the Manhattan cityscape. If you value a good night's rest, the rooms on the back side are free of street noise.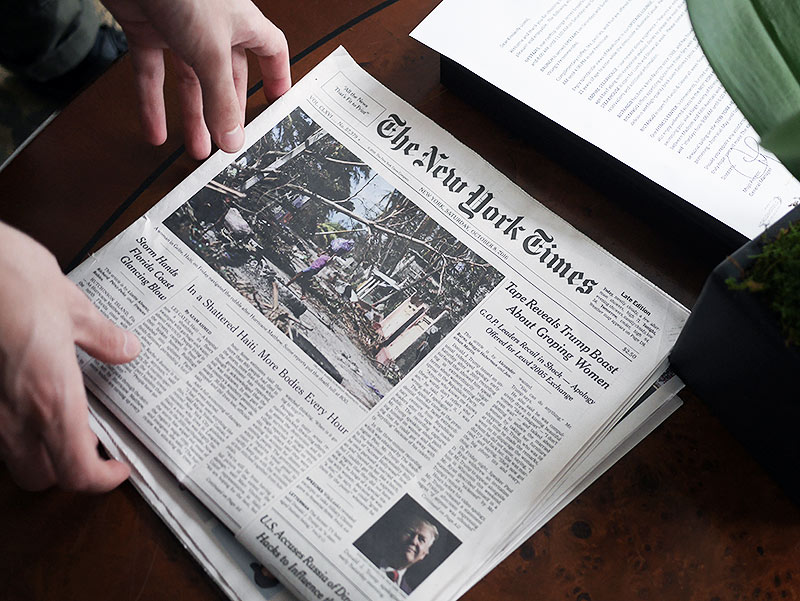 The Suite
The Kimberly Hotel has a total of 43 deluxe rooms and 151 suites, ranging from 266 to 935 sq ft. I stayed in a spacious one bedroom suite with a fully equipped kitchenette and wetbar, a marble bathroom, a living area and a balcony. The suite was charmingly furnished in an antique-inspired style and beautifully decorated with gold chandeliers, classy mirrors and deep red curtains; all very reminiscent of European old world charm.
My bedroom featured automated blackout curtains and a king size bed draped in impeccably white Fretté linens and covered in fluffy down comforters and pillows. Above all, the traffic was barely audible from my suite, which allowed for a good night's rest. 
Throughout my suite there were multiple fitted wardrobes providing ample and organized storage space. The bathroom was equipped with a decent sized bathtub, a sink in Breccia marble, and an impressive array of toiletries from L'Occitane.
The living area was spacious and fully furbished, and fitted an armchair, sofa and a workspace. As for the kitchenette, it had everything I needed, including a wet bar, a dishwasher, a microwave and tableware. I also enjoyed the fully stocked mini bar, with an assortment of various snacks and beverages.
Small extra touches such as wrapped chocolates left on the bed and the New York Times delivered to the room were appreciated and memorable.
As far as cleanliness is concerned, it was flawless which for me undoubtedly is one of the most important factors when travelling, especially in New York City which can otherwise be rather gritty.
To top it all off, my suite had a balcony that opened to the views of the city – which is a rarity in Manhattan. The balcony was my favourite spot to start and end my day as I watched the sun rise and set over the Manhattan skyline while snuggling up with a hot cup of tea.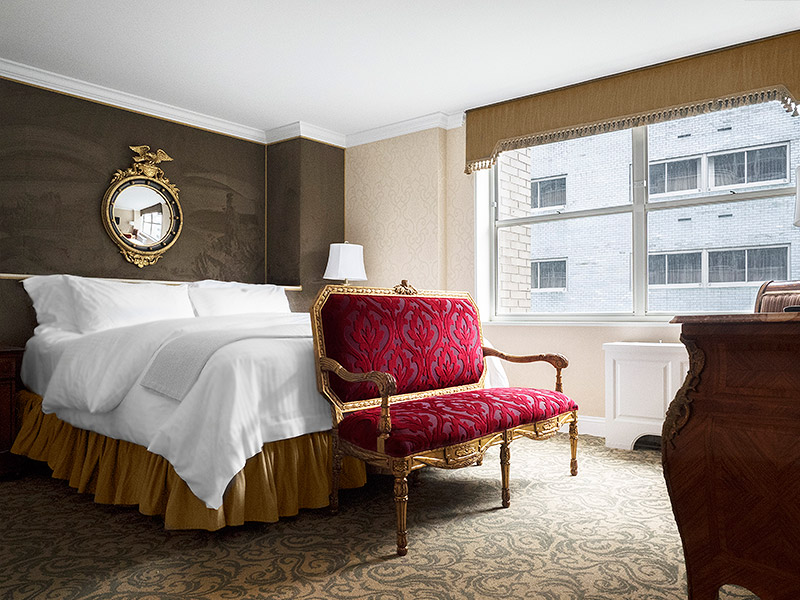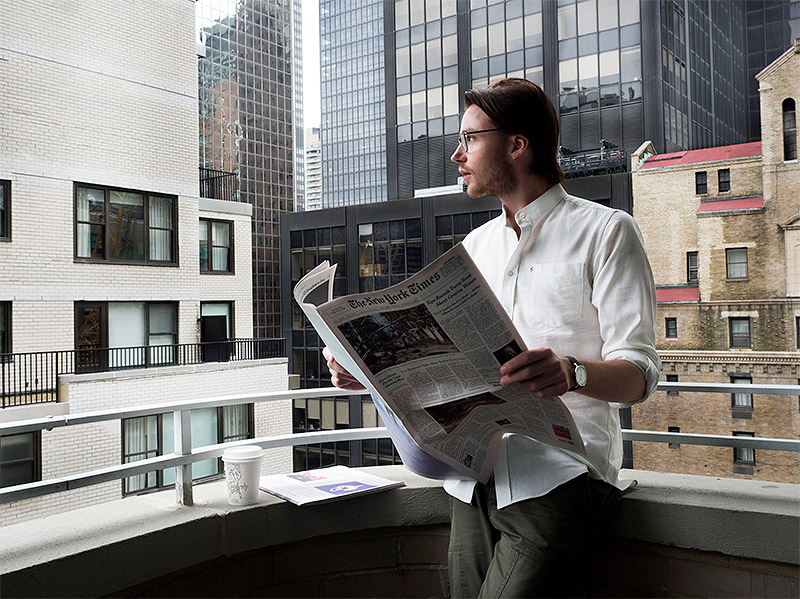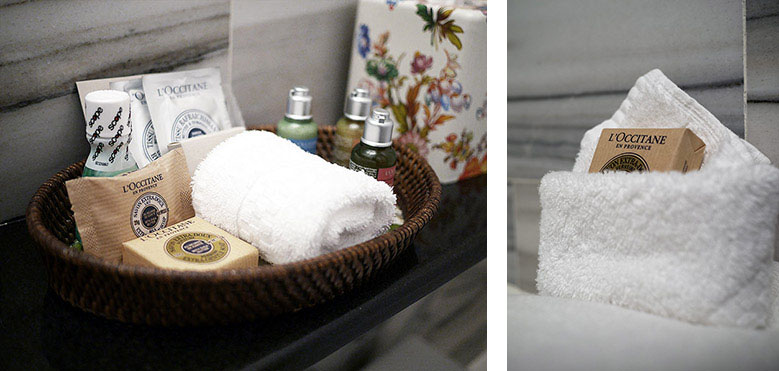 The Facilities of The Kimberly Hotel
The Kimberly boasts all the amenities you'd expect from an upscale New York hotel. Some of these include a 3000 sq. ft. rooftop lounge, 2 restaurants, an on-site fitness centre and a 24-hour business area offering PCs and LaserJet printers at no additional charge.
Bistango – Italian Cuisine
The relatively newly opened on-site restaurant Bistango serves up authentic and heavenly Italian cuisine in a casual setting. The menu is adorned with options such as a la carte as well as a $35.99 Prix Fixe menu, including menu selections such as antipasti, pasta, salads, flatbreads and sandwiches as well as gluten free alternatives.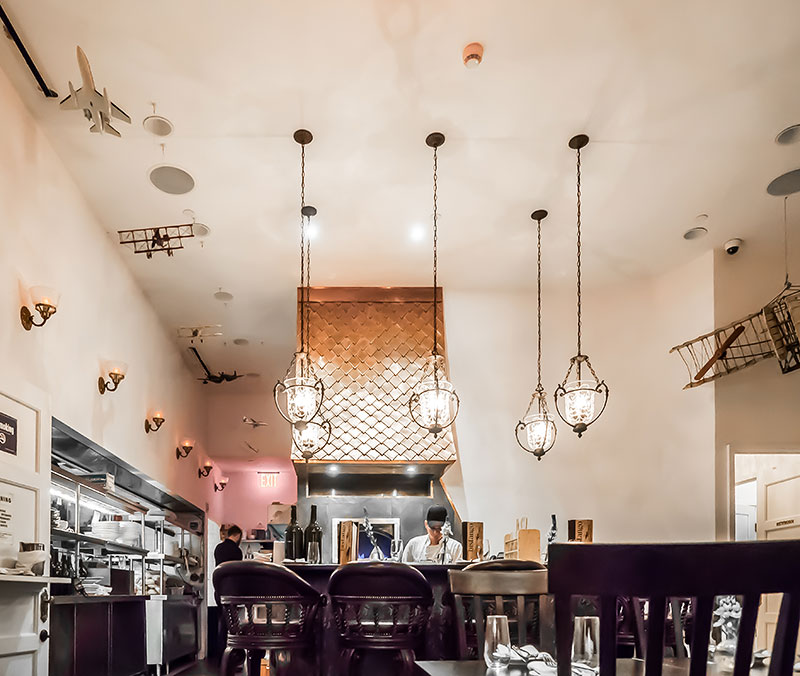 Fitness Center & Membership to the New York Health & Racquet Club
There is a recently renovated fitness center, fitted with cardio equipment and weight machines. Moreover, the Kimberly offers all guests complimentary access to any New York Health & Racquet Club location within Manhattan, with the two nearest clubs located at 50th Street and 45th Street, barely a 5-minute walk from the hotel.
The New York Health & Racquet Club offers a long list of amenities, including fitness equipment, a saltwater pool, eucalyptus infrared saunas, steam rooms, whirlpools and squash  and racquetball courts. However much I wanted, I regrettably didn't have the opportunity to enjoy this perk as I was pressed for time, nonetheless for the many guests that visit for an extended stay it's excellent to be given the choice to keep fit while staying on the road.
Upstairs – Rooftop Lounge & Bar
Even if you aren't planning to stay at the Kimberly Hotel, you most definitely should visit the hotel's rooftop bar and lounge, Upstairs. The 3000 sq ft rooftop lounge is set on the hotel's 31st floor, and is the perfect venue for wining and dining into the wee hours. The fully retractable glass ceilings and walls allowed me to enjoy 360-degree views of Manhattan's beautiful skyline and beyond.
At night, Upstairs came alive with fanciful strings of lights that illuminated the terrace's charming ivy covered walls. The white shining Nirosta steel spire of the iconic Chrysler Building was visible and I was constantly accompanied by ever-present vistas of the sparkling skyscrapers of East Midtown. I didn't get to spend too much time here, however had I had a few more days I this is where I'd have rounded off my evenings.
One of the Best Values NYC's Got to Offer
Overall, I was very pleased with my stay at the Kimberly Hotel and it truly made my experience exceptional and memorable. The suite was unexpectedly spacious and well stocked, including an impressive array of toiletries and personal items.
In reference to the general opinion of the hotel, the hotel has been featured in numerous travel magazines and was ranked #7 among the top 25 hotels in NYC by Condé Nast Traveler. Not to mention, the property has managed to maintain a high level of guest satisfaction, which is reflected in their excellent rating on Booking, TripAdvisor and Hotels.com.
All things considered, the Kimberly Hotel is an excellent choice if you value comfort and convenience, and it's one of the best reasonably priced four star hotels in New York. For 400 USD a night, this is one of the best values New York City has got to offer and you will be getting your money's worth.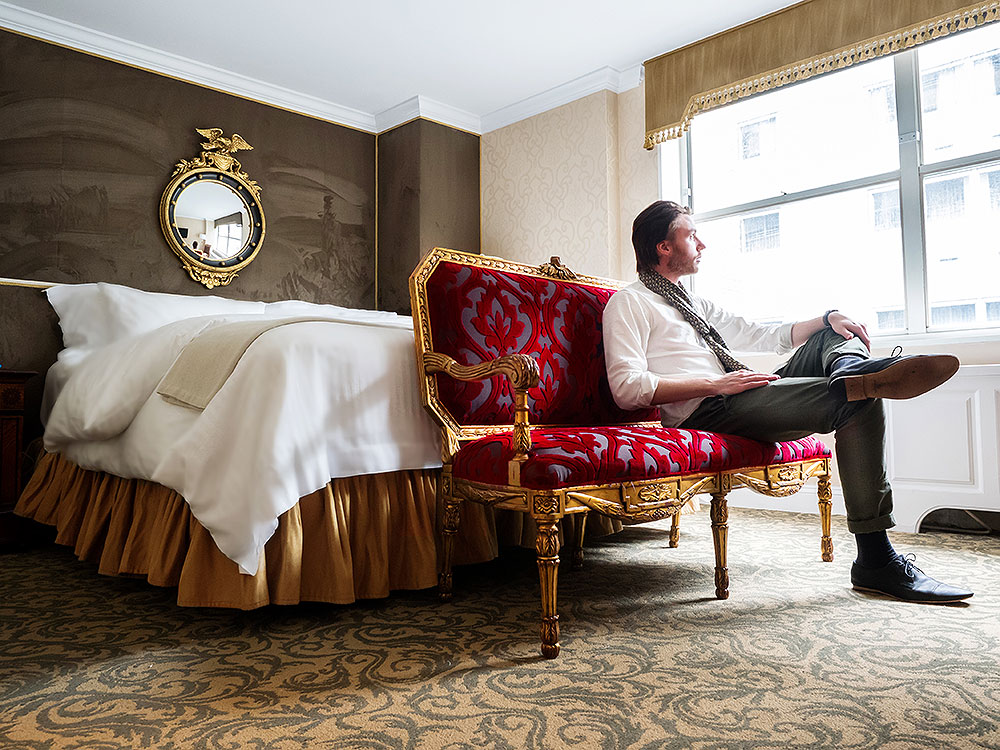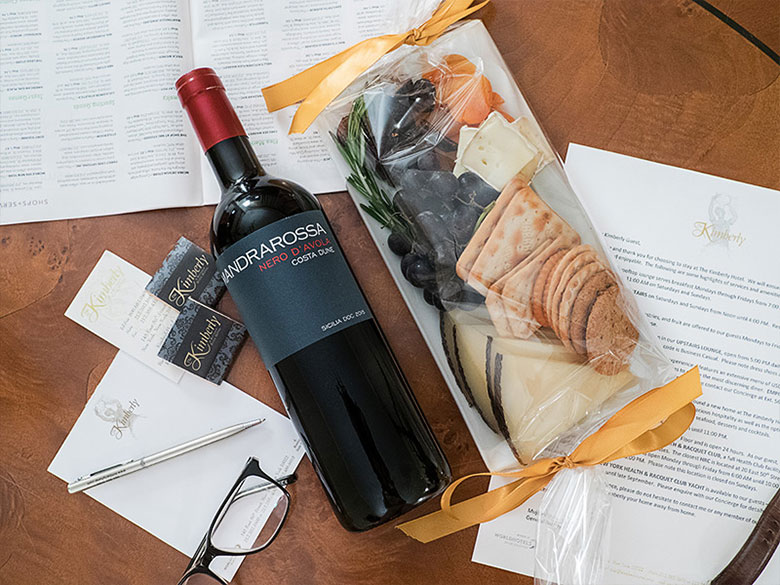 Key Facts at a Glance
The Kimberly Hotel & Suites
145 East 50th Street, New York City (view location on Google Maps)
Tel: 212.702.1600 ▪  Fax: 212.355.4318  ▪  Reservations: 800.683.0400
---
Property: 30 storeys, 43 deluxe guestrooms and 151 suites ranging from 266 to 935 sq ft.
---
Hotel Class: AAA Four Diamond.
---
Room Types: Deluxe Guestrooms (32 m2)  //  Studios (37 m2)  //  One Bedroom Suites (Luxury, Executive or Luxury Executive Plus, approximately 50-75 m2)  //  Two Bedroom Suites (92 m2).
---
In the Suites: Balconies (95% of suites)  //  Living Room with sofa, armchair and coffee-table  //  Kitchenette  //  Marble Bathroom  //   Wet Bar  //  Couch  //  Chest of Drawers  //  Flatscreen TV  //  Desk  //  Multiple Fitted Wardrobes  //   Air conditioning   //   Telephone  //   Iron & ironing board  //  Safety Deposit Box  //  Daily housekeeping  //  Complimentary issues of the New York Times (Monday through Saturday)  //  24 Hour Room Service  //  Antique Style Furnishings  //  Frette Linens  //  Full-lenght Mirror  //  Electric shoe-shining device // iPod docks.
---
In-Suite Kitchenette: Sink  //  Dishwasher  //  Microwave  //  Coffee maker  //  Minibar  //  Refrigerator  // Tableware  //  Complimentary Bottled Water.
---
In-Suite Bathroom: Bath or Shower  //  Hairdryer  //  Terry Cloth Bath Robe  //  Towels  //  L'Occitane Bath Amenities: Shampoo, Conditioner, Shower Gel, Body Lotion, Bar Soap, Shower Cap, Mouthwash, Cleansing Towelette, Cotton Wool & Cotton Swabs  //  Tissues  //  Magnifying Mirror  //  Weighing Scale.
---
Hotel Facilities & Amenities: Restaurant Bistano (Italian Cuisine)  //  Restaurant Empire Steak House  //  Rooftop Bar & Lounge Upstairs  //  Business Center with Fax/Photocopying opportunities //  On-Site Fitness Center  //  Complimentary membership to any NY Health & Racquet Club location within Manhattan  //  24-hour Front Desk Service  //  Luggage Storage  //  Concierge.
---
Nearby Attractions: St. Patrick's Cathedral 0.5 km  //  Rockefeller Center 0.6 km  //  Grand Central Station 0.7 km  //  The Museum of Modern Art 0.8 km  //  Radio City Music Hall 0.8 km //  United Nations Headquarters 1.1 km  //  Times Square 1.2 km  //  Broadway 1.3 km  //  Central Park 1.5 km  //  Empire State Building 1.5 km  //  NY Public Library 1.5km.
---
Ambiance: Luxury, Family-friendly, Romantic.
---
Ratings: 4.5 out of 54 on TripAdvisor  //  9 out of 10 on Booking  //  4.6 out of 5 on Hotels.com.
---
Reasons to Choose The Kimberly: Extremely spacious rooms and suites, excellent value for money, favourable location, family friendly, immaculate cleanliness, top-notch service.
---
For more hotel information and booking options please visit the website of The Kimberly Hotel & Suites. To keep connected, visit the hotel's Twitter and Instagram. To view a YouTube clip of the hotel, click here.
---
Have you ever been to New York City? In which part of town do you prefer to stay, and why? Please feel free to let us know in the comments below!