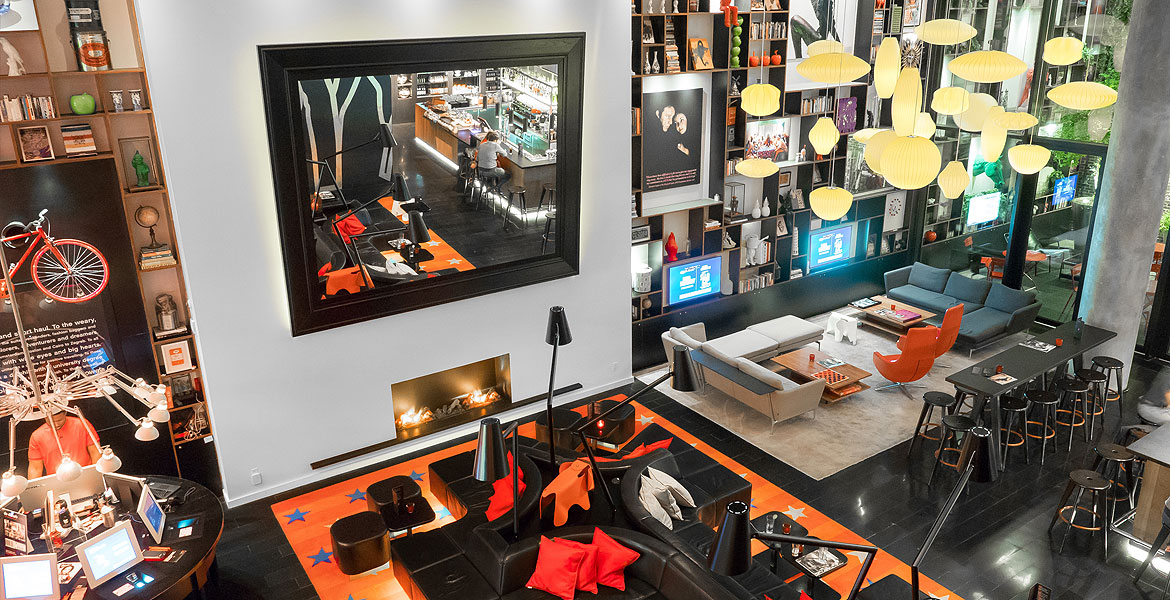 CitizenM New York – a New Breed of Hotels
When I first learned that the award-winning Dutch hotel group citizenM had recently opened its first outpost in America, the citizenM New York Times Square immediately made it to my itinerary for my upcoming visit. The philosophy of the brand; a hybrid alternative of luxury style and affordability, further piqued my interest. Having drooled over some amazingly wacky photos of the hotel on social media – I was overwhelmed when I'd secured a room at the 230-room property set in Midtown Manhattan.

The property, rising to the sky 21 floors above street level, is a mixture between a quirky boutique hotel and a pod hotel. The first American outpost flung open its doors in May 2016, offering travelers a peaceful respite in an eccentric setting.
The uniqueness of citizenM was evident from the front door to the rooftop. As I entered the lobby for the first time, the unconventionality became apparent at an instant. I was greeted by a two-story atrium lobby with soaring 26-foot ceilings framed with floor-to-ceiling windows.
Self-check-in kiosks in the lobby made check-in and check-out a breeze. I inserted my credit card and was given my key almost instantly. Hotel personnel, referred to as ambassadors, were available and ready to assist, attentive but without being intrusive – just how I like it.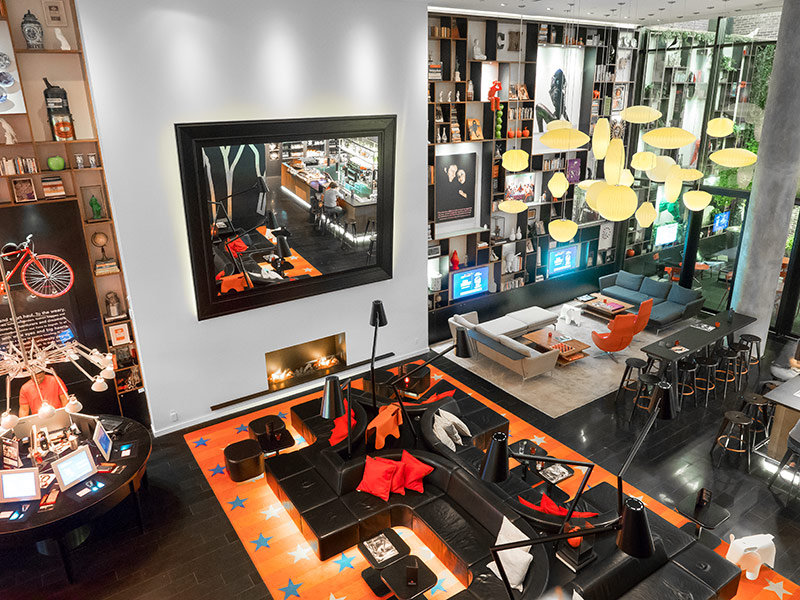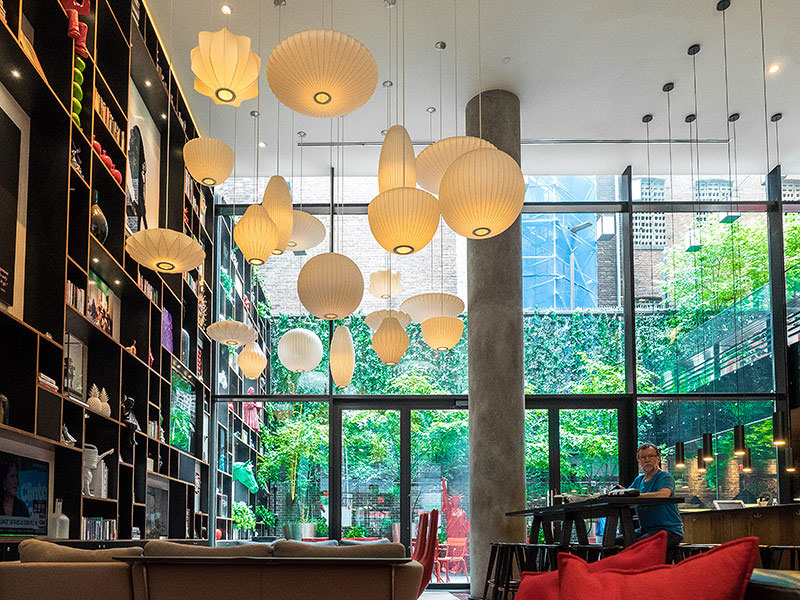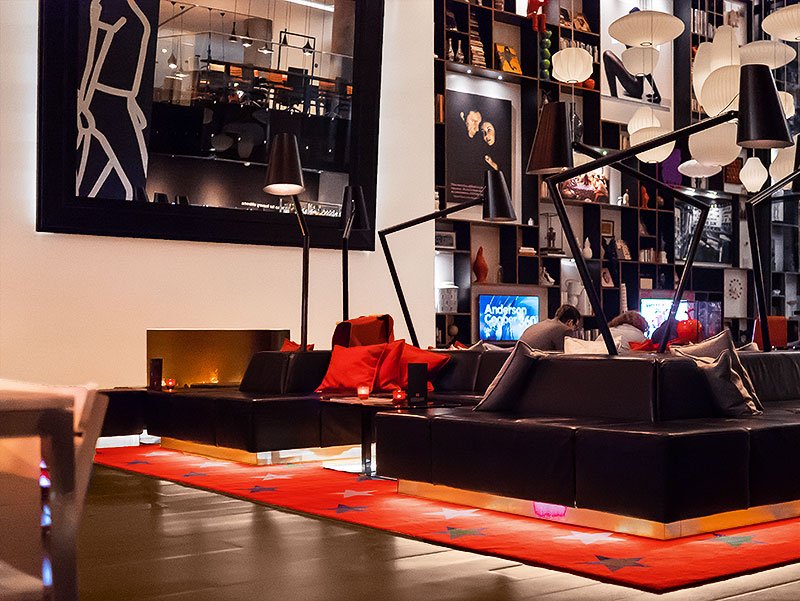 Amenities
The common places, which are plentiful, offered a never-ending supply of things to see and experience. No doubt you'll be intrigued to learn that I had to waffle over whether to leave the hotel and experience New York City or to stay indoors and explore every nook and cranny of the property.
The living areas were reminiscent of showrooms – with eclectic decor comprised of peculiar bric-a-bracs, ornaments, books and collectibles dotting the spaces. The hotel's art-accolades include works by Andy Warhol, David LaChapelle and Julian Opie, as well as a curious exterior piece wrapping the façade of the building.
The 20th-floor gym boasts floor-to-ceiling windows, free weights, cardio machines and an outdoor sun deck & yoga terrace.
The centrally located lounging zones offered ample space for play and entertainment. The communal spaces doubled as libraries, showcasing wall-to-wall book-lined shelves. A quaint fireplace in the centre of the lobby, teamed with plush leather couches, added a sense of warmth.
Natural light adorned the interiors of the building, much thanks to the full glass facades. A ground-floor courtyard was outfitted with warm-lit lanterns and two additional outdoor terraces on the mezzanine level offered further communal space. Guests could make use of one of the four Apple Mac situated in the tranquil Mezzanine level library, free of charge.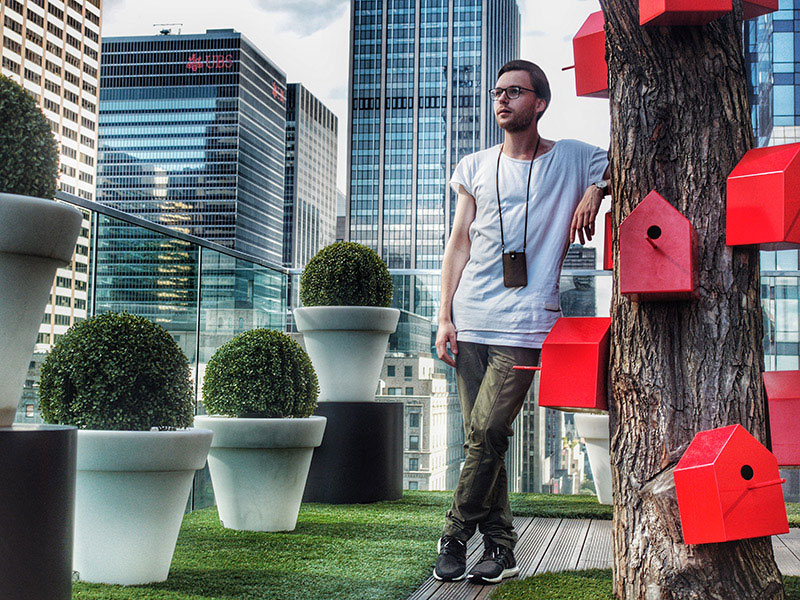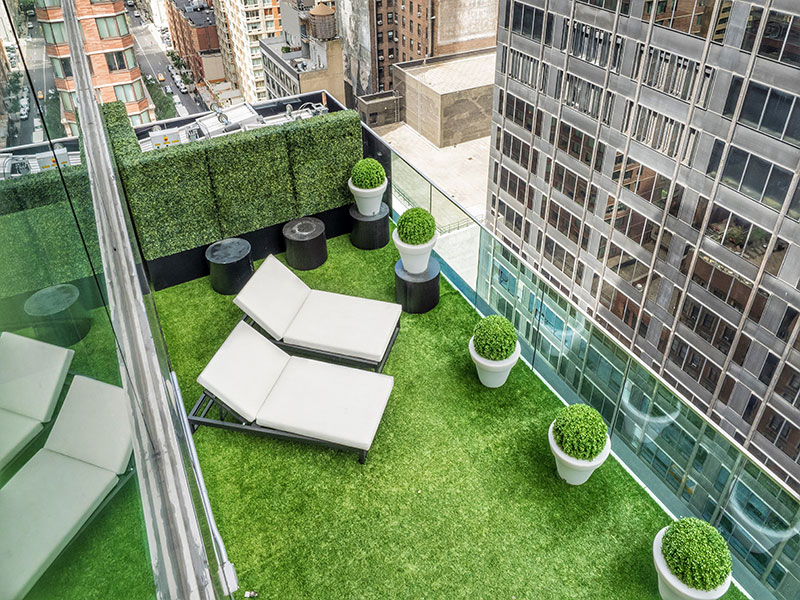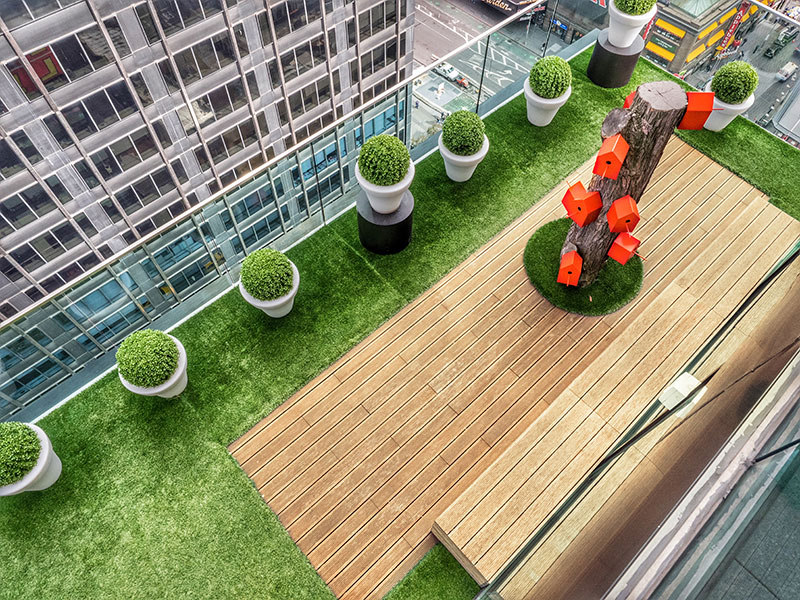 Dining
The lobby expands into the dining area, 24-hour self-service cafeteria & bar, canteenM. canteenM, akin a Pret A Manger, featured a selection of cocktails and wine as well as a diversity of scrumptious food, including sandwiches, salads, and sushi. The breakfast offerings were highly curated and included fresh fruit, granola, yoghurt and pastries. There was also an assortment of cooked breakfast items, such as pancakes, bacon, eggs, hash browns, frittatas. Simply put, enough choices to satiate anyone's hunger.
Breakfast certainly was one of the highlights of my stay. After eyeing up the various pastries I indulged in not one, but three croissants from Gail's Artisan Bakery, topped with a thick layer of Nutella spread. The trained barista was kind enough to whip up a caramel latte just the way I like it – a gesture that instantly won me over!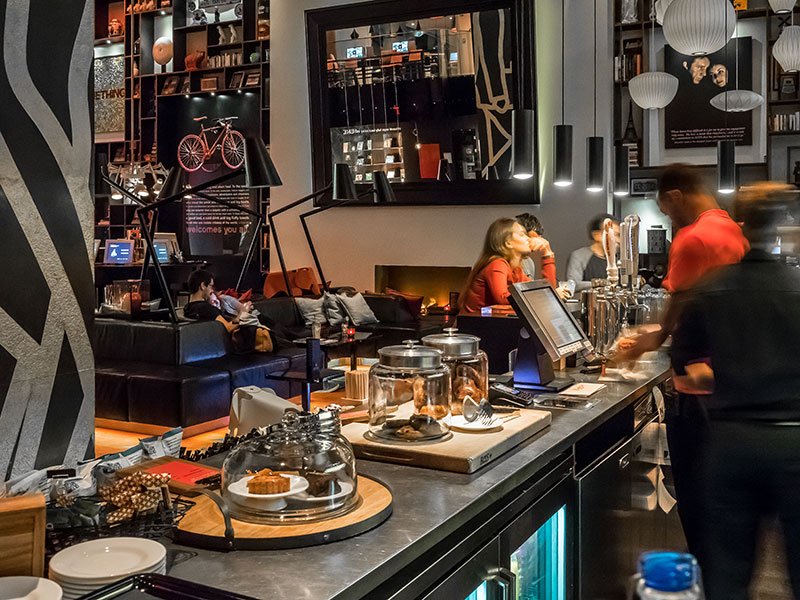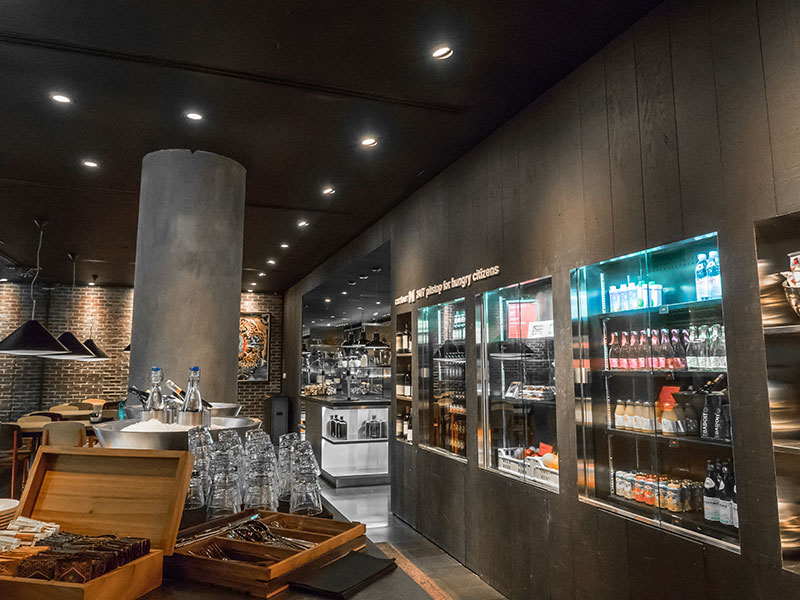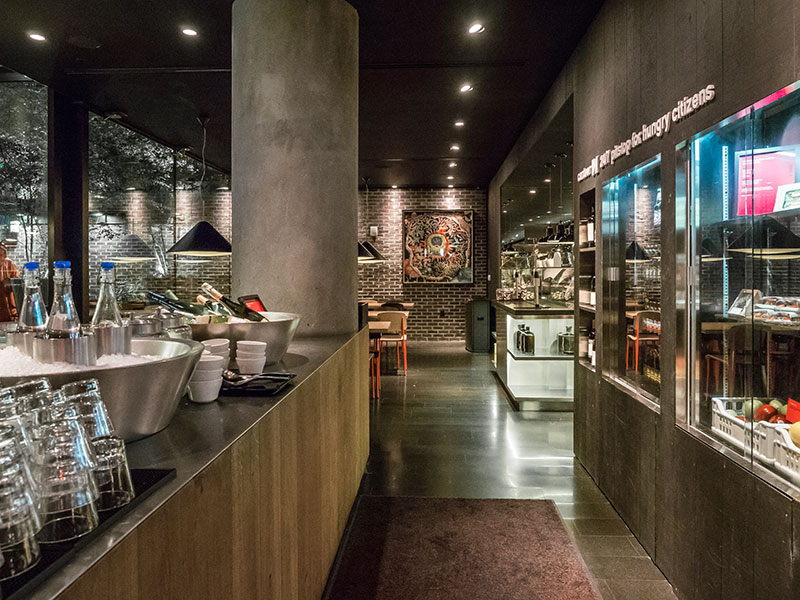 The rooftop lounge, perched atop the 21-story property, overlooked the amazing cityscape and was beautifully decked with mismatched furniture, funky lanterns, and grass and greenery. The bar offered indoor and outdoor seating and the torso-high glass barrier flaunted unobstructed 360-degree views of the Manhattan.
After a slap-up meal at Restaurang Row, I ascended to the 21-floor rooftop lounge and sank back into one of the plush couches. Whilst I clinked glasses with my crew, I enjoyed a cocktail menu curated by mixologist Mayur Subbarao. Yet, best of all was my front-row seat to an uninterrupted sight line of the towering NYC buildings.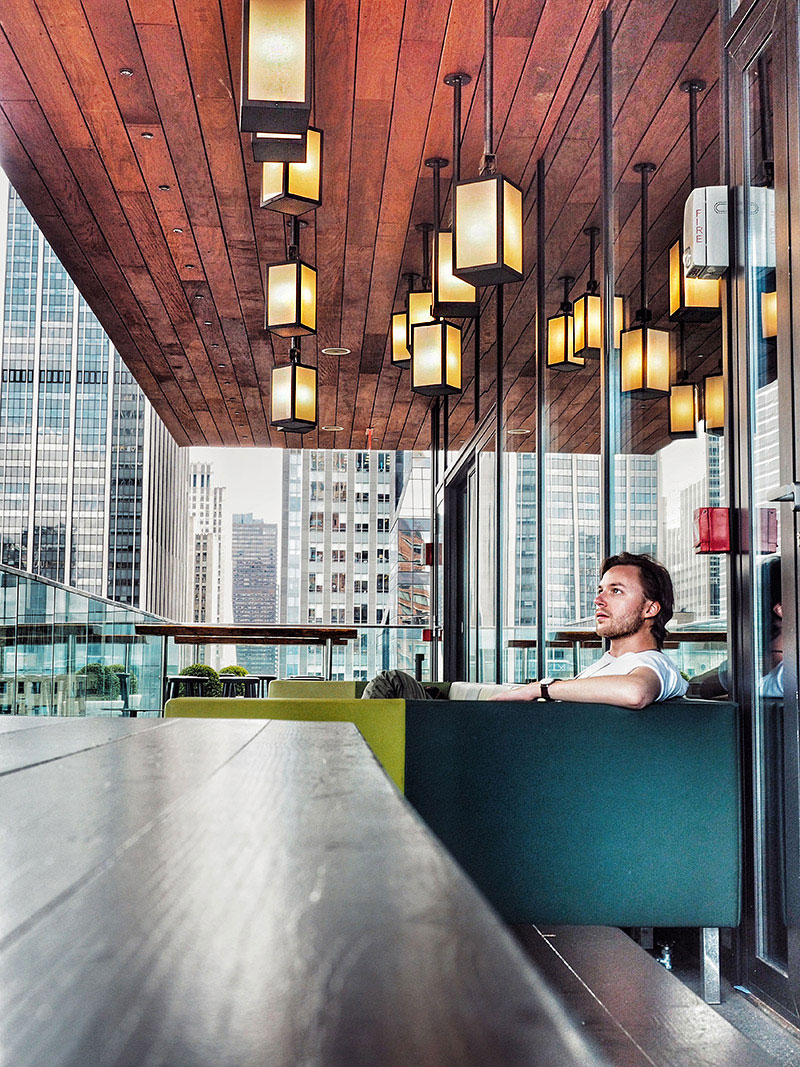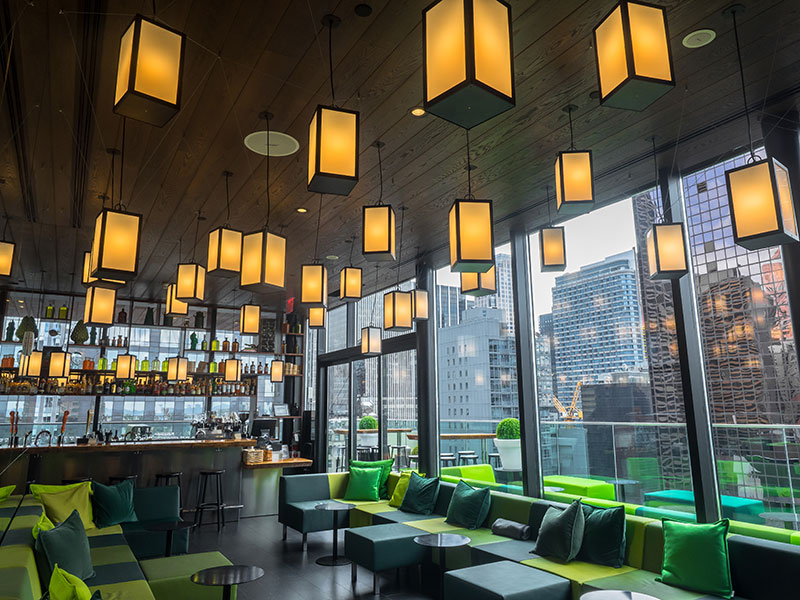 Rooms
After an in-depth conversation with the cheerful and bubbly receptionists on how to best experience the Big Apple, I quickly whisked up my bags to my room.
Upon entering my room, it quickly became clear that special attention has been paid to a guest's most basic needs. My room showcased a great attention to detail; furniture and fixtures were used innovatively throughout, with a focus on optimum functionality whilst maintaining an unconventional and eccentric design.
The rooms are small by European standards, nonetheless very stylishly decorated. Bright red and bold black accents are found in everything from pillows to swivel chairs in a room that is otherwise dominated by contemporary white furnishing, wooden-floors and sleek decor.
The large wall-to-wall window that opens up to amazing views of the bustling neon-lit cityscape is the defining element of the room, giving it an exceptionally cozy and airy feel. The plush 2m x 2m sized bed stretched wall-to-wall at one end and was positioned by the large window; making New York City my headboard. A flat panel TV was unobtrusively mounted on the wall at the foot of the bed, offering free premium TV-channels and movies on demand.
The high-tech concept was immediately apparent, as each room is outfitted with a bedside tablet that lets you control everything from the electronic blackout blinds and mood lighting, to the temperature, music and TV.
The bathroom is encased in a frosted-glass pod, which maximizes the sense of space of the room, with white curtains providing privacy when drawn. The shoulder-wide rain shower was outfitted with an atmospheric LED ceiling with changing colours – creating an inviting atmosphere. The washbasin had curiously been integrated into the entry area, and its shelves hosted a mini fridge with bottled water, a hairdryer and a wide array of toiletries.
My favourite feature was the mood lighting as it together with the signature design window dished up a fantastic inviting feeling. After a night on the town, I curled up in my fluffy bed, bathing in the blue dimmed moodlight whilst I was gawking at my amazing NYC backdrop.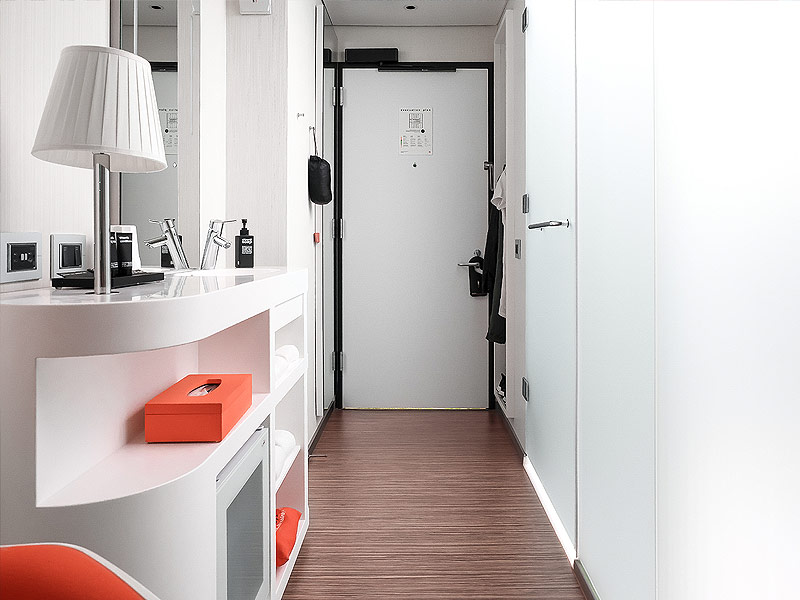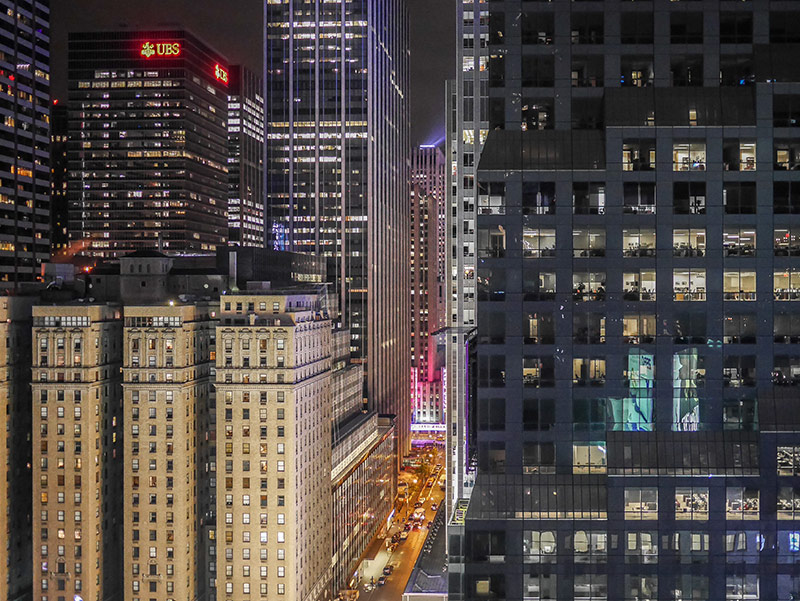 Location
CitizenM is situated at West 50th Street, at the corner of Broadway, 4 blocks from the hustle and bustle of Times Square. The location of citizenM placed me in Theatre District, home to some of the world's most famous theater productions, with Broadway theatres less than a block away. The neighborhood offers a little bit of everything: culture, entertainment, and boundless energy.
I had walking distance to sights and attractions such as Bryant Park, New York Public Library, Rockefeller Center, Radio City Music Hall, and Carnegie Hall, Central Park South – all located within a 10-minute walk from the hotel.
After all the sight-seeing made me peckish, I loosened the belt a few notches and headed to Restaurant Row on 46th St. between 8th and 9th Aves., merely four blocks from the hotel. The street is sprinkled with multiethnic restaurants and its extensive international cuisine would satisfy even the most demanding palate.
The area is very fast-paced; performing street artists, food- and souvenir carts, and foot traffic dominates the scene. As I reached neighbourhooding Hell's Kitchen, situated a block away, things sstarted to slow down and got less congested.
The key location of the hotel made all the main attractions and shops all the more accessible. CitizenM is a perfect base for exploring New York City from, as its location places you conveniently close to many major attractions, but still not in the middle of it all. I didn't use the metro at all during my stay, instead I walked everywhere, still without having to stray too far from the comfort zone of my base.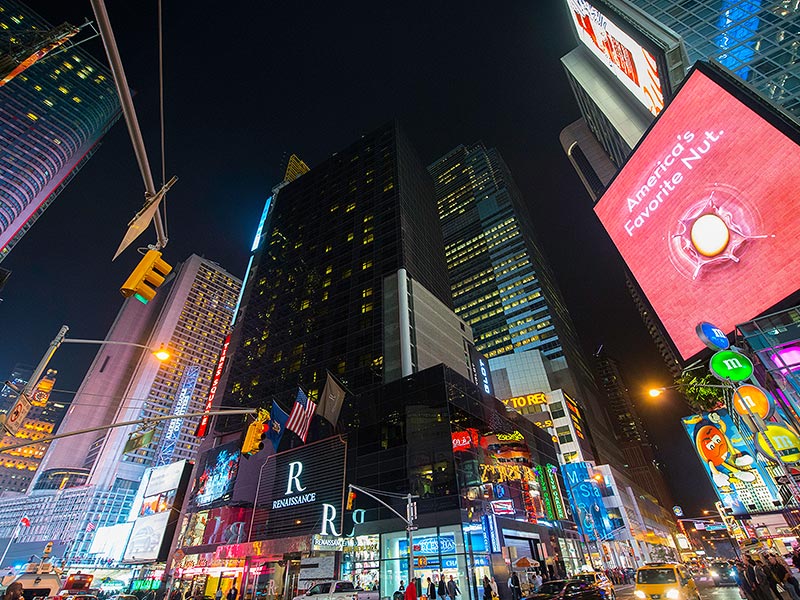 Accessibility
Concerning mass transit, the neighbourhood is very commuter-friendly. CitizenM is conveniently located within a 450 metre (0.3 miles) radius of four subway stations. The two closest subway stations are within a 3-minute walk, about a half-block away, located on 50th Street (A, C, E & 1,2 lines) and 49th Street (N, Q, R lines).  The 7th Avenue/53rd Street station (B, D, E lines) is located 3 blocks north of the hotel and the 47-50 Sts – Rockefeller Ctr station (B, D, F, M lines) is situated within a 6-minute walk from the hotel.
The metro line 1 and E, departing from 50th Street station takes you directly to Penn Station in seven minutes and the Port Authority Bus Terminal is only a 10-minute walk from the property. The E train from the 50th Street Station connects you directly to Jamaica Station and Grand Central Terminal is located crosstown, roughly a brisk 20-minute walk. The F line departing from 47-50 Sts – Rockefeller Ctr station connects you to 23 Street in 4 minutes, where you can hop on the PATH train that takes you to Hoboken Terminal in New Jersey.
With this said, you are not only well connected to all major sights and attractions, but to major transit hubs that can take you to the outer boroughs and neighbouring states well.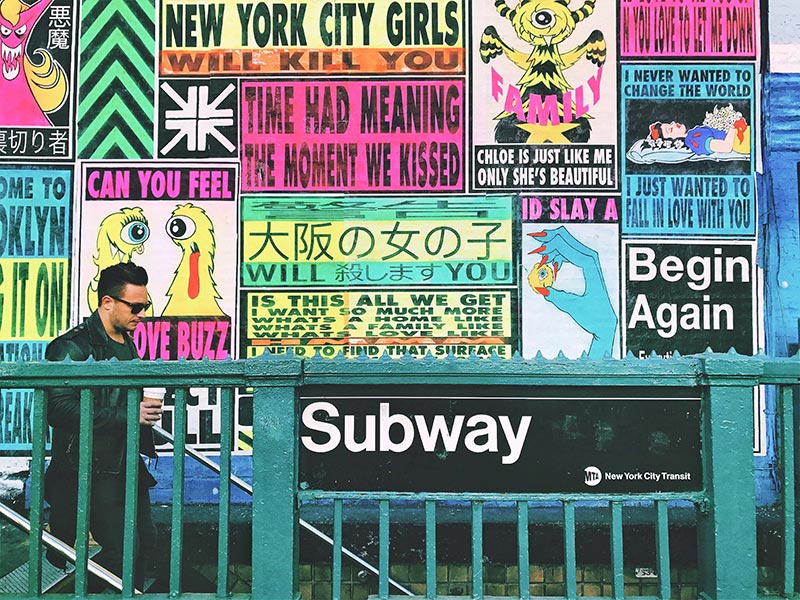 Verdict
It's not hard to understand why the hotel is rated #26 out of 476 hotels in Manhattan on TripAdvisor, nor why Conde Nast and Travel + Leisure have bestowed accolades on the property. As one of the most populous cities in the world, New York City may have myriad of hotels, but none stand out like citizenM.
The hospitality experience was up to par with a well-trained, companionable and sociable staff. The rooms, however small they are, were visually appealing and ergonomically functional. Finding a better rate for somewhere so stylish and lively will be hard.
Despite my short stay, citizenM were successful in creating a lasting impression of the brand for me. Indeed, the brand's concept is not for everyone. The hotel focuses on the essentials and caters to the curious, savvy and fun at heart. If you value affordability, contemporary design, high-tech gadgetry and proximity to some of NYC's most beloved sights – this epitome of quirky luxury will be a perfect choice for you.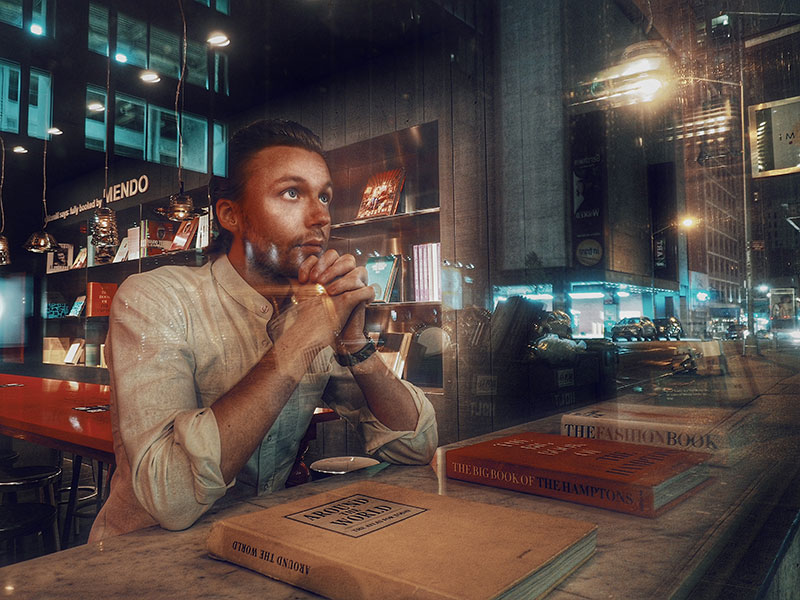 citizenM at a Glance
Facilities
Complimentary WiFi throughout the hotel. A gym is available 24/7, and is situated on the 20th floor, overlooking the cityscape. Apple computers free for use. Free on-demand movies & premium TV channels like HBO.
Food + Drink
The 21st-floor Cloudbar is open every day from 4pm to midnight, exclusively for hotel guests. The lobby cafeteria, canteenM, open 24/7, welcomes guests to enjoy a highly curated breakfast ($19 if booked in advance), barista-brewed coffee or a vast selection of cocktails.
Neighbourhood
Located in Theatre District, four blocks from the bustling Times Square. Down the road is NY Public Library, Rockefeller Center, Radio City Music Hall and Central Park South – all located within a 10-minute walk. There are four subway stations located within a 450 metre (0.3 miles) radius.
Contact
+001(0)2124613638
218 W 50th St, New York, NY 10019 (view location).
citizenM Website | Instagram | Twitter.
---

What is your first impression of this hotel? Would you prefer to stay at a quirky and innovative hotel like the citizenM, or do you prefer to stay at more conventional hotels? Let us know in the comment field below!