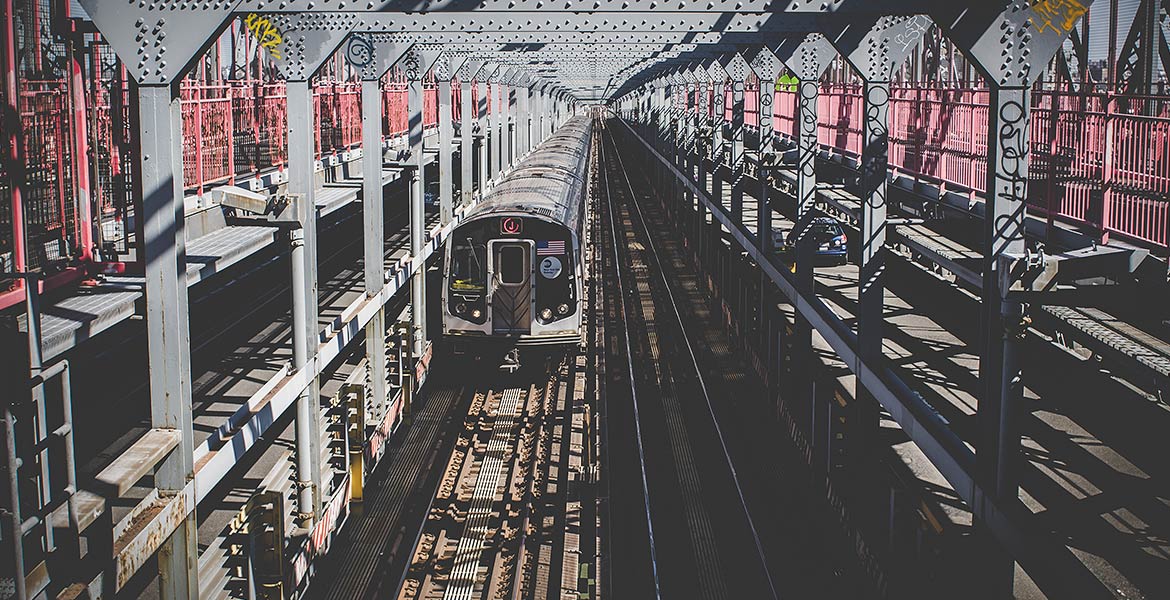 New York City Airport Transfers: a Complete Guide
New York City is enormous, and getting around the city can seem intimidating, but it doesn't have to be as hard as it seems.  There are numerous of options for getting to and from the various NYC airports in an thrilling, hassle-free or affordable fashion. Faciliate your travel experience with this extensive guide on New York City Airport Transfers which will hopefully ease your experience.

Airports of NYC
If you're visiting New York City and traveling by air, there's a high probability you will touch down in John F. Kennedy International Airport (JFK), LaGuardia Airport (LGA) or Newark Liberty International Airport (EWR).
JFK International Airport is likely the most known airport to New York City and is situated in Queens, about 15 miles from Manhattan. JFK is the largest and the busies NYC airport with more than seventy airlines operating out of it.
LaGuardia Airport, situated in Queens, only 9 miles from Midtown Manhattan, is the smallest of the major airports in the NYC area. LaGuardia services mainly domestic destinations in addition to flights to both Canada and the Caribbean and you can get to the airport entirely by public transportation.
Newark-Liberty International is situated in neighboring New Jersey, only 15 minutes away from Lower Manhattan. Flying into Newark, which is less crowded than JFK, can at times be less expensive than flying into JFK. If you're trying to get to Manhattan from Newark, your best bet would be via New Jersey Transit trains, which  connect the airport to Penn station in Midtown Manhattan.
There are a few New York City airport transfers options available, and you can easily get to Manhattan from all three airports by either taxi, public transportation or shuttle bus. If your budget allows, why not take a helicopter and enjoy the wonderful overhead views of the Manhattan skyline?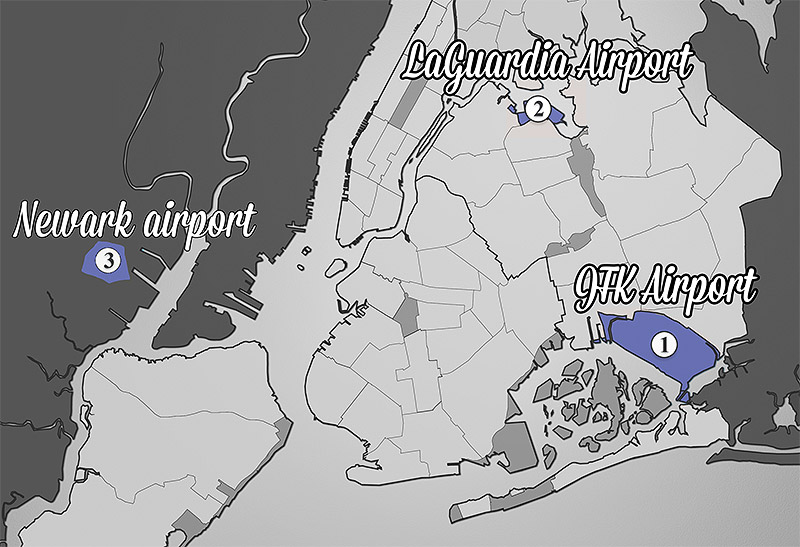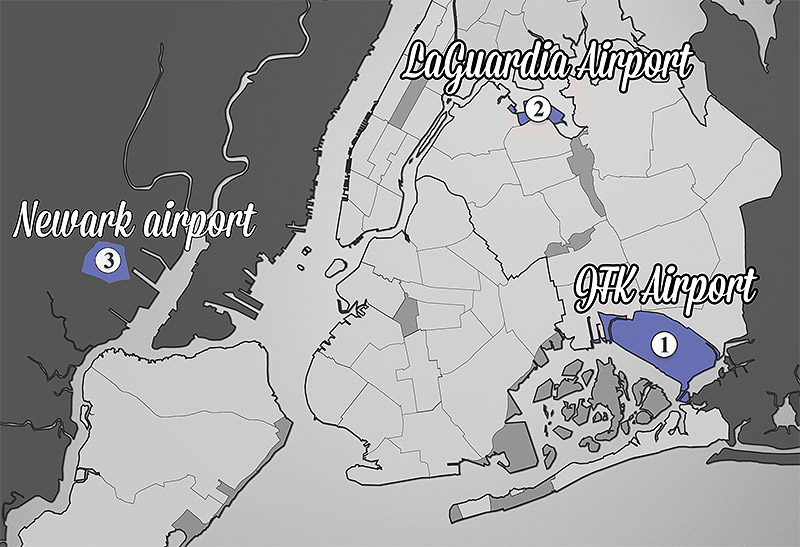 New York City Airports
Taxis
Taxis are regulated by the NYC Taxi and Limousine Commission and probably the easiest way to get to NYC, but this is also one of the more expensive options. Taxi service is available in front of all the airports's terminal buildings. Traffic can jam up any time. Therefore, travel time varies and is hugely dependent upon traffic and road conditions. Always allow 30 extra minutes in case of heavy traffic. If traveling between Manhattan – JFK, and if your taxi makes more than one stop in Manhattan, the driver will charge you the $52 flat fare after the first stop, then turn on the meter. If traveling between Newark – Manhattan or LaGuardia – Manhattan, the minimum taxi fare is $2.50 USD and charges increase by $0.5 USD for every minute or 1/5 of a mile (0.3 km). Additional surcharges of $0.5-$1 USD are added at nights 8 p.m. – 6 a.m. or during weekdays 4 p.m. –8 p.m. respectively. There is a $0.5 USD New York State tax, and a tip of 15–20% is always expected (unless the service was substandard). Please note that these surcharges don't apply between JFK airport and Manhattan. There should never be any charge for luggage or per passenger surcharge.
Travel time and cost: 
– JFK Airport – Manhattan: flat rate of $52.50 USD + tolls and gratuity // 45 – 60 minutes
– Newark Airport – Manhattan: $69–$75 USD + tolls and gratuity // 35 – 50 minutes
– LaGuardia Airport – Manhattan:  $29–$37 + tolls and gratuity // 20-35 minutes
Summary: a good door-to-door travel. Can get expensive, especially with metered fares if traffic is dense.
Public Transportation
The AirTrain ($5-$5.50) in combination with the New York City Subway ($2.75) is one of the cheapest options if you're looking to get to New York City. AirTrain is available at both JFK and Newark. Within the airport itself, AirTrain is free of charge and connects between the airline terminals, parking lots, hotel shuttles and rental car facilities. AirTrain operates 24 hours a day and most importantly it links the airports to the NYC subway, the Long Island Rail Road, as well as NJ Transit's commuter trains. You will need to purchase a MetroCard ($1) for the AirTrain and the subway, which can be done at MetroCard vending machines, subway station booths or neighborhood merchants.
From JFK you can reach most parts of New York City in 35-60 minutes for $7.75 or $15, of which $5 is the AirTrain fee and 2.75 or  is the subway fee and 10 USD is the Long Island Railroad (LIRR) fee. To connect with the subway, board the AirTrain and get off at Howard Beach in Queens, where you can catch the A train which runs through Queens, Brooklyn and lower Manhattan, or hop off at Jamaica station which connects to the Long Island Railroad or the E or J/Z subway lines which can take you into Manhattan.
From Newark you can reach New York Penn Station in 30 minutes for $13.00 USD. The AirTrain ($5.5 USD) can take you directly to the train station, take the NJ Transit Train ($7.5 USD) from Newark Liberty Airport Railroad Station which will then take you to Penn Station in Midtown Manhattan. The total cost is $12.50 and the travel time is merely 30 minutes. Another alternative is the Newark Express, a direct motorcoach service between Newark Liberty International Airport and Manhattan. Stops include Grand Central Terminal, Penn Station, Port Authority Bus Station, Chinatown, and Lower Manhattan. The Newark Express is $17.
From LaGuardia, there is unfortunately no train service into Manhattan, however, LaGuardia is unique in the sense that you can get to and from it entirely by public transportation. You will have to transfer between the bus and subway though.  Look for the Q70, Q48 or M60 buses. The M60 stops at all terminals and at the Astoria Blvd Station of the N and Q trains in Queens before going along 125 St in Manhattan and stopping at four different subway lines in Manhattan. The others go for shorter distances to subway stations in Queens. A basic fare is $2.75 and since you are allowed to transfer free of charge the total cost will be $2.75. See more information on how to get to and from LaGuardia Airport by public transit on the official LaGuardia Airport Site.
Travel time and cost:
– JFK Airport – NY Penn Station: $7.75 USD in total // 60 minutes (Airtrain + subway)
– JFK Airport – NY Penn Station: $15 USD in total // 35 minutes (Airtrain + Long Island Rail Road)
– Newark Airport – NY Penn Station: $12 USD in total // 30 minutes  (Airtrain + NJ Transit)
– LaGuardia Airport – NYC Penn Station: $2.75 USD in total // 60 minutes (city buses + subway)
Summary: cheap and quick, although you will need to be able to maneuver your luggage as it can get crowded on buses and the subway. The subway in particular can sometimes be quicker than taxis and shuttles considering the unpredictable traffic in New York City. For travel time and costs check the official MTA Travelplanner.
Shuttle buses
The pricing for the shuttle buses are somewhere between the cost of public transportation and a private taxi cab ride. Shuttle buses are generally cheaper than a cab, however, if traveling in groups a cab might actually be cheaper. A metered taxi between LaGuardia and Manhattan is $29–$37 whilst a shared shuttle bus with SuperShuttle is $78.4 for a group of four. Reservations with shuttle buses are sometimes mandatory.
Most popular options include SuperShutte, Go Airlink NYC, GO Airport Shuttle and NYC Airporter, with the latter being the official operator of the DOT & The Port Authority of New York & New Jersey. If you're staying at a hotel between 23rd & 63rd streets, you're in luck, as NYC Airporter offers a free transfer to your hotel with their complimentary hotel vans.
From JFK you have the option to take AirLink, SuperShuttle or NYC Airporter. A shared-ride with between JFK-Penn Station (Midtown Manhattan) costs $25 with SuperShuttle, $23.95 with GO Airport Shuttle, $22 with AirLink or $17 with NYC Airporter. Travel time between JFK and Manhattan is 1.5 hours.
From Newark, your options are SuperShuttle, Go Airport Shuttle or AirLink or the Newark Express. A shared-ride with between Newark-Penn Station is $23 with SuperShuttle and Go Airport Shuttle or $25 with AirLink. NYC Airporter does not provide transfers between Newark and NYC, but does however connects Newark to JFK and LaGuardia Airport.
From LaGuardia you have the option to take either SuperShuttle, AirLink, GoAirportShuttle or NYC Airporter. A shared-ride with between LaGuardia-Penn Station is $19.60 with SuperShuttle and GoAuroirtShuttle, $18.51 with AirLink or $14 with NYC Airporter. Travel time between LaGuardia and Manhattan is 1 hour.
Travel time and cost:
– JFK Airport – NY Penn Station:$25-$17 USD in total // 1.5 hours
– Newark Airport – NY Penn Station: $23-$25 USD in total // x minutes
– LaGuardia Airport – NYC Penn Station: $14-$19.60 USD in total // 1 hour
Summary: Generally cheaper. Shuttle buses take longer than taxis as they need to make numerous stops to pick up passengers. Beware as a few of the shuttle buscompanies (especially SuperShuttle and Go Airlink NYC) have received horrible reviews, with customers claiming them to be cramped, late or not even turning up at all!