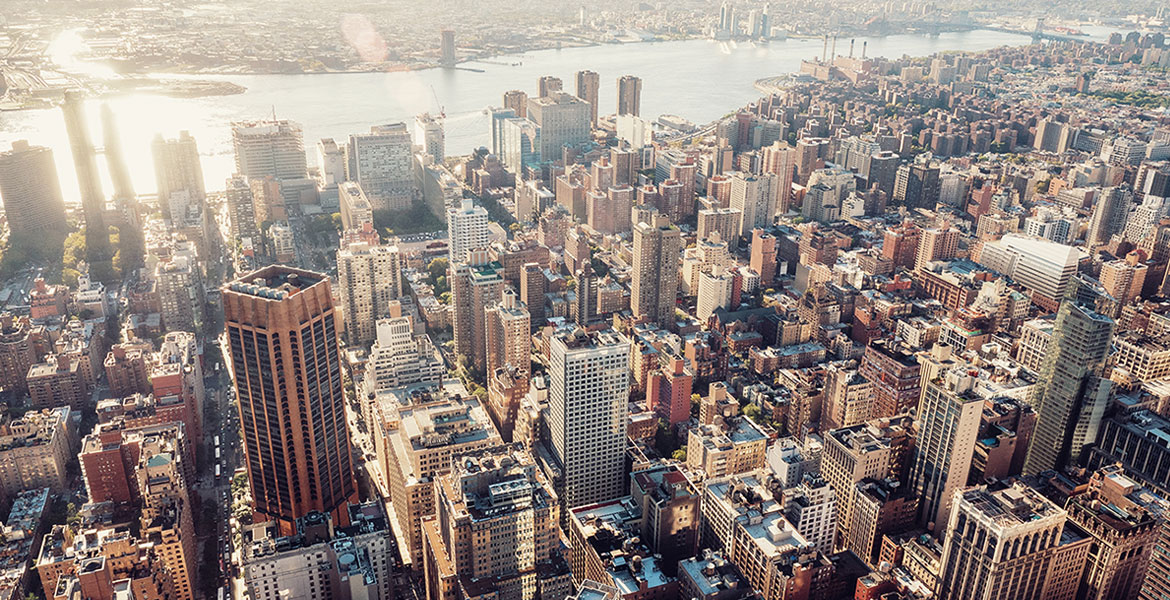 How To Spend One Day In New York And Make The Most Out Of It
On yet another escapade to the Big Apple, I was determined to see as many of the perennial favourites of NYC as possible over the course of one day. Whilst outlining my itinerary, I was stunned by the sheer variety of things to experience. From dozens of impressive museums and monuments, to a myriad of grassy green parks and towering skyscrapers, I didn't quite know where to begin.
Obviously, I wanted to tick off the most popular sights and attractions of my list – I couldn't have traveled all that way without climbing up to the crown of everyone's favourite Lady, or ascending to the 86th floor of the Empire State Building for that matter.

I quickly realized that the costs of each attraction, sight and museum quickly add up, particularly if you're keen on seeing it all. And who isn't?! I certainly don't want to look back and regret missing all the iconic bits of the Big Apple. I picked up a CityPASS – which helped me save on combined admission, in contrast to paying at the gate. They offer a ticket booklet which will enable you to experience NYC's finest attractions for a fraction of the cost.
It is no secret that New York City is busy, bustling city, so if you truly want to get a real slice of New York life, serious investment of time and effort into planning is required. Pressed for time? No worries! Read on to see how I got the most from a short trip – maybe this New York City 1 day Itinerary will help you in your planning!
Empire State Building Observatory
Opening Hours: Daily, 8 A.M. – 2 A.M. | 338-350 5th Avenue
I started my day with visiting the observatory of the 102-story Empire State Building, boasting unbeatable views of the city. The view from the top offers postcard-perfect views, but to really get the most out of this amazing experience, take your time and explore every nook and cranny.
Pro Tip: tickets to the Empire State Observatory sell like hot cakes and queues are extreme! From what I've heard, you're in for a two-hour wait if you choose to go during peak tourist times. Arrive 15-minutes prior opening and you will most likely have secured a spot on one of the first elevators up.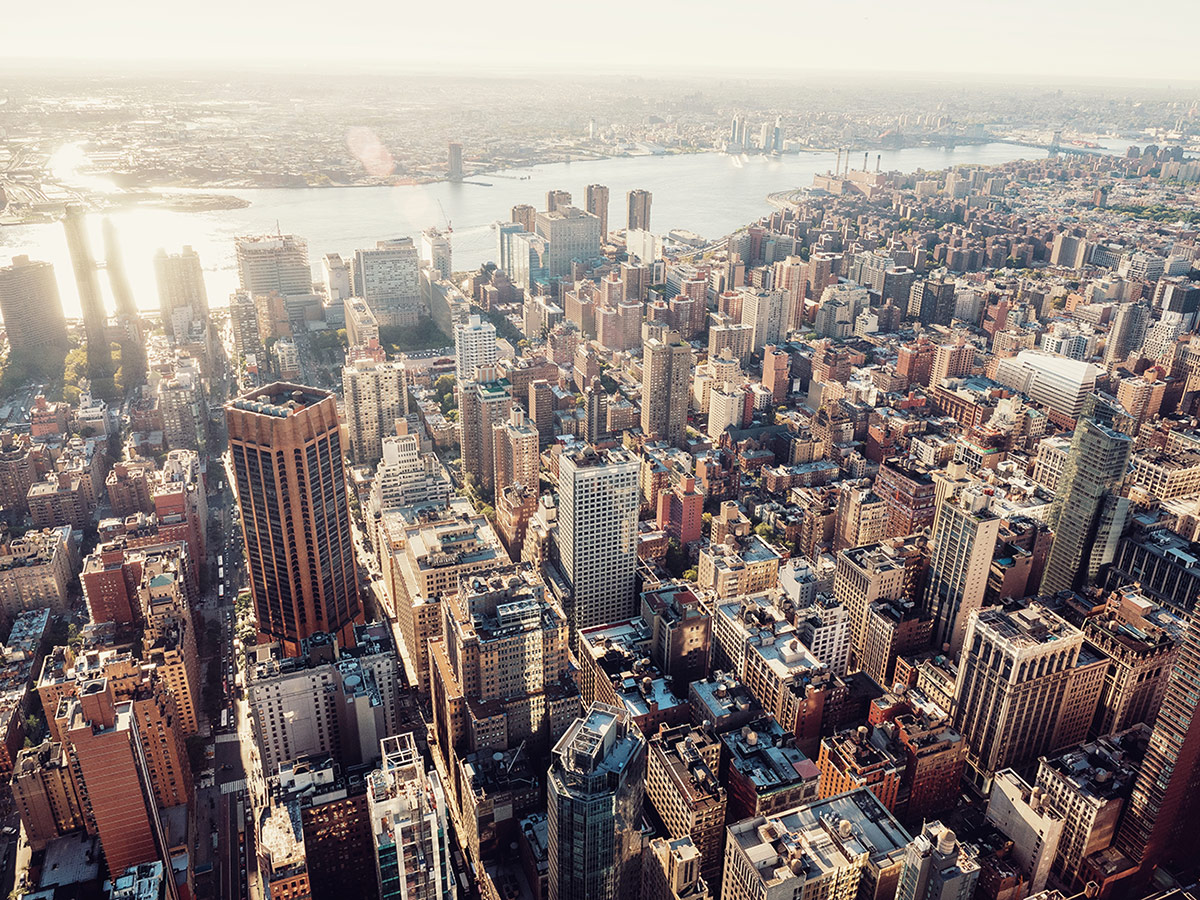 Double Decker Uptown Tour: Times Square to Central Park West
Uptown Tour available: 10 A.M – 4 P.M. | Stop #3: Times Square North to Stop #19: American Museum of Natural History
After enjoying the incredible photo ops of the NYC skyline, I had my mind set on exploring the Natural Museum of History, so I took a 10-minute leisurely stroll to Times Square, where I hopped on a Double Decker bus with GONYTours. From there, the bus took me through Theatre District and  Columbus Circle, after which it ran alongside green and grassy Central Park – all while providing informative narration. I alighted from the bus at the American Museum of Natural History, nestled on the cusp of Columbus Ave. and West 77th St.
Pro Tip: If you're catching the Uptown Tour, make sure to secure a seat on the very front right-hand side, as you get unobstructed views of beautiful Central Park.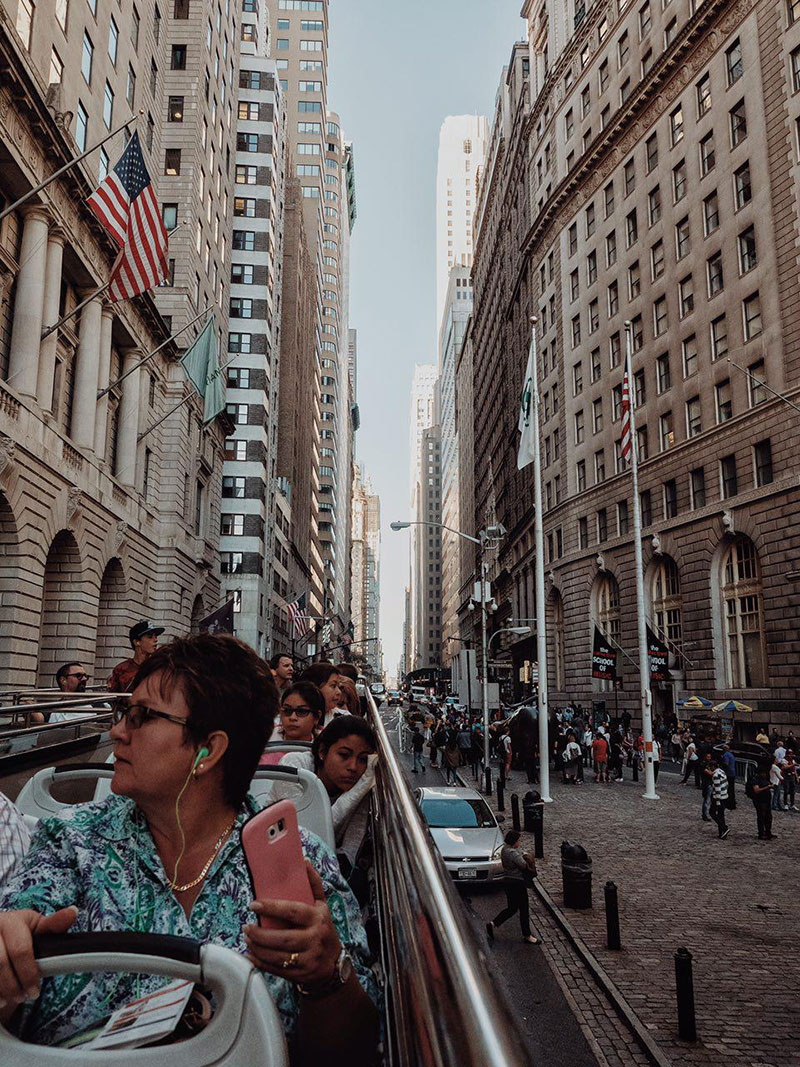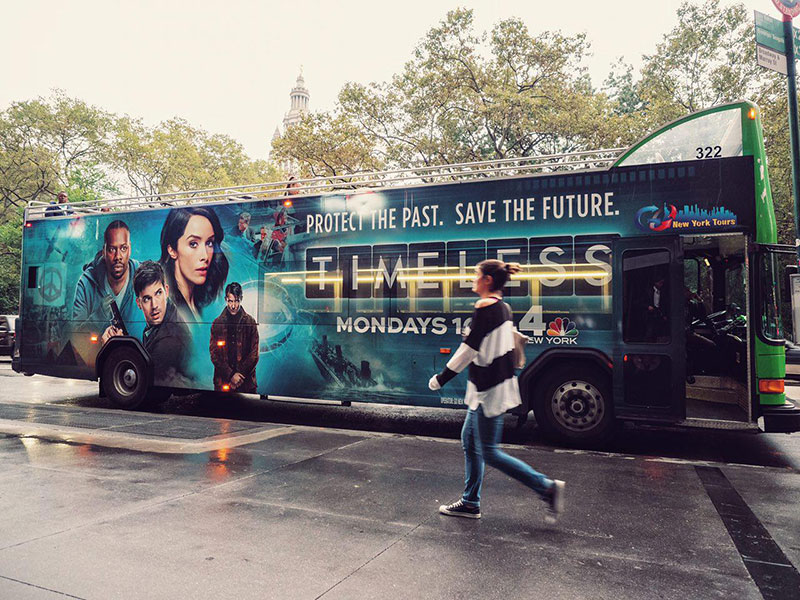 American Museum of Natural History
Opening Hours: Daily, 10 A.M – 5:45 P.M. | Central Park West at 79th Street
Stoked about the current exhibition, Dinosaurs Among Us, I quickly throttled up to the fourth floor and joined the crowds flocking over the fossils of the gigantic Allosaurus. I learned to see the resemblance between extinct non-bird dinosaurs and living birds, that the Velociraptor had four-inch talons similar to those of a harpy eagle and that many dinosaurs had hollow bones, just like so many birds!
The globe in the photos below shows some of the site where evidence has been found for possible cause of the mass extinction that killed the non-avian dinosaurs. The evidence includes an impact crater left by an enormous asteroid or comet. Furthermore, the globe also illustrates some areas of volcanic activity at the time of the mass extinction.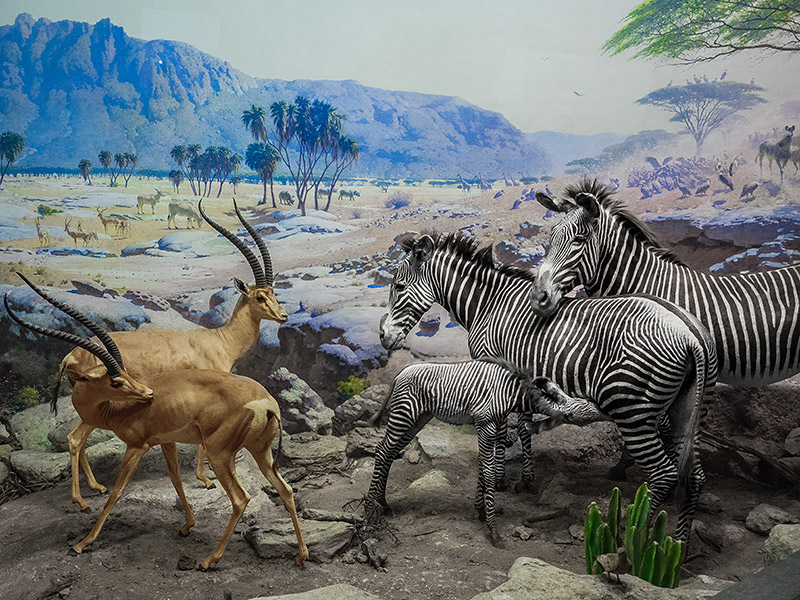 Double Decker Uptown Tour:  Central Park West to Museum Mile
Uptown Tour available: 10AM – 4PM | Stop #19: American Museum of Natural History to Stop #24: Guggenheim Museum
After having spent countless of time at the American Museum of Natural History, I decided to continue the Uptown Tour. The hop-on-hop-off bus picked me up just outside of the museum and provided a quick, carefree and efficient way to cover the historic sites sights of the upper part of Manhattan. On this second leg of the tour I got to see more of Central Park, the magnificent Cathedral of St. John of the Divine, Museum of the City of New York – after finally reaching my third destination; Guggenheim Museum.
Pro Tip: If you're going with GONYTours, most of their passes include a Night Tour, which lets you see the best of NYC when all the buildings are illuminated.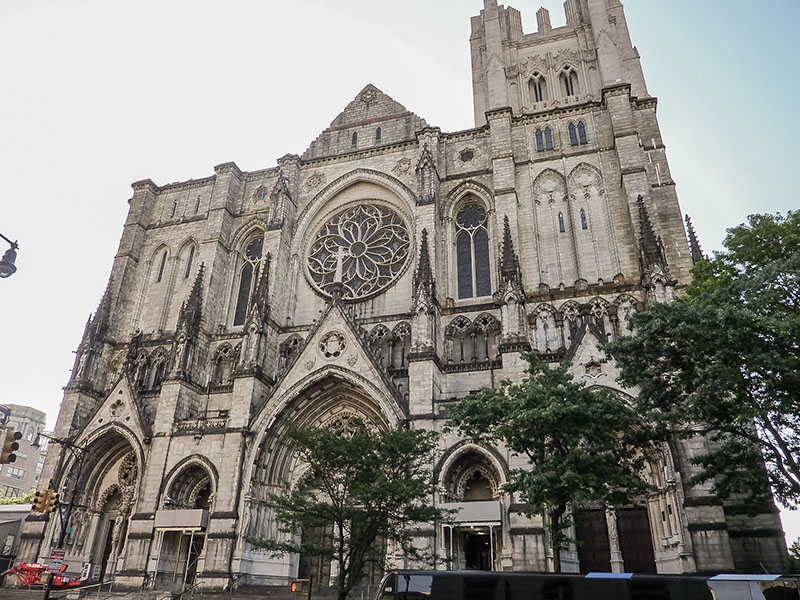 Solomon R. Guggenheim Museum
Opening Hours: Sun-Wed + Fri 10 A.M. – 5:45 P.M and Sat 10 A.M – 7:45 P.M | 1071 Fifth Avenue
As a photography buff, I was exhilarated about finally having the opportunity to experience this iconic building designed by renowned architect Frank Lloyd Wright. The structure is a piece of art in itself, rich in stunning architectural details, beautiful both inside and out. The spiral walkways extended beautifully along the edges of the building and up towards the majestic ceiling.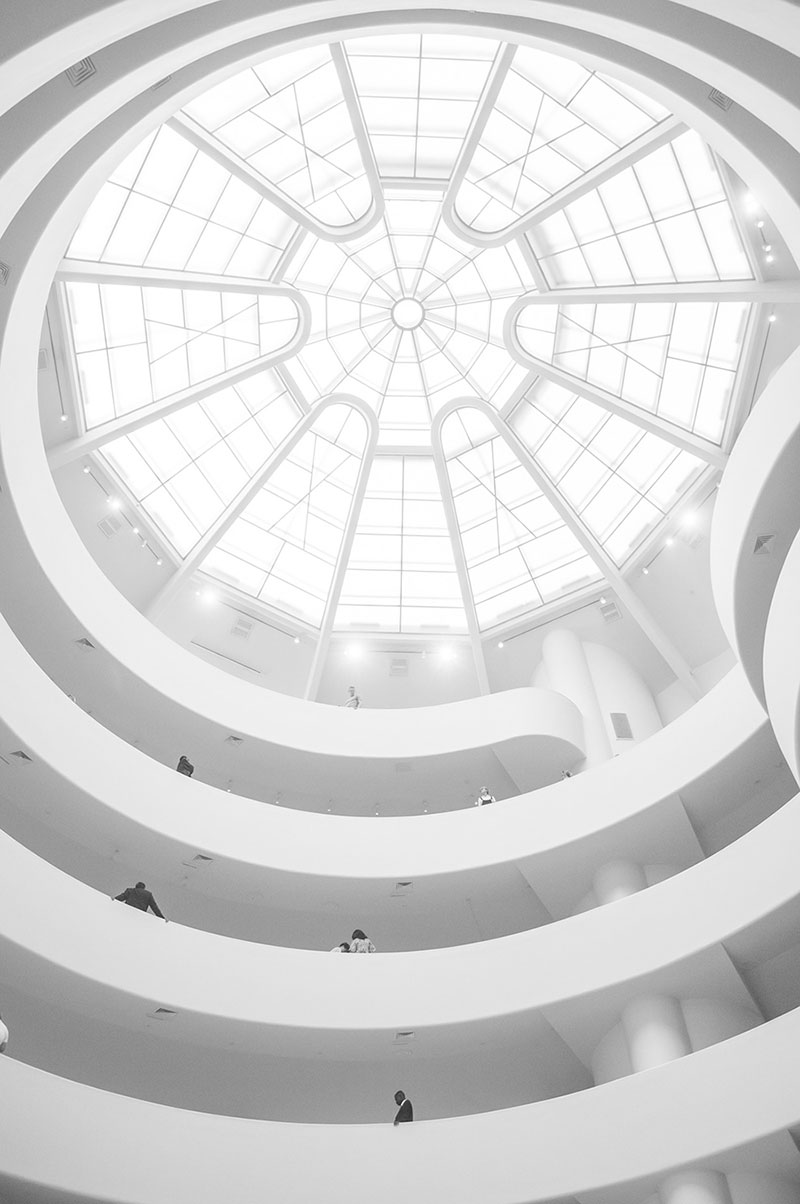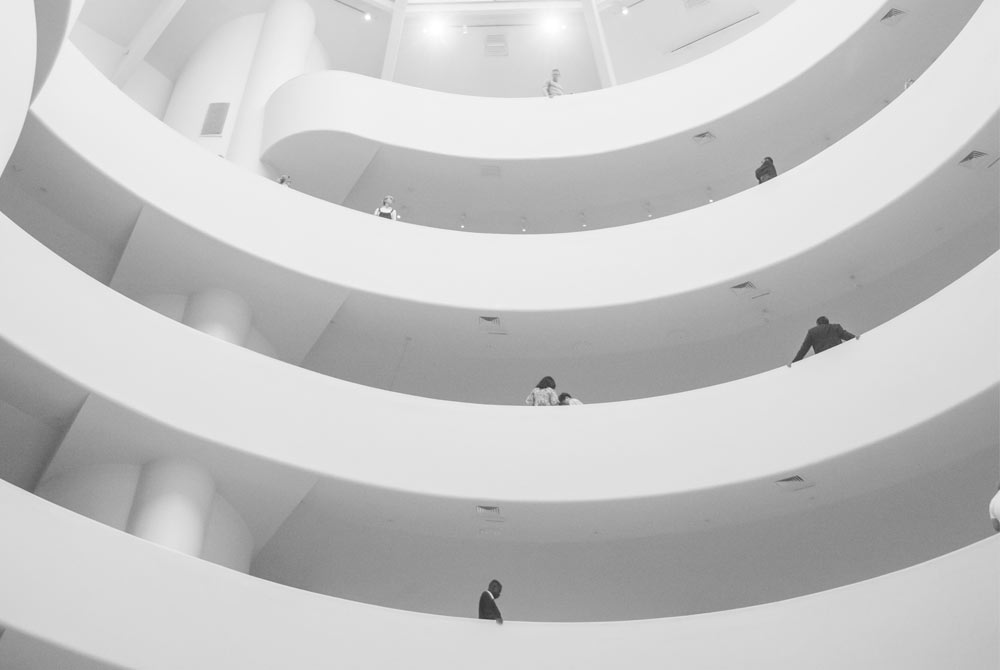 Pro Tip: When attempting photography in the Guggenheim Museum, use a wide-angle lens and use manual white balance to correctly capture those impeccably white walls.
Metropolitan Museum of Art
Opening Hours: Sunday–Thursday: 10 A.M. – 5:30 P.M, Friday and Saturday: 10 A.M. – 9 P.M | 1000 Fifth Avenue
The MET is situated only a 7-minute walk from the Guggenheim, so I couldn't let the opportunity to explore New York's most visited museum and the largest art museum in the United States go unmissed. The collection of the Metropolitan Museum of Art  is extremely  extensive, as it boasts over 5,000 years of art from all over the world – no wonder I could've easily spent several days here alone. I tried to keep my visit to 2 hours which gave me plenty of time to delve into Egyptian Art and explore The Temple of Dendur.
After a long and adventurous day, my feet were sore but but my spirits high. I hopped on the Double Decker bus, once again stopping just outside of the Metropolitan Museum of Art, and enjoyed a leisurely ride back home to my hotel in Midtown.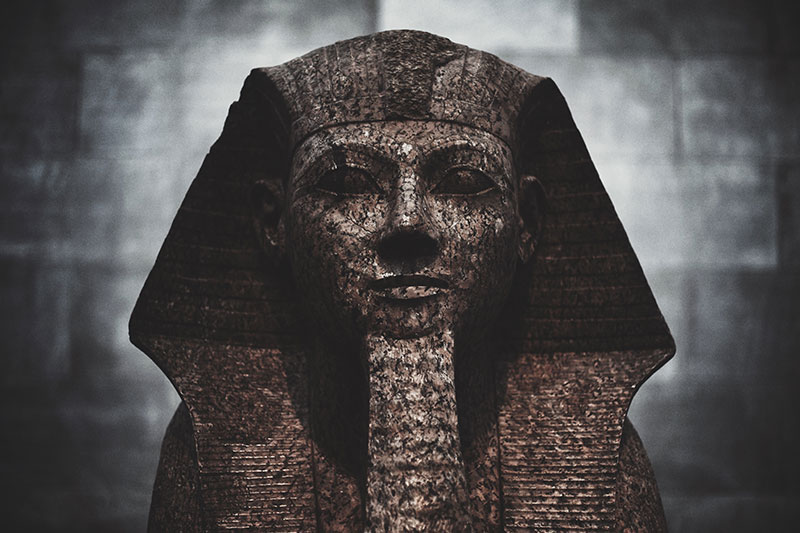 Pro Tip: The MET closes at 9 P.M. on Friday and Saturdays, as opposed to 5. P.M on weekdays. If you're visiting on a Friday or Saturday, you will have a few extra hours to enjoy the MET's extensive collection.
Double Decker Night Tour & Empire State Building During the Night
Double Decker Bus Night Tour available: top of the hour from 7 P.M – 10 P.M | Empire State Building Opening Hours: 8 A.M – 2 A.M
If you really want to maximize your stay, hop on the GONYTours' double decker bus for their New York Night Tour. It departs from Times Square on the top of the hour, from 7 P.M to 10 P.M, and will take you down 5th Avenue past the Empire State Building, down through Greenwich Village, Chinatown and Little Italy, as well as cross the Manhattan Bridge over to Brooklyn. The ride continues through the Lower East Side, the East Village and Gramercy Park before getting back to Midtown. The night tour lets you see New York City in a whole different light – literally. Take this opportunity to admire Manhattan's icons that lit up the sky so beautifully.
After the New York Night Tour, round off your day by heading back to the The Empire State Building Observatory for spectacular night views. The CityPASS includes same-night general admission, which enables you to enjoy a same-day second visit as long as you go after 8 P.M (September-April) or 10 P.M (May-August). The observatory is open until 2 A.M. – which gives you plenty of time to snap some Instagram-worthy photos.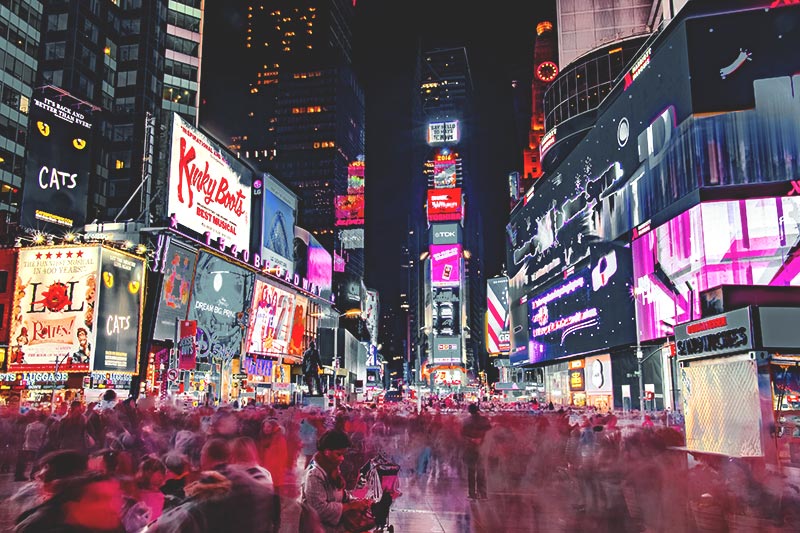 Even a Short Trip to NYC Can Be Rewarding
Even a short trip to NYC can be rewarding if you know how to make the most of your time. The CityPASS offers great value for money – and the hop-on, hop-off bus tours are convenient if you're pressed for time. A visit to New York is not complete without these experiences, and hopefully this article has helped making your trip planning a little easier.
Do you feel that tourist passes and Hop On, Hop Off Buses are a good way to see as much as possible if you're only staying for a very short time? Or do you have any other tips for when touristing for a weekend and wanting to see it all? Share your tips with us in the comments below!